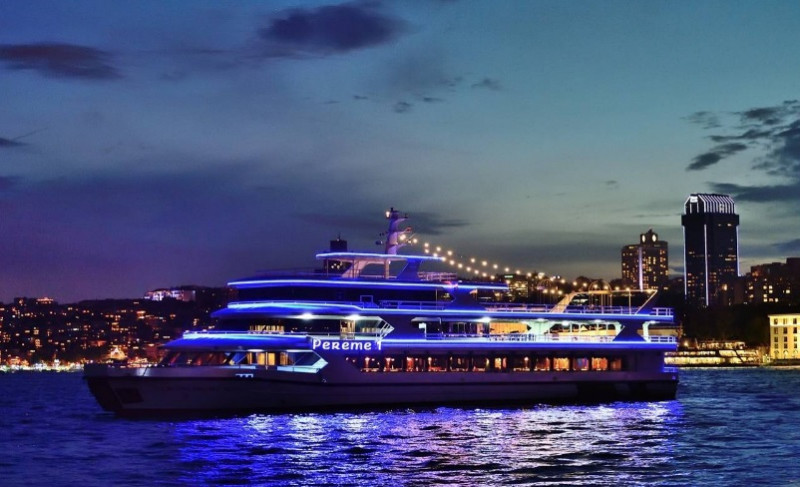 Istanbul Dinner Cruise
A Must-Do Attraction When In Istanbul: Istanbul dinner cruise with Traditional Turkish Entertainment
The Bosphorus is a narrow strait in northwest Turkey connecting the Black Sea to the Sea of Marmara. Measuring 30 km (19 miles) long and 750 metres (2,450 feet) wide at its narrowest point, the Bosporus reaches depths of 36.5 - 124 metres (120 - 408 feet). It is an important waterway for both commercial traffic and maritime travel.
Bosphorus strait separates the European and Asian sides of Istanbul and is an important waterway for international shipping. The Bosphorus is also a popular tourist attraction, with many boat tours and cruises available for visitors to enjoy the scenic views of the city from the water.
Taking a Bosphorus cruise dinner in Istanbul is a must experience while visiting the city. You'll enjoy breathtaking views of both the European and Asian sides of Istanbul, while dining on sumptuous meals prepared with local ingredients. As you sail leisurely through the river, you'll pass by historical monuments and sights that are sure to make it an unforgettable evening spent in Istanbul.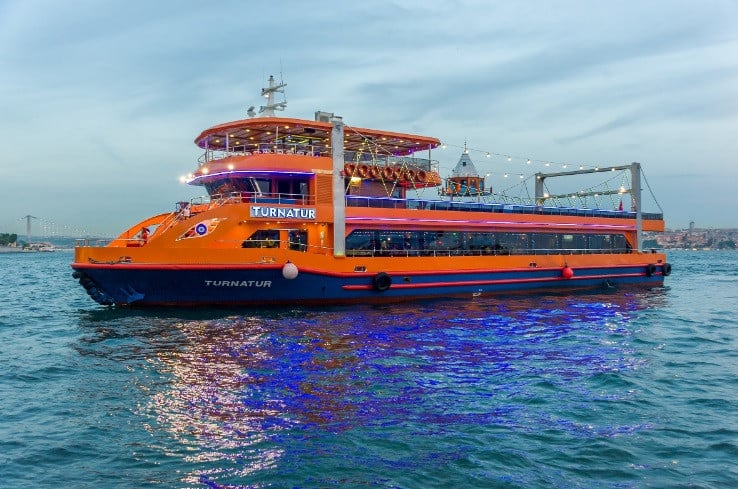 A Bosphorus cruise dinner in Istanbul is an exquisite way to experience the city and its breathtaking views, with a luxury yacht setting sail along the busy and historic strait. On the cruise, one will be able to enjoy delicious food and entertainment whilst taking in spectacular views of the Sultanahmet skyline and landmarks such as the Maiden's Tower and Dolmabahce Palace.
A Bosphorus cruise dinner offers a stunning view of Istanbul's iconic landmarks. As you sail along the strait, you'll see the majestic Bosphorus Bridge, the historic Maiden's Tower, the Dolmabahçe Palace, and the stunning Ortaköy Mosque. The city's skyline is truly breathtaking from the water, making a Bosphorus cruise dinner an unforgettable experience.
Enjoy A Night Under The Stars With Bosphorus Dinner Cruise And Entertainment
The Bosphorus Dinner Cruise offers a unique opportunity to enjoy a delicious meal while sailing on the jewel of Istanbul – the Bosphorus strait. The program includes a delicious three-course dinner, live music and elegant settings.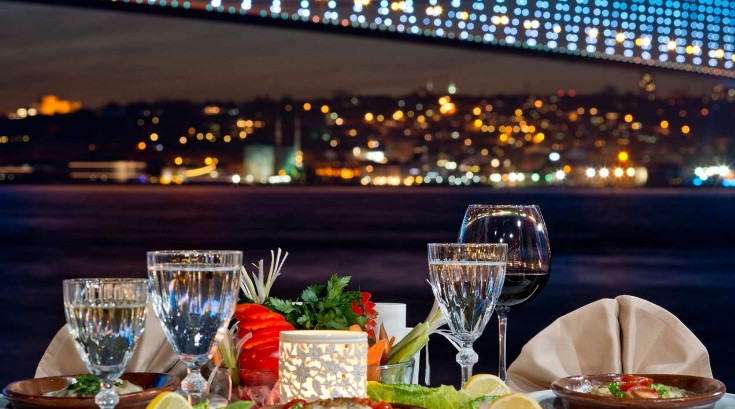 For those looking for an unforgettable experience, Bosphorus Istanbul dinner cruise is the perfect choice! Guests enjoying the cruise will enjoy a sumptuous three-course buffet style dinner featuring Turkish mezes and traditional delicacies prepared by expert local chefs. Diners will be able to take in the breathtaking skyline of Istanbul city while sipping on cocktails, beer or wine. As night draws in guests will witness a magically illuminated historical peninsula built on both sides of the Bosphorus Strait.
Dine and cruise along the Bosphorus Strait, a breathtaking waterway connecting the Black Sea to the Sea of Marmara. As you drift through stunning scenery, marvel at picturesque views from both Europe and Asia sides. Enjoy a rich dinner buffet with delicious Turkish cuisine while taking in live entertainment shows showcasing traditional art forms such as belly dance and folk music!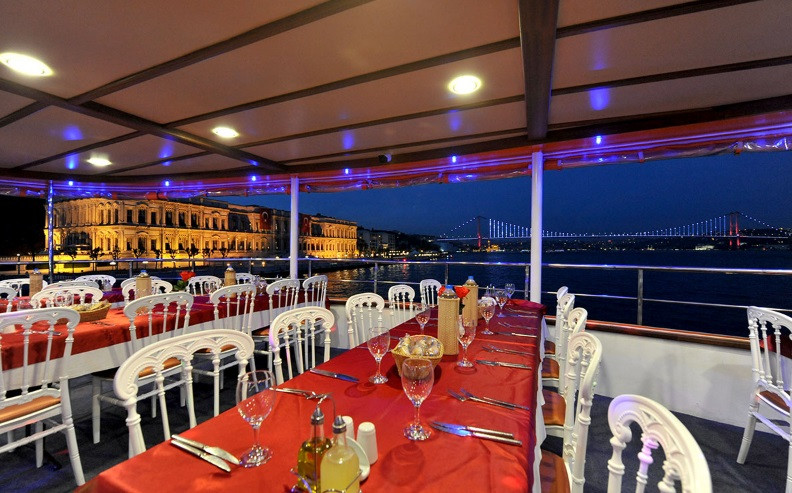 Spend an evening on a romantic Istanbul dinner cruise on the Bosphorus! Enjoy stunning views from the top deck, take in live performances of traditional Turkish music, and savor a range of delicious regional dishes. The experience also includes a guided tour of Istanbul's main attractions along the river. Experience a wonderful evening with friends and family to remember for years to come with our unforgettable Bosphorus dinner cruise experience.
A Turkish night show is a great cultural experience that combines traditional music, dance and storytelling. It typically features traditional belly dancing and live music with the stories of ancient fables and legends. These shows have been popular for centuries in Turkey and other Middle Eastern countries and can be found in many cities around the world today. They are perfect for a memorable night out with friends or family, as you get to witness an amazing performance while learning about fascinating Turkish culture!
Experience the Magic of Istanbul with a Bosphorus Cruise Dinner!