Horseback riding tour in Cappadocia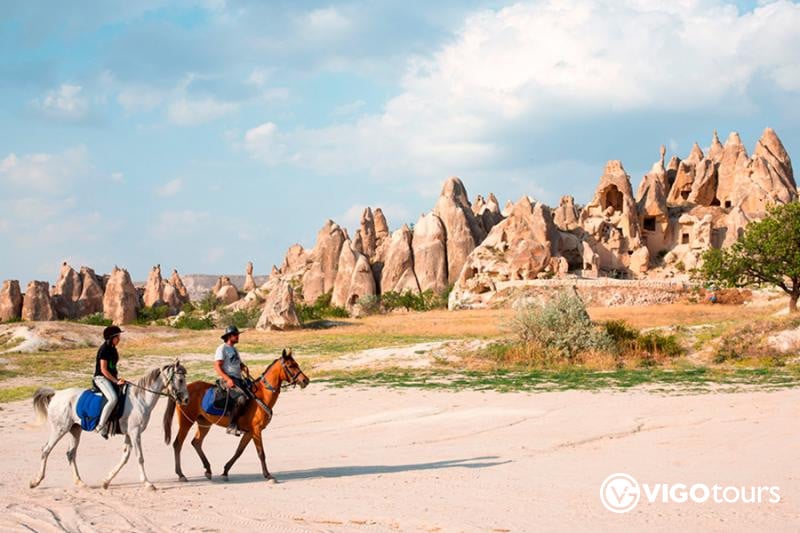 Price from € 29
$ 32 / € 29 / ₺ 463 / £ 24
Book Now
About this activity
Total Tour Duration (with transfers): 2 Hours

Booking confirmation:

Instant confirmation

Printed or mobile voucher:

Accepted

Cancellation policy:

Flexible

Easy Online Booking:

Fast, Easy & SSL Secure Booking

Experience:

No experience required

Shopping:

No Shopping tour

Skip the ticket line:

Yes

Cappadocia Horse riding tours

Horseback riding tour in Cappadocia

Tour Guiding:

English , Turkish
Select participants and the tour date
Prices may differ seasonally. To see prices enter participants and date.
Experience
Highlights
Cappadocia Horse riding tour - Vigo Tours
Cappadocia Horseback riding with Vigo Tours
Cappadocia Horse riding at the valleys of Cappadocia
Cappadocia must do: Horse riding along the beautiful valleys
Cappadocia horse riding tour - Vigo Tours Cappadocia
---
Full Description
Sunrise and sunset horseback riding safari tour in the unique beautiful valleys of Cappadocia
2 hours horse safari at sunset along the beautiful valleys of Cappadocia
Sunrise Cappadocia horse safari 05:45
Sunset Cappadocia horse safari 16:40
(times vary by season)
Early morning sunrise and evening sunset horse safari tours are held in the Cappadocia valleys. A 2-hour horse safari tour is available from 09:00 to 14:00
In Persian language, Cappadocia means the Land of Beautiful Horses.
Our horse tour starts from the horse farm in Göreme town of Cappadocia and the famous valleys of the region included in the tour program are visited on horses and back to the starting point.
The package includes the transfer fee which is taken from your hotel to the hotel and back to the hotel. You just enjoy exploring the region from different angles on horses in this land, which is the Land of Beautiful Horses in Cappadocia.
Horseback Riding Tours in Cappadocia
The valleys of Cappadocia have very suitable trails for horseback riding. Kılıçlar Valley, Love Valley, Meskendir Valley, Red Pit, Zemi and Pigeon Valley, Paşabağı, Çavuşin Village are among the Cappadocia horse riding routes where you will enjoy both natural beauties and magical fairy chimneys. Horse tour packages are offered from 1 hour to 2, 3, 4 hour tours and full day weekly packages. The longer the tour duration, the more places you see.
Cappadocia horse tours are fun safari and discovery tours where security measures are always taken and professional riding skills are not expected. Choosing a flat-soled shoe and wearing a jacket according to the seasonal conditions are among the measures that will ensure your comfort during the horse riding tour.
Before you start the tour, we will provide you with which you are familiar with the Anatolian or British or Arabian horses and which you will ride according to the references of acquiescence. All Horses are trained and accustomed to these rides, so they do not make sudden movements and create difficulties.
You will feel yourself in a western movie or a historical documentary from time to time in the valleys mentioned on the route with your Turkish cowboy tour guide. The narrow paths where vehicles cannot enter, the skirts of fairy chimneys and villages with lush vineyards will turn into a film plateau on horseback.
It is possible to attend the tours in every season and every day. Whether it's summer or winter, you can ride horses in Cappadocia every season.
Tour program for Horseback Riding Tours in Cappadocia
Horse riding experience in the magical valleys of Cappadocia will offer you an unforgettable Cappadocia pleasure. You will not forget the pleasure of horse riding along the volcanic fairy chimneys of Cappadocia and in the uniquely beautiful valleys.
2 Hours Horse safari at sunset along the magical valleys of Cappadocia
Known as the "Land of Beautiful Horses", Cappadocia is an ideal place to make a pleasant discovery on horseback through the magical valleys of Cappadocia. Horses have a very special place in Cappadocia's history for thousands of years and the uniquely beautiful valleys and landscapes around Cappadocia are perfect for exploring with a real Cappadocian Turkish cowboy on a native Anatolian or Arabian horse!
Pick-up and transfer from Cappadocia Region Hotels
Transfer to the riding club
Preparations for horse riding
Horse riding tour begins
2 hours horseback ride in the valleys with the tour guide
Return to Horse Riding Club
Free time at the horse club
End of Activity and Return to Hotels
---
Price included
Pick up from hotels - Drop off hotels
2 Hours Horse safari at sunset or sunrise
All the equipments
English, Anatolian or arabic horse
Tour guiding
Lunch (7 hour tour only)
Food and drinks
Personal expenses
---
Know before you go
Pick Up Place
Hotels in Cappadocia region. Hotels. Pick-up and drop-off may be subject to extra charges for hotels that are too far from the horse farm.
Pick up Point
Hotels lobby
Event Days
01.01.2022 - 31.12.2022 Sunday Monday Tuesday Wednesday Thursday Friday Saturday
Important information
Horseback riding in Cappadocia
Tours are not held during heavy rain and snow due to the risk of the horses getting sick.
There should be some riding experience as there are a few areas where you might need to get off the horse and walk, and then ride the horse again to continue the tour. Cappadocia cowboy (your tour guide) will always be with you for help. You will need to hold the halter of your horse during the tour in the sections that require walking. Horses are docile, they do not harm people. Helmets are available at our horse farm on request. Depending on the season, a light jacket may be required as you will be at different heights during the tour. It is recommended to wear comfortable clothes and flat shoes. It is more comfortable to ride in trousers or long shorts.
All horse riding equipment is available at the horse farm.
Breeds of horses on the farm: Anatolian, British and Arab
7 Hour tour: Lunch is included
2-Hour Cappadocia Horse Tour
• Swords Valley
• Red Pit
• Red Valley
• Cavusin Castle
3-Hour Cappadocia Horse Tour
• Swords Valley
• Red Pit
• Red Valley
• Cavusin Castle
• Fairy Valley
• White Valley
4-Hour Cappadocia Horse Tour
• Swords Valley
• Red Pit
• Pigeon Valley
• 3 Crosses on the Horse Climb Church
• Cavusin Castle
• Butterflies
• Fairy Chimneys
• White Village
Full Day Cappadocia Horse Tour (Lunch Included)
• Love Valley
• Swords Valley
• Güllü Creek Valley
• 3 Crosses on the Horse Climb Church
• Cavusin Castle
• Fairy Valley
• Paşabağları Valley
• White Valley
• Pigeon Valley
• Sunset Watch Point
Image Gallery



















Customer Reviews
)
Cappadocia - Most popular tours