Cappadocia Hot Air Balloon ride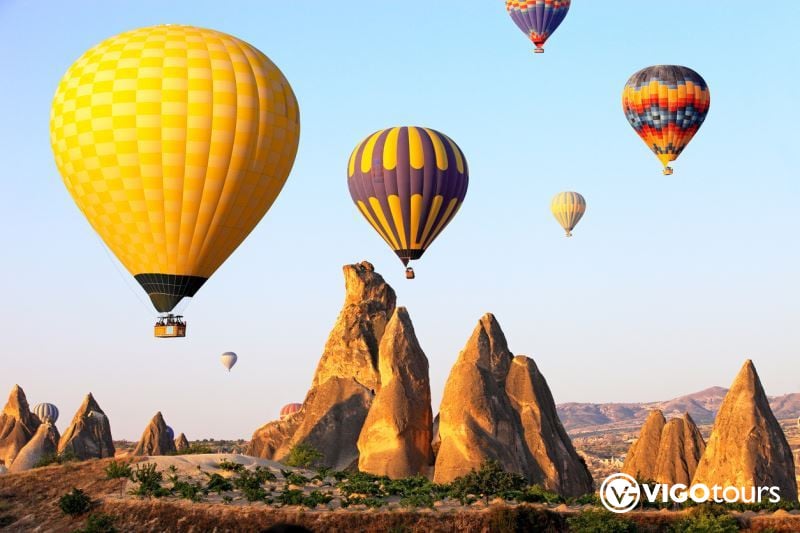 About this activity
Total Tour Duration (with transfers): 1 Hour

Booking confirmation:

Instant confirmation

Printed or mobile voucher:

Accepted

Easy Online Booking:

Fast, Easy & SSL Secure Booking

Experience:

No experience required

Skip the ticket line:

Yes

Hot Air Balloon Ride in Cappadocia:

Cappadocia balloon ride

Tour Guiding:

English , Turkish , German , Russian
Make a request for the tour
Experience
Highlights
Hot air balloon ride in Cappadocia
Cappadocia hot air balloon ride
Balloon ride in Cappadocia
Cappadocia balloon
Cappadocia balloon ride with Vigo Tours
Vigo Tours: Cappadocia balloon ride
The Hot Air Balloon Season in Cappadocia is Year-round
The Cappadocia Hot Air Balloons Can Reach 3,000 Feet Above Ground
More Than a hundred Balloons Fly Every Morning in Cappadocia
---
Full Description
Please inquiry us for last minute availabilities. Whatsapp +905322659967
Cappadocia Balloon ride
Cappadocia is a real and also one of most highlight values "should seen" of Turkey.
The Hot air Balloon scenic tour is at the top of the activities to be carried out in Cappadocia. And It is taking in fifth place in the checklist of 25 brand-new marvels of the world. Enjoying Cappadocia from the skies with a hot balloon ride will be a wonderful experience of you.
You will enjoy to see the beauty of Cappadocia's rock formations on a 1-hour hot air balloon ride that takes you up and over the magical landscape of Cappadocia. You will appreciate the breathtaking panorama of the daybreak balloon ride through the Göreme Valley, and Göreme open air museum.
Cappadocia has often been pointed out as one of the very best position on the earth for hot air balloon rides. And you will see the reason of it with your very own eyes . This is a magical place where nature, the history, and the land converge with the fascinating rock developments. You will amaze of seeing the natural houses and churches sculpted through the rocks at the region.
Throughout your trip you will fly over the well-known fairy chimneys, Zelve, Ihlara, as well as Göreme valleys, Göreme National forest, rock churches, underground cities, the Uchisar as well as Ortahisar rock fortresses, and also others. A lot of these locations are listed by the UNESCO World heritage sites.
Whether you opt for fun with a group of friends, or make it a charming celebration with your significant other, your balloon journey will be really unforgettable.
Hot air balloon flights over Cappadocia..
Hot air balloon ride in Cappadocia
Cappadocia hot air balloon ride
Balloon Rides in Cappadocia
Cappadocia voyager balloons
Cappadocia balloons
Cappadocia Hot Air Balloon Rides
Cappadocia Balloon Flights
Cappadocia Balloon
Ballooning in Cappadocia
The Hot Air Balloon Season in Cappadocia is Year-round
The Cappadocia Hot Air Balloons Can Reach 3,000 Feet Above Ground
More Than a hundred Balloons Fly Every Morning in Cappadocia
Cappadocia hot air balloon tour program
There are many balloon flight operators who make hot air balloon tours in Cappadocia. The tour program is the same for all operators. Balloon flights are arranged for sunrise. Standard balloon flights usually start with your pick-up from your hotel 1 hour before sunrise and transfer to the area where the balloons will take off.
Tour Agencies will pick you up from your hotel,
They offer breakfast, snacks and hot drinks before the flight
and then starts your balloon tour, which will last about 1 hour.
Hot air balloons take off to a height of about 100 feet (300 meters), and fly in the direction of the wind. While you are in the balloon basket and are 300 meters high and the Balloon is slowly floating in the skies of Cappadocia, the sun begins to rise, and a magnificent view smiles at you. During the flight, you will have the chance to see the magnificent views of Cappadocia such as Ürgüp, Uçhisar, Göreme, Avanos, and the amazing beauty of fairy chimneys.
After the magnificent flight of about 1 hour in the skies of Cappadocia, the champagne celebration is held, and your balloon flight certificate is presented to you. You will be dropped off at your hotel around 8 o'clock at the latest.
Balloon take-off and landing places are different.
---
Price included
Pick up and drop off from / at your hotel
Breakfast snacks before your flight
1-hour balloon ride
Celebration with champagne
Personal flight certificate
insurance under the provisions of the ICAO
---
Know before you go
Pick Up Place
All the hotels in Cappadocia region. The day before the balloon ride we need all the details of your hotel; full hotel name, room number, and mobile phone number if not been stated upon booking.
Pick up Point
Lobby at the Hotels.
Event Days
01.01.2021 - 30.12.2021 Sunday Monday Tuesday Wednesday Thursday Friday Saturday
Important information
Cappadocia balloon
It is highly suggested that you make an early booking a minimum of 15 days ahead of time. For last minute bookings, please call us initially and make an appointment in situation of accessibility.
Pick up: Balloon trips in Cappadocia are organised early in the morning by sunrise.
(Pick-up time is usually 1 hour before sunrise)
Summertime (April to October): 4:00 am to 5:00
Wintertime (November to March): 5:00 am to 6 am
Excursion ends: Approximately 3 hrs after pick up time.
Your pick up time:
At our web site the pick up time is an estimated. The actual pick up time will be given to you following the booking, or the evening the day before of flight. You will be contacted via whatsapp, sms or e-mail for the exact pick-up time from your hotel 1 day before your flight.
Balloons capacity: 16 people (capacity is 50% due to Covid-19).
If you choose to come to the balloon departure point yourself, you will be given location information.
The balloon operator is licensed by the General Directorate of Civil Aviation.
All pilots are licensed and have at least 2,500 to 3,000 hours of flight experience.
Image Gallery










Customer Reviews
)
Cappadocia - Most popular tours