Yacht charter Turkey
About Gulet charter in Turkey
VIGO Yachting has been giving services for high class yacht charter tours since 2000. We provide yacht charter services in Turkey. VIGO yachting has 21 years experience with customized planning and organizing luxury gulet charter operations in Turkey.
Turkey has received great interest in gulet tourism in the last 15 years, and this interest is kept increasing. In Turkey alone, there are about 1000 well known gulet yachts in good standard providing blue cruise services to both Southern Turkey and the Greek islands (Dodecanese, Cyclades, Ionian).
There are also private gulet charter yachts in Greece, Croatia, Montenegro, Italy and Spain, but the portfolio selection is not as rich as in Turkey, it is less, and prices are known to be higher than in Turkey. Croatia gulet cruises start from Dubrovnik and spread to Zadar. Some gulet charters can also start from Montenegro. Turkey and Greece are slightly different from Croatia in terms of gulet charter. And it is also known that the rental conditions in these countries are different from Turkey. Gulet charter conditions are easier and convenience in Turkey. Gulet charter in Turkey is quite unique not only in special yacht designs but also in general concept of reaching the appropriate ones with size and price.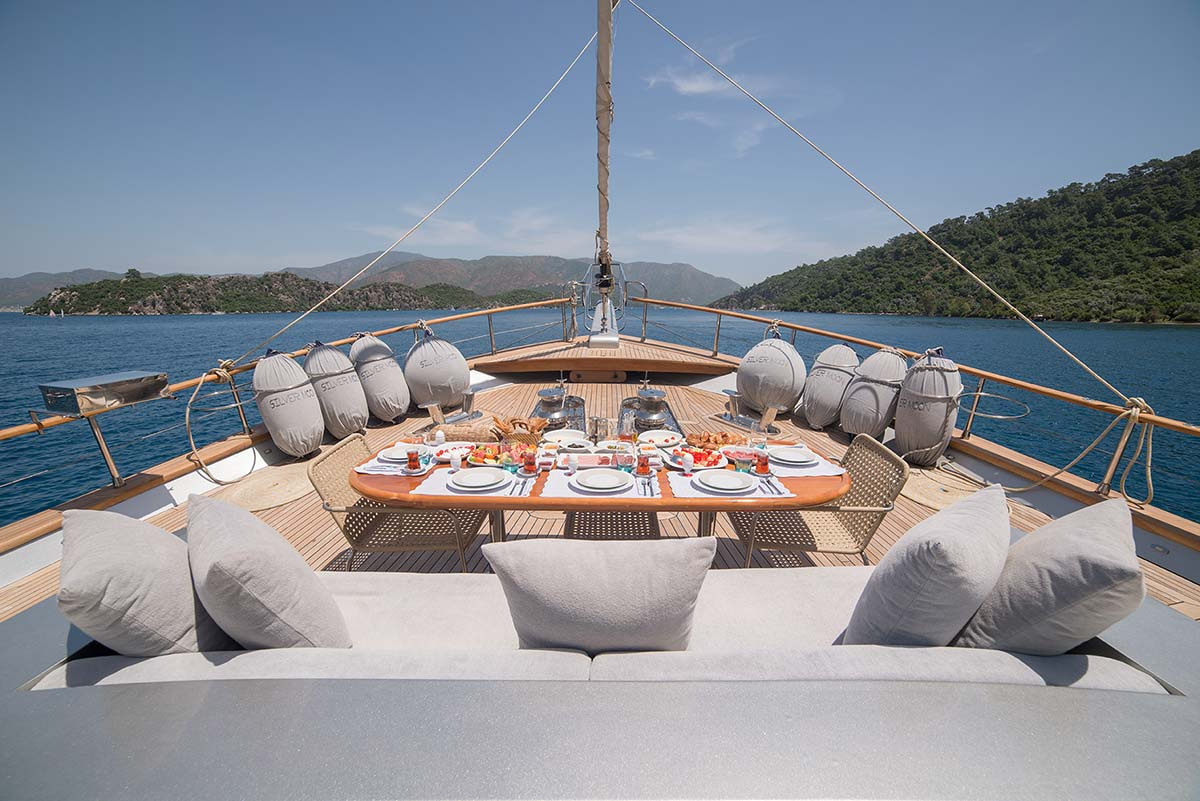 Since it is the first place where private gulets (Turkish yachts) were produced, generally the best gulet opportunities can be found in Turkey, with plenty of options. Bodrum comes to mind first when it comes to Turkey's Gulet manufacturing, and this traditional manufacturing later spread to Marmaris's Bozburun peninsula, Turkey's Eastern Mediterranean coastal cities such as Fethiye and Antalya, and even Istanbul. Manufacturing has been always developed with innovations while keeping the traditional style of Turkish gulets. Turkey unquestionably offers a richer selection of gulet charters than any other country in the world.
Turkey's Blue Cruise regions range from Bodrum to Kaş, Kalkan and sometimes to Demre and the sunken city of Kekova in the Antalya province. These regions offer unique blue cruise experiences for blue cruise lovers. Routes spread further south and west from these regions to Greece's lower and upper Dodecanese and Cyclades islands. Other common blue cruise routes in Turkey are Marmaris, Göcek and Fethiye. The some of blue cruise tours are taken place along the beautiful bays of those coastal places.
Gulet Charter
Many of the gulets are considered quite traditionally unique to Turkey, and they are known as classic gulets. However, in the last few years, with the innovations in the new wooden yacht building technologies, while maintaining the authentic traditional gulet style, slightly more modern gulets have started to be built, with some different designs.
Gulet Standards
Gulet yachts are always custom-built uniquely according to the owner's wishes. Therefore, it is very rare for a gulet to be exactly the same as any other gulet, unlike bareboats, catamarans and motor yachts. In gulet construction, free designs applied outside of the basic construction patterns have provided more enjoyable dimensions to the traditional gulet style.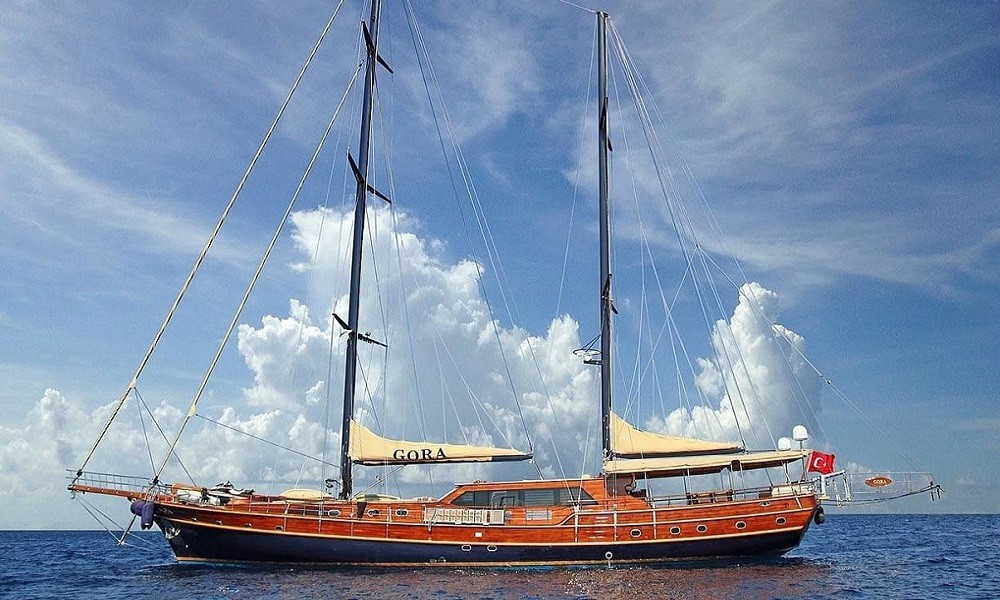 It is not possible to talk about any brand in terms of gulet charter. In addition, gulets do not have any legal category classification either. However, there are 4 well known main classifications in gulet boats according to features such as size, age, condition, quality and interior design. The classifications of gullets are as followed: Economy/Standard, Luxury, Deluxe and VIP or High Deluxe or Ultra Deluxe.
Cabin Types of Gulets
Gulet cabin types differ according to the class of gulet yachts. Layout designs and interior designs of cabins are mostly determined and applied according to the wishes of the gulet owner. Most luxury gulets have 2 master cabins, one at the front and one at the back.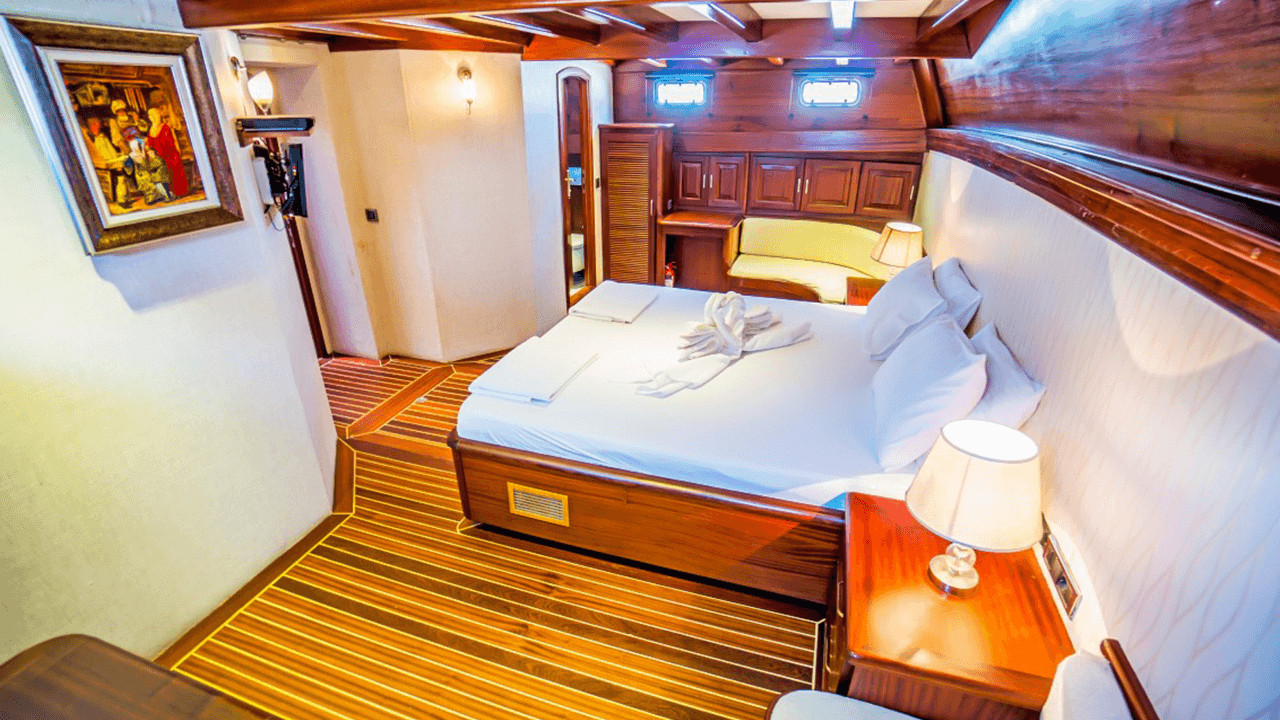 All the gulets have single, double, triple, twin, child, master, king master and VIP double cabins. Some cabins are quite luxurious, while others are designed to be simple but still well comfortable. However, all gulet cabins have en-suite bathrooms with shower and toilet. More luxurious style gulet cabins have enclosed showers. Some of the luxury gulet cabins also have jacuzzis.
Satellite, TV and other multimedia facilities on gulets
Entertainment media devices and facilities can be found in premium standard cabins. This could be a plasma TV with satellite, DVD/CD players and iPOD docking. Other standard gulets have either no TV or an old and simple small size TV that is never used. Most luxury and higher class gulets have an LCD or LED TV in the saloon as well as a CD/DVD player. TV broadcasts can be via satellite receiver or normal antenna or IP TV.
Blue cruise itineraries in gulet charter
The offered gulet charter routes are known as the most popular ones. These are the routes determined as a result of years of experience. There may be some changes in the routes according to the demands of the customers. The best thing to do in this regard would be to listen to the recommendations and suggestions of the company and the captain of blue cruise.
Price for Gulet charter
Gulet charter prices for blue cruises in Turkey, Greece, Croatia, Montenegro are offered daily. Distance of cruise usually does not affect price on general cruise routes. The price is for daily use of gullets. The minimum rental period of gullets is one week. However, there may be optional special arrangements where shorter rentals are infrequently available. This issue completely depends on the season and the availability of gulets. Airport transfers are included in the prices of Luxury, Deluxe, High or Ultra Deluxe and VIP private gulet and motor yacht charters.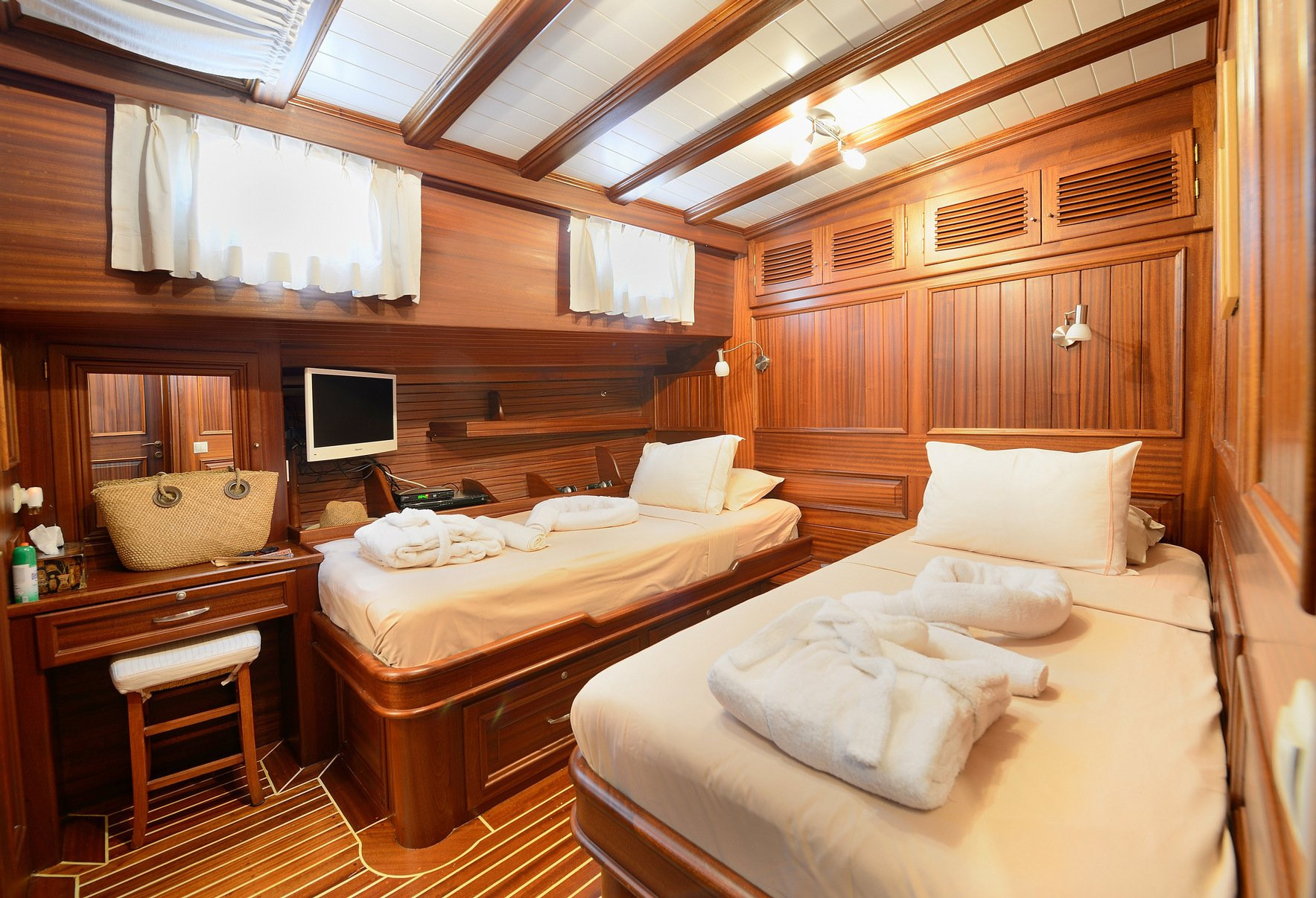 Gulet charters always start and end on Saturdays. Again, in some cases, the start and end day may be different depending on availability and season.
Charter gulets include daily linen and towel change as well as general cleaning. Food and Drinks are not included in gulet charter prices. Each yacht or agency has different service and pricing styles for food and beverage options aboard. In this regard, all gulet charter companies are open to requests from customers, and food & beverage options are also sent, when an offer of gulet charter is requested.
Please contact us for your gulet yacht charter requests.