Private and Vip Airport Transfer services from Antalya airport
Round-trip transfers between Antalya airport and Side
One-way or round-trip transfers from Antalya airport to Alanya and from Alanya to Antalya airport
One-way or two-way transfers from Antalya airport to Belek hotels
Arrival and return transfers from Antalya airport to Kemer hotels and villas in Kemer
About Antalya airport and 7 24 transfer
The airport, which is in the international category, consists of 2 international flights and 1 domestic terminal, and has 2 touchdown runways. In 2019, Antalya Airport hosted the highest number of airline passengers after Istanbul, serving 35 million 187 thousand 616 passengers, 80% of which was in the summer months and the majority of them were foreign tourists. 15 thousand people are employed at Antalya airport.
On the basis of day, the highest density was experienced at Antalya airport on July 27, 2019. On July 27, when 1052 planes landed and took off, the hourly average was recorded as 43 planes.
How far Antalya airport from Lara beach?
Antalya airport is about 10 km far from Lara beach.
What does Vigo Tours company do?
Vigo Airport Transfer services, as a subsidiary of Vigo Tours travel agency (License: A4663), has been providing Antalya transfer services from Antalya airport since 2000 with all legal and operational documents. In addition, Vigo Tours provides transfer services from Istanbul airport with its business partners and from Alanya Gazipaşa airport with its own business network.
Vigo Tours offers a wide range of reliable private airport transfer services from Antalya airport to Kemer, Belek, Lara, Side, Tekirova and Alanya. Whether you are looking for a private taxi, a minibus, Vip airport transfers, Wheelchair access airport transfers or a big bus. Airport transfer services from Antalya airport (AYT) by Vigo Tours are available over resorts, hotels, and villas in whole Antalya region with fully insured, fully air-conditioned new vehicles.
Vigo Tours says: Our understanding of service is to provide you with the most comfortable tourist services to ensure you enjoy your holiday without any problem and with the highest level of satisfaction.
How are the prices of Vigo Tours for airport transfers?
Diamond service silver price! Customers of Vigo Tours always review that prices of Vigo Tours are reasonable for airport transfers in Antalya and Istanbul airports.
What should you do if you need a transfer from Antalya airport to your holiday hotel?
If you do not have a holiday package including transfer from the airport your options will be as follows:
1- TaxiCab transportation
2- Public transfer from more than one (multiple) aircrafts (Shuttle transfer)
3- You can go to the bus terminal by public bus and from there you can go to your destination by connecting another bus
4- Private airport transfer with Vigo Tours
5- A friend will come to the airport and pick you up and make your transfer free of charge, you will go to your hotel by chatting with your friend
I am going on holiday to Side, but I need an airport transfer, what should I do?
To get support in this regard Please contact Vigo Tours 7/24 customer service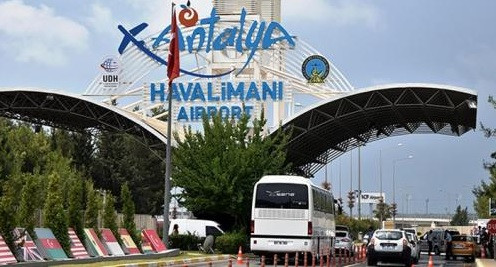 How long does it take from Antalya airport to Side?
It takes about 1 hour from Antalya airport to Side.
What does airport transfer mean, how and by whom is it organized?
In Turkey, There are some strict rules for transfer services from airports. It is not possible for everyone to do transfer services from the airports. This service requires service and operational license first. The service for airport transfers in Turkey is exclusive to travel agents. Travel agencies do this service with an obligatory passenger carriage license. In other words, not every company or a person can provide this service. Briefly, the company that will provide transfer services from airports must first be a travel agency, and this travel agency must have a transport permit license called D2, or must cooperate with companies that have this license.
What is the meaning of the D2 passenger transport license?
D2 in short means fulfilling the human transportation rules and procedures. This includes insurance, technical details for safety and important criteria for passenger comfort. For passenger transport, D2 operating license and travel agency license must be together.
D2-owned companies cannot provide transfer services on their own if they do not have travel agency license. Companies with D2 can only provide touristic transportation services with a travel agency. In Turkey, except for the taxicabs at the airport, all transport and transfer services for tourist purposes is an exclusive service to travel agents only.
I need a transfer from Antalya Airport, what should I do?
If you do not have a friend's recommendation then try to choose your transfer company that will provide transfer services by the age of the company, and the reviews.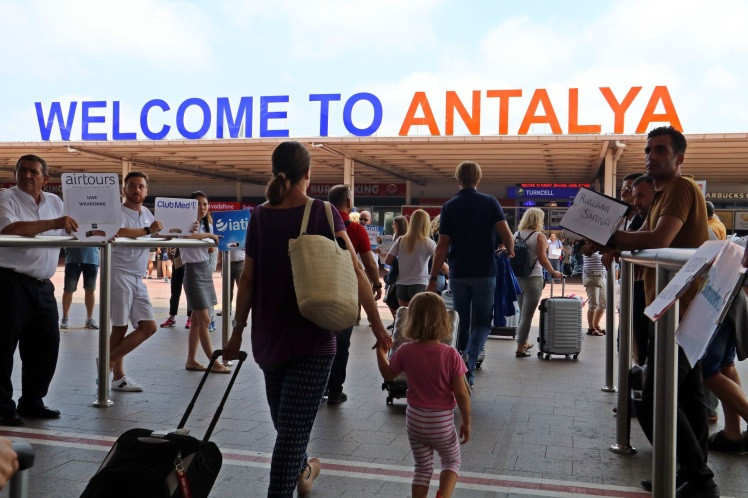 Should I choose a private or shared transfer?
This varies depending on some of your facts. Private transfer is highly recommended if you are a family with children and have a few suitcases. However, it should not be forgotten that the ease and comfort of private transfers are valid for everyone. Private transfer for families with children is absolutely good and provides great time savings and comfort.
Stages of your transfer with Vigo Tours
1- You make your reservation online (Very easy)
2- Your reservation is confirmed by Vigo Tours (Instantly)
3- Your driver is following your plane arrival time (Follow up for good service)
4- He will be happily waiting for you at the airport exit gate (happy driver & happy transfer & happy people)
5- Your driver welcomes you takes you to the vehicle (free bottled water in the minibus)
6- And you arrive at your hotel (Have a good Holiday)
Vigo Tours and solutions for your Antalya airport transfer 7/24
Founded in 2000, Vigo Tours company is a Turkish travel agency that organizes daily tours, excursions and bird watching tours in Antalya, Side, Belek, Kemer, Fethiye, Cappadocia, Istanbul and Alanya regions and accepts online reservations from its website. In addition, Vigo Tours provides private and VIP transfer services from Antalya airport to Side, Belek, Kemer, Antalya city hotels and Alanya hotels.
What can you do with Vigo Tours founded in 2000? Vigo Tours organizes daily tours in Antalya, things to do in Side, Alanya daily excursions, holiday activities and daily tours in Belek, daily trips in Kemer region, boat tours.
In addition, Vigo Tours provides private and VIP transfer services from Antalya and Istanbul airports.
From Antalya airport to the wonderful holiday land of Side,
From Antalya airport to Belek holiday paradise,
From Antalya airport to the wonderful holiday spots of Kemer,
From Antalya airport to Antalya's unique city hotels
Private or VIP transfers from Antalya airport to Alanya, the destination of pleasant holidays, are carried out with care and experience.
Private and secure transfer services between Istanbul's 2 airports or between these two airports and the hotels of the magnificent city of Istanbul are organized with great pleasure.
The most unforgettable holidays start from airports!