Half day Fishing Tour in Side Turkey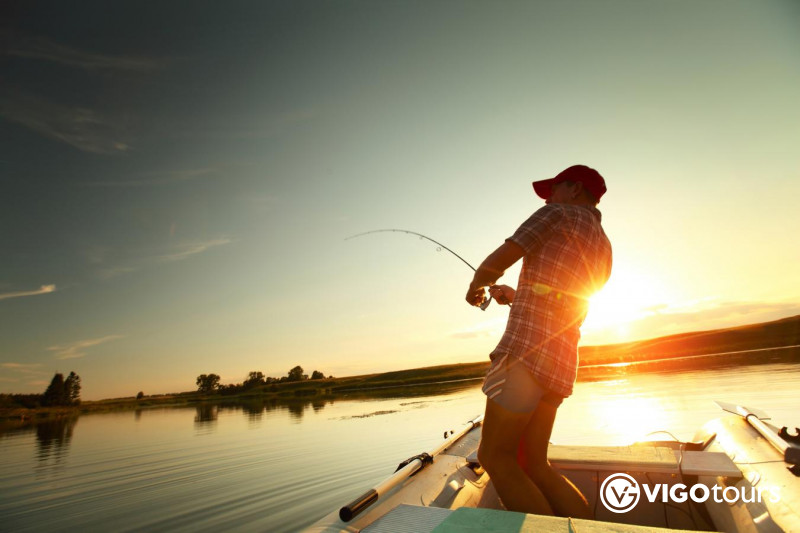 Price from € 30
$ 34 / € 30 / ₺ 464 / £ 25
Book Now
About this activity
Total Tour Duration (with transfers): 6 Hours

Booking confirmation:

Instant confirmation

Printed or mobile voucher:

Accepted

Easy Online Booking:

Fast, Easy & SSL Secure Booking

Cancellation policy:

Flexible

Shopping:

No Shopping tour

Wheelchair accessible:

Available

Experience:

No experience required

Skip the ticket line:

Yes

Tour Guiding:

English , Turkish , German
Select participants and the tour date
Prices may differ seasonally. To see prices enter participants and date.
Experience
Highlights
Fishing in Side Turkey
Fishing by boat from Side harbour
Half day fishing in Side Turkey
Fishing trips in Side Turkey
Sea fishing from Side
Fishing tour in Side
---
Full Description
Fishing tour in Side Turkey
Angling by boat at the sea from old harbour of ancient Side.
For Fishing tour in Side, pick up from hotels in Side and transfer to the Side harbour, and transfer back to the hotels at the end of the activity is included in the price.
In Turkey, tourists do not need a permit or a fishing license to participate in fishing tours during their holidays. Tourists can freely participate in fishing tours in Turkey whenever and as many times as they want. Join and enjoy fishing tours by boat organized by Vigo Tours!

Boat fishing from the Side region is quite popular. Turks and tourists are very keen on fishing by boat. While most of the Turks are doing fishing from the shore, tourists prefer fishing tours by boat. Fishing by boat is a great way to spend time for tourists. Fishing tour by boat from Side is done for 12 months depending on the weather. Pick-up and drop-off from hotels is included. Pick-up and drop-off service is available from all Side region hotels. Due to its distance to Side, extra fees are collected for Kızılağaç and Kızılot regions.
Fishing trip in Side
The advantages of angling can not be well explained but it needs to be experienced. It is well known by those who knows well! The health benefits of fishing are also endless. For many people, fishing means sitting on a boat or on a bench and waiting. But it is much more than that. It keeps you fit both physically and mentally. It reduces your stress, puts you in shape and lets you enjoy being outside.
Angling in the sea can be a little bit laborious, but it is a great method to attach people to the sea and also to be intertwined with nature. Enjoying the sun increase in the center of the sea, gulls flying around you, throwing your fishing line right into the water, and also feeling that the fish strike your fishing line is a wonderful feeling for every single person that loves angling. Each touch of the fish to the hook of the fishing rod, and every fish catched up make a really delightful moments packed with adrenaline and also excitement.
All the tourists are permitted fishing in Turkey without permit of authorities!
Big fish is not difficult! The simple way: imagine the biggest and the best, and walk straight to the goal! The fish will never upset you.
Although seasonally different, you will have the chance to catch the following fish in the summer: Pandora, Common Pandor, Gilthead Seabream, Tub gurnard, Sharpsnout seabream, Mediterranian shad, Bluefish, Red Mullet, Greater weever, Annular Seabream, Blotched picarel, Bouge, Angler fish, Chub mackarel, Saddled seabream, Axillary seabream, Horse Mackerel, Garpike, Comber Fish, Comber Fish, Blotched Picarel, Whitting, Atlantic mackarel, Atlantic bonito, Striped red mullet, European Hake, Blackspot seabream, Two banded bream, Striped bream, Little tunny, Painted Comber.
Fishing equipment and bait are abundant on the boat. You just bring your power and your dreams! Since angling by boat can be a bit strenuous, beer and similar drinks are available as extra.
Kizilagac and Kizilot regions are about 20 km away from Side pick up zone and those areas are not considered as Side. However, for many tours, we accept Kızılağaç and Kızılot regions as Side for the same price as Side except some few tours. However, for Kızılağaç and Kızılot zones, an extra charge per person is applicable to half-day fishing tour from old Side harbour.
Sea Fishing Trips Side Turkey
Fishing in Side Turkey
Fishing in Side Turkey
Fishing tour in Side Turkey
Fishing trip in Side Turkey
Fishing at the sea in Side Turkey
Fishing Side Turkey
Tour program for fishing tour in Side
Pick up from hotels in Side and transfer to Side harbour 07:30
Boarding the boat 08:15 / 08:30
Preparations for fishing
Sailing to the fishing spots and fishing starts
Fishing by boat around Side about 4-5 hours
End of the activity and return to the hotels 13:00

Sea fishing from Side
How about a fishing tour on your Side vacation? Try your luck against the fish of the Mediterranean on a half-day fishing tour by boat from Side harbor! Experience fishing in Side. Enjoy a fishing tour in Side with an experienced team that knows the fishing spots in the sea very well and with all fishing equipment. We pick you up at 07:00 in the morning and go to Side harbor. We sail from Side harbor with our fishing boat and after half an hour we reach our first point, immediately throw our fishing rods into the water and wait. Do not postpone experiencing a pleasant fishing tour on your Side Holiday!
For Big Game Fishing please contact us!
---
Price included
Pick up from hotels in Side and transfer to the Side harbour
5 hours fishing by boat
Fishing equipments
Tea, Coffee, Water
Food and Drinks
Photos and Video
Big game fishing (deep sea fishing)
---
Know before you go
Pick Up Place
All the hotels in Side region. Hotels in Gündoğdu, Çolaklı, Evrenseki, Kumköy, Side, Tireyengöl / Sorgun. From Kızılağaç and Kizilot regions extra price is charged.
Pick up Point
Main entrance gate of the hotels (not the lobby or reception).
Event Days
01.01.2021 - 31.12.2021 Sunday Monday Tuesday Wednesday Thursday Friday Saturday
Important information
Daily fishing trip in Side & Sea Fishing from Side
Tourists are allowed for fishing Turkey without permits.
Bring a good sun cream.
Be sure of you have no for sea illness
If you already recognize you're vulnerable to nausea, take half a Dramamine the night prior. Also the crew will assist you in case of any.
Drinkable water and all beverages as well as beer: On the boat it is sold by reasonable prices. Please do not bring your drinks from your hotel.
For Big Game Fishing (deep sea fishing) please contact us!
Image Gallery






















































Customer Reviews
)
Side - Most popular tours