Wellness massage at the traditional Turkish Bath in Side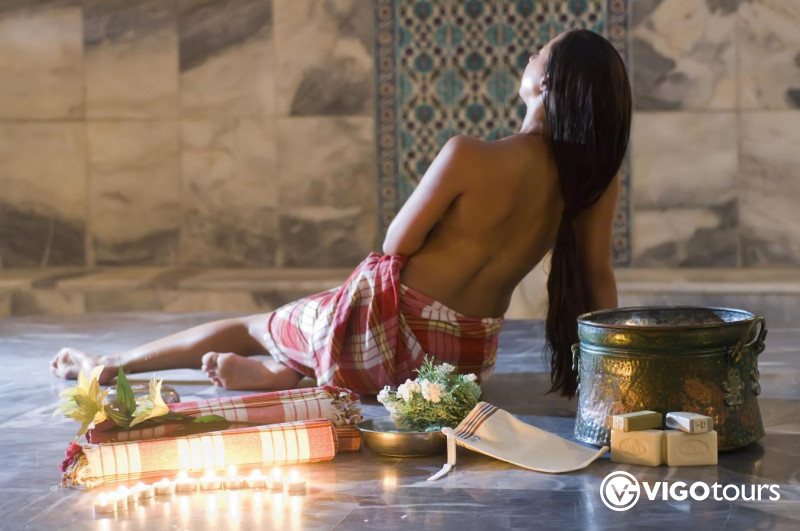 Price from € 19
$ 21 / € 19 / ₺ 303 / £ 16
Book Now
About this activity
From 01.11.2021

Monday Wednesday Friday

Total Tour Duration (with transfers): 5 Hours

Booking confirmation:

Instant confirmation

Printed or mobile voucher:

Accepted

Wheelchair accessible:

Available

Easy Online Booking:

Fast, Easy & SSL Secure Booking

Cancellation policy:

Flexible

Shopping:

No Shopping tour

Skip the ticket line:

Yes

Tour Guiding:

English , Turkish , German , Russian
Select participants and the tour date
Prices may differ seasonally. To see prices enter participants and date.
Experience
Highlights
Turkish bath Hamam in Side
Wellness and beauty massage in Side
Full body wellness massage in Side
Side wellness massage in traditional Turkish bath Hamam
Side, Turkey wellness massage in Turkish bath - Hamam
Beauty massage at Turkish bath in Side Turkey
---
Full Description
Wellness massage at the traditional Turkish Bath Hamam in Side Turkey
A half-hour full body massage will give you a great refreshment!
Side Health and wellness massage: To have a wonderful holiday in Side with a rested and relaxed body and a cleansed skin ready for tanning, it is recommended to go to a Turkish bath first!
Experience the wellness and beauty massage in the Hamam of Side Turkey!
Experience a relaxation, beauty and wellness massage in the Turkish bath (Hamam) in Side, Turkey. Relax and rejuvenate your body with a traditional full body wellness and beauty massage in the traditional Turkish Hamam in Side.
Hamam (Arabic: hammam) is a place used for bathing with hot and cold water, and heated by a special arrangement.
Massage is a faithful friend of the heart and mind!
The history of the bath dates back to the ancient Romans. Excavations in the city of Pompeii under the ashes after the eruption of the volcano Vesuvius revealed the baths used by the Romans. It is understood that these baths are not only for cleaning but also for pleasure and entertainment. Since there was a class difference in the Romans, the entrance doors of the slaves and nobles and the places where they were washed were separated in the baths. The Roman baths also had steam baths, cold and hot water pools.
The relaxation massage of our experienced Massage team will enchant you. Our masseurs trained in massage provide a professional massage service that is good for your body and mind. After the massage, you will fully relax and enjoy your vacation.
The word, "hamam", stemming from the Arabic hamma (means "warming up"), indicates sauna bath and is based on the heating of cool water. Bathrooms were used as health and wellness centres among the ancient Greeks as well as have been a vital part of every day life in Istanbul given that Roman as well as Byzantine times.
Massage provides natural and permanent beauty!
The Turkish bathroom as a social establishment played an essential function both in the socialization and segregation of Ottoman males and females (in a manner equivalent to the harem). The Public baths were present in the cities, towns and in some villages, and were open to every person.
Frequent massage delays aging!
Treat your body like the holy place it is with a 1.5-hour Turkish bath experience at a hammam during your holiday in Turkey. This refreshing hammam experience begins with a comforting sauna on heated stones, then follows with a healthy and balanced scrub as well as peeling, then a purifying body and hair wash, and finishes with a calming oil massage therapy. A conventional way to rejuvenate your body, the hammam will certainly recover your skin as well as promote healthy and balanced blood flow.
Health and relaxation from water since ancient times: Hamam & Turkish Bath
Free shuttle service: We are also happy to offer you our free shuttle service from your hotel to our wellness center and back!
Enjoy wellness and health massage and traditional Turkish bath culture in Side Turkish bath
It will be great for you to relax and experience the body massage in Side Turkish bath. Enjoy the traditional Turkish bath in Side Turkish bath for health and wellness. Health and wellness with foam massage and scrub in Side Turkish bath. Relax your body with aromatic oil massage in Side Turkish bath. Experience the pleasure of traditional Turkish bath culture and massage together with Side Turkish Bath. You will get a great wellness with full body massage in Side Turkish bath. Try massage for wellness in Side Turkish bath. Feel like you are reborn with a scrub, foam massage and oil massage in Side Turkish bath. Side turkish bath will make you enjoy the thousands of years of bath and massage tradition. Discover the magic power of hot water and massage in Side Turkish bath.
Wellness and health massage in Side Turkish Bath
Experience traditional cleaning and wellness massage in Side Turkish bath. Side Turkish bath is included in our pick-up and drop-off price from hotels in the Side region for wellness massage. You can make reservations for the Turkish bath in Side every day, between 09:30 and 18:00, for wellness and health massage.
Side traditional Turkish bath and wellness massages
With the traditional aromatic oil massage in Side Turkish bath, you will have given your body an excellent reward. The herbal aromatic oil massage that will be cleaned with foam massage and scrub in the Turkish bath in Side will provide vitality and health. Do not miss Side Turkish bath and full body massage pleasure. Side turkish bath foam massage, scrub and aromatic oil massage price is quite reasonable, price is expensive in hotels for the same service, avoid paying more in hotels. Reserve with Vigo Tours Side for wellness and health massage in Side Turkish Bath.
KUMKÖY WELLNESS CENTER & SPA
Wellness Center and SPA Kumköy Side Turkey
---
Price included
Pick up from hotels and drop off at hotels
Turkish bath
Peeling and foam massage
Classic oil massage
Cleaning and wellness
Extra massage & extra spa facilities
---
Know before you go
Pick Up Place
For wellness massage in Turkish bath (Hamam in Side, Turkey) in Side, pick up from all the hotels in Side, and all Hotels around Side is possible, and included in the price. Hotels in Side Colakli, Hotels in Side Gundogdu, Hotels in Side Evrenseki, Hotels in Side Kumköy, Hotels in Side, Hotels in Side Titreyengöl, Hotels in Kizilagac, Hotels in Kizilot.
Pick up Point
For the wellness massage in Turkish bath (Hamam in Side, Turkey) in Side, pick up point is the main entrance gate (security check gate) of the hotels by outside the hotel border.
Event Days
01.11.2021 - 31.03.2022 Monday Wednesday Friday
Important information
Get a wonderful relaxation by experiencing the full body wellness and beauty massage in the traditional Bath & Hamam of Side Turkey!
Female masseuse personnel for Ladies is always available.
The Inside Hamam is extremely warm and also humid like sauna. Please make sure you do not have any type of illness concerning high moisture.
Children and Teenagers are offered no peeling and no massage therapy.
Image Gallery











Customer Reviews
)
Side - Most popular tours