The Land of Legends Theme park Tour from Side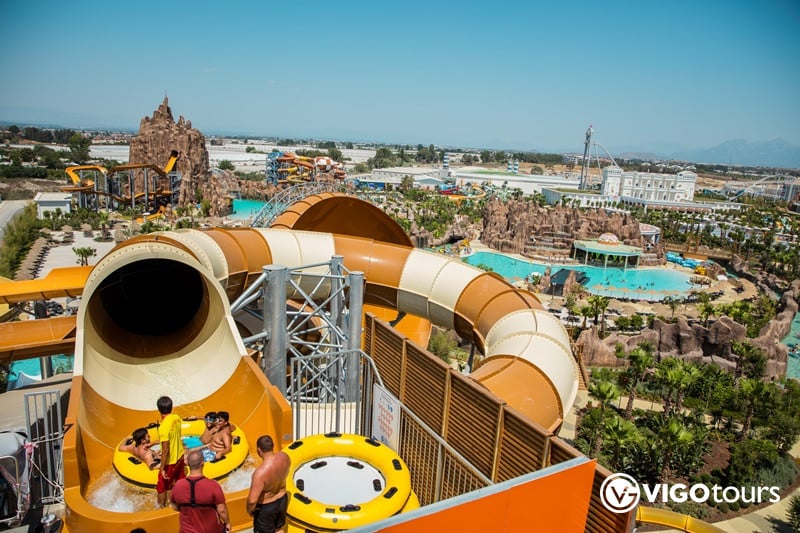 Price from € 40
$ 45 / € 40 / ₺ 618 / £ 34
Book Now
About this activity
From 01.07.2022

Tuesday Thursday Saturday

Total Tour Duration (with transfers): 9 Hours

Booking confirmation:

Instant confirmation

Printed or mobile voucher:

Accepted

Wheelchair accessible:

Available

Easy Online Booking:

Fast, Easy & SSL Secure Booking

Cancellation policy:

Flexible

Shopping:

No Shopping tour

Skip the ticket line:

Yes

Tour Guiding:

English , Turkish , German , Russian
Select participants and the tour date
Prices may differ seasonally. To see prices enter participants and date.
Experience
Highlights
The Land of Legends Amusement park Antalya
From All Side Hotels: Bus Transfers and entrance ticket to the park
Pick up from All the Hotels in Side and around Side
Legends of aqua waterpark, The Land of Legends, Antalya, Turkey
---
Full Description
ANTALYA THE LAND OF LEGENDS THEME PARK TOUR
TURKISH DISNEYLAND
From 1 November until the end of March, the water slides are closed, only the waterless slides are open for use. The dolphin show continues, it is included in the price.
With The Land of legends Theme park tour from Antalya you will have an amazing day in such a stunning theme park. Experience the tsunami in the wave pool at the Antalya amusement park. Great fun and pleasure from 10 am to 5 / 5:30 pm!

Looking for an exciting, adventurous, yet relaxing full-day excursion? Antalya Land of Legends Theme Park Tour will get you able to experience unique moments of adrenaline, laughter and enjoyable.
The legends theme park
It contains 40 slides in complete, multiple swimming pools and specially designed swimming pools for youngsters. The slides are appropriate for all ages and for all the pursuits, as you possibly can selected between relaxed and gradual slides or speedy and electrifying ones. The Wave Shock looks like a small ocean where you can get pleasure from using the waves and chill out. For stress-free and playful moments with your family and pals, you can also benefit from the Family Floats pool. In what regards the extra thrilling facet of the swimming pools, those who wish to have fun and adventure have also some options.
Antalya water park
You've probably never seen such a great theme park in your life before! The Land of Legends cannot be described in words that must be experienced! The Land of Legends is the Disneyland of Turkey! It wouldn't be wrong to call The Land of Legends Theme Park a new generation entertainment destination.
Designed for children and adults, the architecture, interior decoration and visuality of an outstanding water park. Neither you nor the children can understand how time passes on countless water slides and pools. To delight you and also your family in the Land of Legends the water is on a special effort in an incredible enthusiasm as well as harmony. You will enjoy it a lot!
The Land of Legends Antalya is a Turkish Disneyland. Free pick up and transfer from the hotel will take you to this fantastic and magical aqua world. Everything at The Land of Legends is designed to give you unforgettable experience. There are about 40 splendid water slides and various amazing pools for all ages. Just choose as you wish: funny ride or wild rush.
Land of Legends Antalya
Antalya: An amusement park The Land of Legends - An amazing aqua world. Legends Aqua - Land of Legends: An Excellent water adventure and also a Fantastic Experience in Antalya!
In this terrific day with your family members you will find yourself in really an amazing aqua world. From first moment you will certainly be mesmerized of incredible theme park of Land of Legends.
Hyper coaster land of legends
The Land of Legends is a theme park where water is being programmed wisely to make you feel fully amused, and you take pleasure of time there from the beginning till the end.
Antalya water park. The legends theme park. The land of legends theme park tour. Antalya theme park. Water parks in Turkey Antalya. Hotels in Antalya with water park.
The Land of Legends Theme park Tour from Side
Full day tour from Side hotels to the Land of Legends with transfer and entrance ticket.
Land of Legends tour with pick up from all the hotels in Side region.
Side Land of Legends tour with transfer and entrance ticket.
Great water adventure! The sun and fun combine perfectly with the aqua. And also adrenaline. That's why Legend of Aqua is a place worth being. Feel the hum of the aqua slides and rides. Get relax in a quiet lagoon. Enjoy a dolphin and sealions show or swim with fantastic sea creatures of the world. Go with ritm and Just choose your adventure.
---
Price included
Pick-up and drop-off from / to hotels, bus transfer with air-conditioned tour bus
Entrance fee
Dolphin, Beluga and Walrus Show
All water slides
Unlimited rides
5th Dimension Cinema
Lunch and drinks
Swimming with dolphins
Photos
Personal expenses
Animal Interactions
Street Games
Lockers
---
Know before you go
Pick Up Place
All the hotels in Side region. Hotels in Kumkoy. Hotels in Evrenseki. Hotels in Colakli. Hotels in Gundogdu. Hotels in Titreyengol / Sorgun. Hotels in Kizilagac and Kizilot. The Land of Legends Theme park tour from Side, Turkey. Pick up is available from all the hotels in Side, Turkey, and all the hotels around Side, Turkey. We pick up everywhere, from all the hotels in Side, Turkey.
Pick up Point
Main entrance gate of the hotels. The land of Legends Theme park tour from Side, Turkey. Pick up point from hotels is the main entrance gate (security check entrance of hotels) of Hotels in Side, Turkey.
Event Days
01.07.2022 - 30.09.2022 Tuesday Thursday Saturday
Important information
The Land of Legends Theme Park Antalya "Turkish Disneyland"
Land of Legends park opening time is 10:00
Return time to hotels 17:30 / 18:00
Please be next to the vehicle in the parking lot at the return time given by the tour guide. The vehicle will wait for the latecomers for a maximum of 5 minutes.
During low seasons and winter, some slides may be closed and some activities may not be active.
There are lots of areas for drinks and also food in the park.
General park guidelines
It is compulsory to carry in the park the wristbands given at the entryway
Non-toilet qualified kids have to put on leakproof diapers.
It is not hassle-free for our visitors with a health issue (emotionally and physically burdened, heart, neck as well as back troubles, pregnancy, epilepsy and so on) to utilize the rides.
All security recommendations should be complied with during the activities. Arms, legs as well as feet must be kept in proper setting.
It is purely prohibited to run, leap, dive headfirst and also slide on knees at activity areas and on rides.
It is not convenient to use clothes and devices with zips, clasps or steels on them during the activities as they may create snagging.
Actions have to be required to stop sunglasses, coins as well as devices from diminishing throughout activities.
Winter program of The Land of Legends
Activities in service during the winter period (from 3 November to 15 April):
Secret Lagoon and Dolphin Show (Dolphinarium)
All activities other than Secret Lagoon and Dolphin show will be out of service.
During the winter, the water temperature of all pools will be 27 degrees.
Image Gallery











Customer Reviews
)
Side - Most popular tours