Brown Fish Owls at Oymapinar Lake near Manavgat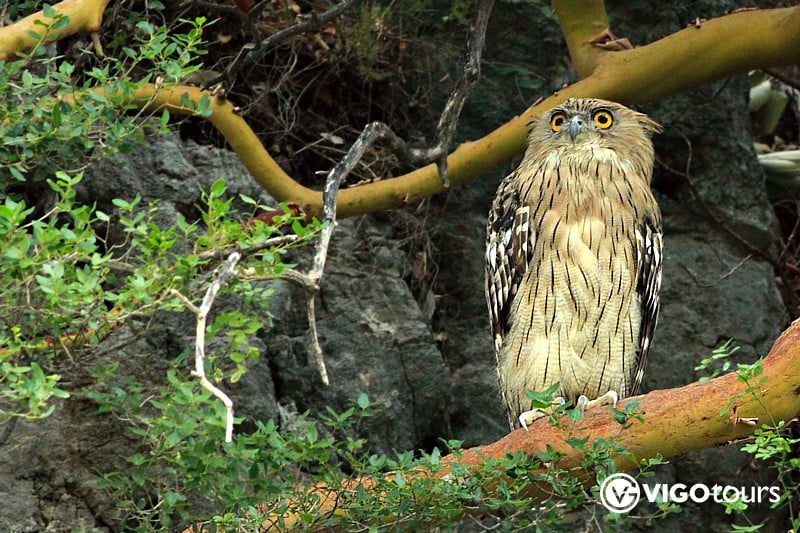 Price from € 125
$ 142 / € 125 / ₺ 1,933 / £ 106
Book Now
About this activity
Total Tour Duration (with transfers): 4 Hours

Booking confirmation:

Instant confirmation

Printed or mobile voucher:

Accepted

Easy Online Booking:

Fast, Easy & SSL Secure Booking

Cancellation policy:

Flexible

Shopping:

No Shopping tour

Skip the ticket line:

Yes

Tour Guiding:

English , Turkish
Select participants and the tour date
Prices may differ seasonally. To see prices enter participants and date.
Experience
Highlights
Brown fish owls; amazing rare birds!
Wonderfull birds in the wonderfull site
A private boat trip at Oymapınar lake
Brown Fish Owls · Ketupa zeylonensis
Brown fish owl Turkey
---
Full Description
Boat trip to watch Brown fish owls at Oymapinar lake
There aren't many people who saw them, however you can do this with none critical efforts. Enjoy a guided non-public bird-watching tour for the Brown Fish Owls of the Green Canyon at the Taurus Mountains in Manavgat.
It was known that fish owls existed in countries such as Israel, Iraq, Jordan and Lebanon in the Middle East until 40-50 years ago. However, fish owls are thought to have been extinct in these regions due to wars. Today, they are known to continue their presence in India, Sri Lanka, Pakistan and Thailand in southern Asia.
Brown Fish Owl were recorded in Turkey for the first time at the end of the 18th century. And from that date until 2009, very few fish owl was seen in Turkey.
The brown fish owl was thought to be extinct in Turkey. However, after a long time they were seen again and recorded. Today their populations have increased remarkably. As a result of several serious birdwatching studies conducted in 2009, three fish owls were found in the Mediterranean region. Today, the population of fish owls in Manavgat and its vicinity is thought to be about 50 individuals.
The number of animal species in nature decreases as a result of famine, over and uncontrolled hunting, climate change or shrinking habitats. This may even go as far as extinction. But sometimes the species that we think are extinct will reappear after a long time. Here in Turkey are the brown fish owl One of these species.
Fish owls are generally birds with reddish brown and yellowish brown feathers. There are black and dark brown stripe-like thick cut hairs on the dorsum. The abdomen is covered with yellowish white hairs. These feathers include fine lines of black or dark brown color. Fish owls have bright golden eyes and pale greenish gray beaks. The top of the heads is flat. The ears are large and covered with feathers. It is a large owl with a length of 55 cm and wings up to 150 cm. Female fish owls are larger than male fish owls.
Fish owls live in trees in lowland plains or in open woodlands along lakes or rivers. They make their nests in caverns on the cliffs, dried trees or old nests of birds of prey. They usually hunt at night but fly in daytime in cloudy weather. They watch their prey over the trees or rocks on which they perched.
They feed on frogs, crabs, rodents and reptiles. Unlike other owls, they fly on the surface of the water and catch fish.
The breeding time of fish owls lasts from November to March. They mostly breed between January and February. Juveniles of fish owls in the Antalya region are seen at the edge of their nests from mid-May. Usually there will be 2.
The fish owl is in the "low risk" category of the red list prepared by the World Conservation Union (IUCN). This category means that their lives are not threatened and their populations in nature are high. However, due to tourism activities, the living areas of fish owls are shrinking and due to pollution of the rivers, their living conditions are unfortunately getting worse.
Meeting time: 04:00 - 04:30
Meeting area: Total Gas Station in Side
Google location: https://goo.gl/maps/CGfoG3ZgiSg2Jh6u5
Compared to eagle owls of comparable size, fish owls are usually even shorter in tail length and even heavier in build, have comparatively bigger wings, have considerably longer legs, and have a rough texture to the underside of their toes. At least the latter two options are clear adaptations to assist these owls in capturing fish.
It is determined by night vision camera in India that fish owls feed on about 18 species of vertebrates and invertebrates such as fish, snakes, frogs, rodents and lizards. Camera recordings lasted 23 days and 192 feeding flights were detected. During the incubation, the feeding activity of females and chicks is carried out by the male. The female individual deals with the egg and nest.
Meeting at the Total Petrol station 05:00
Transfer to the pier at Oymapinar lake
Boarding the boat 06:15
Boat journey to the little canyon
Bird Watching about 30 minutes
If no Fish owls in little canyon then we will to the grand canyon (40 minutes)
Bird Watching about 30 minutes
Back to the pier and tour ends
---
Price included
Private Boat tour
Tea & Coffee and Water
Guiding
Hotel accommodation
Transfer - Pick up
Gratuities
---
Know before you go
Pick Up Place
Total Petrol Station - Side Alanya Junction https://goo.gl/maps/CGfoG3ZgiSg2Jh6u5 Pick up is possible from hotels in Side
Pick up Point
Total Petrol Station in Side https://goo.gl/maps/CGfoG3ZgiSg2Jh6u5 Pick up is possible from hotels in Side (main entrance of the hotels)
Event Days
15.03.2022 - 15.07.2022 Sunday Monday Tuesday Wednesday Thursday Friday Saturday
Important information
Brown Fish Owl · Ketupa zeylonensis
Early reservation is required
In order to keep fish owls not being disturbed: No camera flash is used and no smoking please.
We will try first little canyon, and then Grand Canyon
(in case no success at the little canyon)
Image Gallery






Customer Reviews
)
Side - Most popular tours