Daily Trip to Pamukkale from Side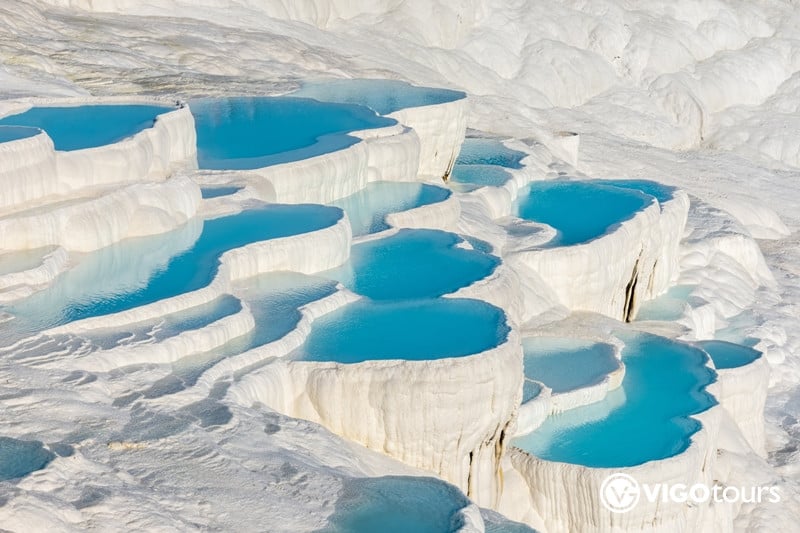 Price € 35
$ 41 / € 35 / ₺ 363 / £ 30
Book Now
About this activity
Tour Duration (including the Journey): 14 Hours

Booking confirmation:

Instant confirmation

Printed or mobile voucher:

Accepted

Wheelchair accessible:

Available

Easy Online Booking:

Fast, Easy & SSL Secure Booking

Vegetarian & Vegan meal:

Available

Cancellation policy:

Flexible

Skip the ticket line:

Yes

Tour Guiding:

English , Turkish , German , Russian , Polish
Prices
Select participants and the tour date:
Prices may differ seasonally. To see prices enter participants and date.
Experience
Highlights
Pamukkale daily tour from Side - Vigo Tours Side
Day Excursion Side to Pamukkale - Vigo Tours Side
Side Pamukkale excursion - Vigo Tours Side
Side Pamukkale trip - Vigo Tours Side
Side to Pamukkale with pickup from Side hotels - Vigo Tours Side
PAMUKKALE TOUR FROM SIDE TURKEY
---
Full Description
Daily trip to Pamukkale from Antalya
(from Side, Alanya, Belek, Antalya and Kemer)
Important information
We cooperate with 2 companies that organize Pamukkale tours from Antalya. Unfortunately, there is no third company that organizes Pamukkale tours in Antalya. All agencies in Antalya cooperate with these 2 companies for Pamukkale tours. These two companies organize Pamukkale tours from Antalya with a single tour bus and as mixed nations. This is due to high tour costs. The majority of these mixed passengers are also Russian tourists. When you book a Pamukkale tour with us or another agency, you should know that the tour bus consists of mixed nationalities and mainly Russian tourists. Unfortunately, making your Pamukkale tour reservation with another agency will not change this situation. In addition, due to mixed nationalities and mainly Russian tourists, the English and German guide service in Antalya to Pamukkale tours is unfortunately not at a satisfactory level. This issue will improve when the number of British and German tourists increases.

With our Pamukkale tour, you will experience the most interesting nature formation in the world and you will have a great pleasure!
We ask for your attention!
This tour includes visits to some shops during the tour. However, there is no obligation to purchase. We would like to inform you that we incur losses on every Pamukkale tour due to the corona situation and tough competition. We would very much appreciate it if you would still make purchases - even if they were minimal - on our tours.
We could thus reduce our losses a little and can continue to offer you our tours with pleasure.
The length of stay in Pamukkale Travertines is 3 hours.

Pamukkale (which means Cotton Castle in Turkish) is legendary for its beautiful white travertine terraces and vintage city of Hierapolis. Also with its thermal water springs, Pamukkale and Karahayit are two important health tourism centers. In Hierapolis antique city, there's a lot historical past to see and recognize. Amphitheater, Necropolis and The Martyrium of Apostle Philip are some the highlights of Hierapolis. We will pick you up from your hotel in Antalya within the morning and switch you with a contemporary air conditioned car to Pamukkale/Denizli
Pamukkale = pah-muk-kah-leh
Pamukkale tour from Antalya
Pamukkale means "cotton castle" in Turkish. Thermal water in the region ranging from 35 to 100 degrees in 17 different temperatures, starting from ancient times, Pamukkale has become a thermal health center that offers healing to people for thousands of years. Healing waters are known to support the treatment of many diseases, especially rheumatism, skin, heart and vascular. In addition, these thermal waters in Pamukkale with 17 different temperatures created natural wonders of different beauty all over Pamukkale.
Travertines are available in various colors. Color is related to the physico-chemical properties of water. The red color is iron (Karahayit travertines) dissolved in water, the yellow color is sulfur (Hot thermal travertines) and the white or gray color is calcium ion.
White travertines are the most interesting tourist attractions in Pamukkale. White travertine terraces are 2700 meters long and 160 meters high. These travertines are of great interest due to their accumulation patterns and natural colors. These magnificent white rocks are formed by contact with oxygen during the flow of water containing a large amount of limestone. And they are under protection because they are rare natural beauties. Many years ago it was possible to walk on travertines and even swim in the pools of travertines, but since 1993 it has been prohibited to protect travertines. And since then travertines have come alive and become whiter.
During this tour, there is a visit to the sponsor shopping stores. However, shopping is not obligatory. We also have an express tour with no shopping visits. You can compare the prices of both tours and book the one that suits you.
Pamukkale tarvertens visit time is approximately 3 hours. During this time you can swim in the Kleoparta thermal pool. Swimming in the Cleopatra thermal pool is not included in the tour price. You can make your reservation with the tour guide. You can also book a swim in the red water pool with your tour guide.
Swimming in the antique pool and red water pool is extra. Both pools are as beautiful as travertines. You should definitely experience swimming in the pool, which has been a source of thermal healing for centuries.
Daily Pamukkale tours from Antalya region
Come to Vigo Tours for Pamukkale Tours, one of the most interesting nature formations in the world! We organize one-day Pamukkale tours from all over the Antalya region (except Olympos, Adrasan, Kaş and Kalkan). You can book daily Pamukkale tour in Side with Vigo Tours every day except Wednesday and Saturday! Daily Pamukkale tour from Alanya is possible with Vigo Tours at very reasonable prices. Vigo Tours awaits you for daily Pamukkale tours from Antalya Lara, Antalya Kundu and Antalya Kaleiçi (Old Antalya Town). The only address for a daily Pamukkale tour from Belek is Vigo Tours, Pamukkale tours from Belek with very affordable prices and the best service in Vigo Tours... If you ask for a Pamukkale tour from Kemer, the answer is Vigo Tours, for Pamukkale tour from Kemer. Search for Vigo Tours, or check out the Vigo Tours web page.
Our daily Pamukkale trip is organized in cooperation with our local partners.
Lunch is not included in the tour price. Please bring a lunch box from your hotel.
Tour program for daily trip to Pamukkale from Side
Pick up and Departure places: All the hotels in Side and around Side
Pick up from Hotels in Side 05:30
Breakfast stop outside Antalya (breakfast extra)
On the way to Pamukkale: Visiting of textile or leather factory
An introduction of Anatolian stones
Lunch (extra)
Arrival in Pamukkale Hierapolis, and free time about 3 hours in travertines (included)
Swimming at the Cleopatra thermal pool (extra)
Arrival to Karahayit, the red water area of Pamukkale, and swimming at the red water pool (extra)
Visit at the traditional winery producing center
Departure from Pamukkale region
Dinner at the restaurant (extra)
End of the tour and arrival to the Hotels in Side 22:00

* Attention please! This tour includes shopping sponsor stops
* Tour Program is subject to availability of time, but in Pamukkale free time will be not less than 3 hours
---
Price included
Pick up from hotels - and drop off at hotels
Bus journey by an air-conditioned bus
Guidance
Pamukkale entrance fee 12€ per person
Lunch and Dinner
Drinks
Bathing in a Roman bath 9 € per person
Personal expenses
Red water pool 9 € per person
---
Know before you go
Pick Up Place
We provide pick-up service from all hotels in Side and around Side for our daily Pamukkale tour from Side. Hotels in Gundogdu Side, Hotels in Colakli Side, Hotels in Evrenseki Side, Hotels in Kumköy Side, Hotels in Side, Hotels in Titreyengol and Sorgun, Hotels in Kizilagac and Kizilot. For the daily Pamukkale tour from Side, we provide pick-up and drop service from all over Side region, and this service is included in the daily Pamukkale tour price from Side.
Pick up Point
For our daily Pamukkale tour from Side, the meeting point from Side hotels is the entrance gate of the hotels from the main road.
Important information
Daily Pamukkale tour from Side
Pick up is available from all the hotels in Side and around Side
We do pick up from all the hotels in Side

Sponsor shopping stores are visited on this tour. This may disturb you, but you are not obliged to Shop. If you would like a Pamukkale tour without shopping sponsor stores, please book our express Pamukkale tour!

Travertine entrance ticket does not include swimming in Cleopatra pool. Swimming in the Cleopatra ancient thermal pool is extra.

The tour schedule depends on the availability of time. The tour program can be changed shorter or longer by the guide.

Prices of all kinds of food, drinks, clothing and souvenirs in the shops where we stop during the tour are not under our control.

It is very important that you follow the timings given by the tour guide.

)
Side - Most popular tours