Dolphins show and Swimming with dolphins in Side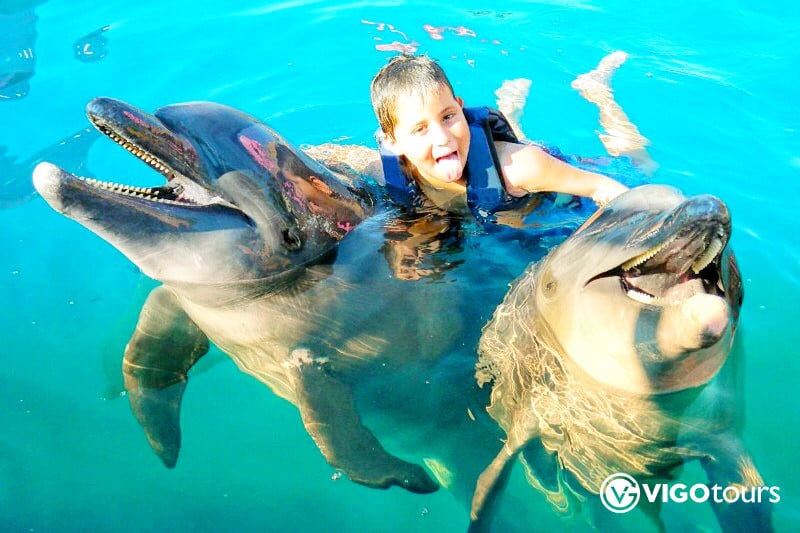 Price € 30
$ 35 / € 30 / ₺ 311 / £ 26
Book Now
About this activity
Tour Duration (including the Journey): 5 Hours

Booking confirmation:

Instant confirmation

Printed or mobile voucher:

Accepted

Wheelchair accessible:

Available

Easy Online Booking:

Fast, Easy & SSL Secure Booking

Cancellation policy:

Flexible

Experience:

No experience required

Shopping:

No Shopping tour

Tour Guiding:

English , Turkish , German , Russian
Prices
Select participants and the tour date:
Prices may differ seasonally. To see prices enter participants and date.
Experience
Highlights
Meet the dolphins in Side!
Touch them up!
Speak to them!
Swim with them!
Side Dolphinarium
Dolphins and Sealions show
---
Full Description
Dolphins Show and Swimming with dolphins in Side Turkey
How about a perfect activity for yourself and your children during your holiday in Side?
Dolphins and sea lions Show in Side Turkey!
A great place to enjoy with kids. The show takes one hour and it is just a great amazing. You will love every minute of the show. You will have so much fun watching this show and your kids will have a wonderful time. You will watch a very professional and entertaining show. Do not miss such a big fun for you and your kids! An amazing show that the whole family can enjoy a lot.
Swimming with dolphins, which is a big dream of children and adults, can take place in Side. Cute dolphins are waiting for you in the dolphin park which is only 40 km away from Side! Make your big dream come true in Side!
We are waiting for you to make a reservation in Vigo Tours to meet our great friends dolphins and sea lions and swim with dolphins. A great feast is waiting for you and your children in the dolphin park which is only 40 km away from Side!
Such a wonderful activity cannot be missed! You will be amazed by the dolphins and sea lion show that lasts for 1 hour! After a spectacular and fun show lasting 1 hour, you can swim with the dolphin, which will be the greatest experience of your life. All you need to do is to book online at the Vigo Tours website.
We pick you up from your hotel, take you to the dolphin park and drop you back at your hotel at the end of the tour. This price is included.
Dolphins, our cute friends are waiting for you!
It will be a wonderful activity for your children to meet our very cute and wonderful friends.
Who can't swim with the dolphin?
Pregnant women
People with epilepsy
Children under 6 years
if Wounds on the body
This is the Vigo Tours Side Turkey website where the dolphins show and swimming with dolphins are securely booked online.
Famous Italian diver Enzo Maiorca (1931 - 2016) dived into the sea in Syracuse, Italy and was talking to his daughter Rossana, who was on the boat. As he prepared to enter the boat, he felt something tapping on his back. He turned and saw a dolphin. Then he realized that the dolphin was not touching to play, but to tell something. As the dolphin swam to the bottom, Enzo followed. At a depth of about 12 meters, he saw another dolphin caught in an abandoned net. Enzo swam up quickly and asked his daughter to give him the diving knives. Soon, he and his daughter were able to free the dolphin, which dived into the nets and made an "almost human scream"-like sound. (A dolphin can stay underwater for up to 5-10 minutes) Enzo, Rosana and the other dolphin helped the freed dolphin to surface. That's when they got another surprise: the dolphin they rescued was pregnant! The male dolphin swam in circles around them and then stopped in front of Enzo, touched his cheek (like a kiss) as if he were doing it with gratitude, and then they both swam away. Enzo Maiorca recounts this event with a final statement: "Man will never know his true role in the world until he learns to respect and talk to the animal world." The world does not belong only to humans... We have to learn to respect nature, their living spaces and their right to life...
Click here for Antalya Airport transfer to Side.
Dolphins and Sea lions show from Side Turkey
Pickup from Side hotels for the Dolphin and Sea Lions show is between 12:30 and 13:30. The journey from Side to Dolphins Show center takes approximately 40 minutes. The activity starts with the dolphin and sea lions show first and lasts about 1 hour. After the show, those who have made an extra reservation to swim with the dolphin start the dolphin swimming activity. Return to Side hotels will be approximately at 17:30.
We use 2 different dolphinariums depending on availability. Both are 40 minutes from Side. The program and prices are the same for both.
Make an early reservation on the Vigo Tours Side web page to participate in the dolphins and sea lions show (and to swim with the dolphin) with your children in Side Turkey!
---
Price included
Pick up from hotels and drop off at hotels
1 hour Dolphins and Sea lions show
Swimming with dolphin (Included if booked as an extra)
Food - Drinks & personal expenses
Photos and Video
---
Know before you go
Pick Up Place
All the hotels in Side region. Also the hotels in Kızılağaç and Kızılot regions. Hotels in Okurcalar and Avsallar are also possible.
Pick up Point
Main entrance of the hotels, not from lobby or reception.
Important information
Half day tour for dolphin and sea lions Show from Side Turkey
Dolphin swim is not included in the main price. An extra reservation must be made.

Dolphin swimming is done after the dolphin show.

Towels and spare clothes are recommended for those who will swim with dolphins.

Early booking of dolphin swimming is important and recommended.

There are photographers in the dolphin park and they take pictures with dolphins. The subject of photography in the dolphin park has no connection with Vigo Tours.

In low seasons (April - end October) the activity will be in the morning.

)
Side - Most popular tours