Bird watching tour from Side Turkey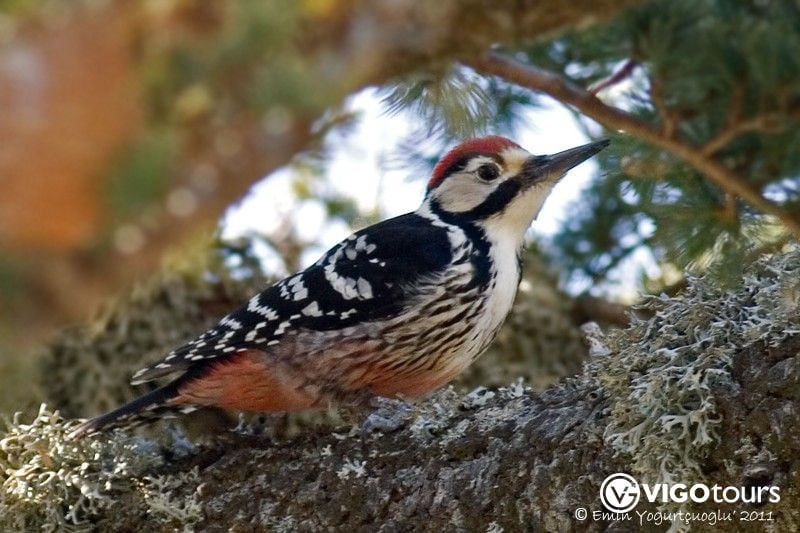 Price from € 80
$ 91 / € 80 / ₺ 1,237 / £ 68
Book Now
About this activity
From 01.03.2021

Monday Tuesday Wednesday Thursday Friday Saturday

Total Tour Duration (with transfers): 12 Hours

Booking confirmation:

Instant confirmation

Printed or mobile voucher:

Accepted

Easy Online Booking:

Fast, Easy & SSL Secure Booking

Cancellation policy:

Flexible

Experience:

No experience required

Tour Guiding:

English , Turkish
Select participants and the tour date
Prices may differ seasonally. To see prices enter participants and date.
Experience
Highlights
White throated Robin
Krueper's Nuthatch
Red Fronted Serin
Finsch's Wheatear
Olive-tree Warbler
and more...
Bird watching tour in Side
Bird watching tour in Antalya
Birds of Turkey
Bird species of Turkey
---
Full Description
Birdwatch Turkey
Full day Bird watching tour in Side
It may be quite good for you to spend 1 day on a bird-watching tour during your holiday in Side
Situated on the world's most important bird migration routes, Turkey is home to more species than all of the bird species in Europe.
When we take into consideration the range of bird sorts in Turkey, each migratory and in addition non-migratory, we are able to see that Turkey is an one-of-a-sort location for watching birds. There are two important factors for this wealth, Turkey's variety of varied ecosystems in addition to it is placement on bird's migratory programs. Plants like myrtle tree, Mediterranean medlar, oleander, blackberry, wild rose, spurge tree, tamarisk, spruce tree, kermes oak, thyme, wild mint, beech tree, bracken and ivy creates the bottom flora.
Bird watch in Side, Turkey
Approximately 50 billion birds migrate every year. 5 billion of them are made between Europe and Asia.
For centuries, migratory birds have followed large water bodies along the narrowest point on land. Bird migration path determined by the shortest terrestrial connection passes through Turkey. Migratory birds who have to cross the sea prefer the narrowest spots such as the Bosphorus and the Dardanelles. While gliding over high mountains, they also use lower passages such as Arhavi and Borcka-Artvin and Belen-Hatay. In the spring migration, migrating birds who reach Hatay by following the African Rift valley extension continue to migrate towards the northeastern and northwestern directions, crossing the Bosphorus to northern Thrace and the Balkans, and the other migrating group reach the Caucasus and further north through Artvin. In the autumn migration, they return to Africa on the same route.
Bird watching tour in Side, Turkey
It is not possible to compare the variety of birds in Europe with Turkey. There are 570 bird species in Europe. In Turkey it has been identified 502 types of birds in the last half a century, according to documents. 436 of them are seen very frequently. When you look at the European continent, Portugal as an example: there are 180 varieties of birds. Nonetheless, there are just 334 bird species in Antalya.
Daily Bird watching tour from Side Turkey
You are at the right place for bird watching tours from Side!
The most important duty of man against nature is to protect nature and to ensure that it is sustainable. Beyond being a hobby, birdwatching also includes an important duty of man to nature. This task makes sense by reporting the observations and submitting them to the evaluations. Turkey is a very important country in terms of bird watching. Antalya has an important place among many important observation areas of the country. As Vigo Tours, we work with important observation programs on birdwatching tours from Antalya, and offer significant observation opportunities to European birdwatchers. Our goal is to achieve success in all target species and provide an efficient observing experience to the observers who choose us. Our birdwatching activities include not only daily tours from Side, but also optional multi-day tours. Multi-day bird watching tours with accommodation start from Side region and cover Akseki, Beyşehir, Demirkazık, Adana and Mersin Göksü regions. Additional zones can be added to the observation points upon request.
Birdwatching program with Özcan Kilic, birdwatching guide from Vigo Tours
07:00 Arrival at the first bird watching place near Side. Depending on the season and migration time, there will be at least 2 hours of bird watching.
After 2 hours of bird watching in the coastal and river area
We will move to Taurus Mountains bird watching points (75 km). The first stop will be for Krüper's Nuthatch, sombre tit and cool tit. According to the migration and breeding period, there will be search and bird watching for Olive-Tree warbler. Next will be searched for White-throated robin. These 2 bird species breed in this area, but they are hard to see because they are few in number.
Bird watching will be done at 5 observation points in the Taurus Mountains region, between 1000 and 1800 altitude, depending on the season. For snow finch and Krimson winged finch, the birdwatching day will be limited to 3 observation points in case of going to an altitude of 1800 meters. (Hilly, uphill and narrow mountain road takes time)
The Taurus Mountains region is quite satisfactory for bird watching during April and May and even until the first half of June. With the end of the breeding period and the flight of new generations from their nests, birdwatching in the region decreases in terms of numerical diversity. Birds are spread over a wide area in the post-breeding region, so birdwatching can be a bit difficult.
Birds that can be seen in the area:
Common black bird, Hooded Crow, Olivaceous warbler, Middel spotted woodpecker, Willow warbler, Golden oriole, Great tit, Collared flycatcher, Jay, Chaffinch, Mistle thrush, Red-rumped swallow, Masked Shrike, Hoopee, Rüppel's warbler, House sparrow, Red fronted cool, Linnet, Ortolan bunting, Short-toed larks, Corn bunting, Northern Wheatear, Black eared wheatear, Blackcap, Blue tit, Coal tit, Raven, Short-toed Snake-Eagle, Common Buzzard, Laughing Dove, Alpine swift, Lesser spotted woodpecker, Syrian woodpecker, Woodlark, Barn swallow, Red-rumped swallow, Common nightingale, Finsch's wheatear, Blue rock thrush, Wood warbler, Long-tailed tit, sombre tit, Western rock nuthatch, Red-backed shrike, Eurasian Tree Sparrow, European Serin, Cretzschmar's bunting, Olive-tree Warbler, Black-eared Wheatear, Booted Eagle, Eastern Orphean Warbler, Woodchat Shrike, Northern House-Martin, Black-headed Bunting, European Honey-buzzard, Short-toed Treecreeper, Balkan's Warbler, Red Crossbill, White-thro ated Robin, Little Owl, Sardinian Warbler, Peregrine falcon, Great Spotted Cuckoo, Bonelli's Eagle, Spanish Sparrow, Crimson-winged finch, Snow finch, Golden eagle, Gray Wagtail, Lesser Whitethroat, Yellow-billed Chough, European Greenfinch, European Goldfinch, Isabeline wheater, white-backed woodpecker and maybe a little more ...
---
Price included
Pick up from hotels - drop off at hotels (in and around Side only)
Guiding
Birdwatching equipments
Food - Drinks
---
Know before you go
Pick Up Place
Pick-up and drop off from Side and hotels around Side is included in the price. An extra fee is charged for pick-up and drop off from hotels far from Side. Side and its surroundings are limited to a maximum of 10 km for pick-up and drop off. The extra fee is € 1 per km for distances greater than 10 km.
Pick up Point
Main entrance of the hotels (in Side only)
Event Days
01.03.2021 - 15.12.2021 Monday Tuesday Wednesday Thursday Friday Saturday
Important information
Full day bird watching tour from Side Turkey
At the night of the same day Fish owls can be watched by lantern lights from 21:00 (extra).
From Manavgat to Akseki area there are about 3 bird watching spots to be visited.
Image Gallery











)
Side - Most popular tours