Kemer rafting tour from hotels in Kemer region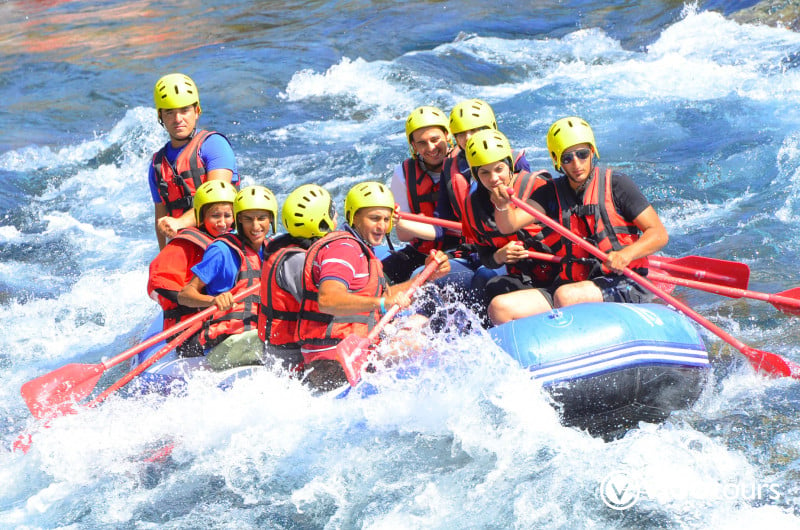 Price € 16
$ 19 / € 16 / ₺ 166 / £ 14
Book Now
About this activity
Tour Duration (including the Journey): 8 Hours

Booking confirmation:

Instant confirmation

Printed or mobile voucher:

Accepted

Easy Online Booking:

Fast, Easy & SSL Secure Booking

Vegetarian & Vegan meal:

Available

Cancellation policy:

Flexible

Experience:

No experience required

Shopping:

No Shopping tour

Skip the ticket line:

Yes

Things to do in Antalya

Daily tours and Excursions in Antalya

Tour Guiding:

English , Turkish , German , Russian , Polish

Departure Location:

Kemer
Prices
Select participants and the tour date:
Prices may differ seasonally. To see prices enter participants and date.
Experience
Highlights
Rafting in Kemer - Vigo Tours
Rafting adventure activity in Kemer - Vigo Tours
From Kemer: Rafting activity at Köprülü Canyon - Vigo Tours
Kemer Rafting adventure - Vigo Tours
Kemer: whitewater adventure Rafting tour - Vigo Tours
River rafting adventure activity with lunch from Kemer
Canyoning & Rafting from Kemer
---
Full Description
White Water Rafting Antalya
Antalya rafting tour
Vigo Tours has been organising Rafting tours in Köprülü canyon national park of Antalya Since 2000. Spend one your days with Vigo Tours rafting during your holiday in Antalya and enjoye the exciting rapids of river.
For a great rafting experience, we pick up from all hotels in the Antalya region at different times and go to Köprülü Canyon with air-conditioned vehicles. When we arrive at the meeting place in Köprülü Canyon National Park, our rafting team gives you the basic information and necessary equipment about our exciting and enjoyable river rafting tour.
We invite you to enjoy a tremendous river rafting pleasure in the Köprüçay river in the Köprülü canyon national park in Antalya, with the privileged service difference of Vigo Tours!
Where and how Antalya Rafting tour is run by?
Rafting activity on the Köprüçay river in Antalya Köprülü canyon national park starts from the historical Oluk bridge point in Beşkonak. This place is about 1 hour away from Antalya. People from all over the Antalya region come here for rafting. In the summer months, nearly a thousand people come here to enjoy the tremendous pleasure of rafting on 12-person rafts. Rafting in Antalya Köprülü Canyon is an exciting activity full of fun, adventure and excitement.
River Rafting at the Köprüçay river near Antalya
Köprüçay River, which passes through the natural wonder Köprülü Canyon National Park which is approximately 75 km away from Antalya, has become an incredibly enjoyable river rafting center. Rafting tours, which started in 1992 for the first time, have become much more popular each year since that year. This magnificent wonderland national park welcomes nearly 1000 rafting enthusiasts every day during the summer season. There are so many guests attending our rafting tour, which gives incredible enthusiasm and joy.
Experience a great adventure and fun with rafting in Antalya
No experience is required to participate in river rafting. The rafting difficulty of the Köprüçay River is in the category of easy trails. This means that children can also participate in river rafting. When you look at the rafting pictures on our site, you will be able to see small children on the rafts.
There is a rafting guide for rafting for 12 people rafts. This guide works for you to enjoy river rafting. Life jackets are provided free of charge. You can rent or buy special rafting shoes. You can also participate with your own shoes. Thick rafting suits can also be hired extra.
A wonderful and unique nature, a magnificent river flowing from the Taurus Mountains and Rafting... Join the enthusiastic and fun-filled Rafting experience in Antalya with Vigo Tours!
After some tour details and a brief information meeting, our guests are divided into groups for each raft, and our fun-filled Rafting tour starts at around 11 o'clock under the ancient bridge. This wonderful tour lasts approximately 3 hours with various exciting animations and entertainments. Lunch is served in our own restaurant located by the river. Drinks are extra.
Canyoning
You can also take a canyoning tour before rafting. This tour takes about half an hour. The canyon tour is extra. You can also do the activity called zipline and glide from the top of a rope over the river. These services are extra.
At the end of the fun-filled tour, you can see the photos and videos taken during the tour and purchase them if you wish.
Adventure and fun-filled rafting tour from Kemer with pick up service included from all the hotels in Kemer
Kemer Rafting tour program
Rafting from Kemer means an amazing excitement. Kemer rafting experience means an enthusiastic entertainment. Rafting tour in Kemer means a big fun and adventure. Kemer Rafting activity means an amazing day out of your wonderful vacation time in Kemer!
Pick up from hotels in Kemer, and all hotels in Kemer region (07:00 - 07:30)
Transfer to Köprülü Canyon national park pf Antalya from Kemer (120 - 132 km from Kemer region)
Arrival to beautiful Köprüçay river in Köprülü canyon for Kemer rafting experience full day tour
To all the guests for Kemer rafting tour: Providing all the tour informations & rules, preparing tour equipments, and transferring to the starting point for Kemer rafting experience (a few km away)
At Kemer rafting tour the guests are divided by country or language, and are taken to the rafts with a capacity of 8-10 people each.
The fun and adventure filled, full day Kemer rafting activity begins, with an experienced rafting guide on each raft
During Kemer rafting: Entertainment and activity breaks, and rafting tour animations on the river, water fights between the rafts
Lunch break for Kemer Rafting at a nice riverside restaurant (delicious chicken kebap, rice, potato salad, spaghetti, salad and seasonal fruit)
After lunch, the Kemer Rafting fun filled and enthusiastic tour will continue until the finish point.
End of the Kemer Rafting activity day (about 14:30 / 15:00)
Kemer rafting tour ends, and Showering and changing clothes, and boarding the transfer vehicles of Kemer Rafting (same vehicle)
On the way back to Kemer region, We will do a break for seeing tour photos, and seeing the tour video of Kemer rafting activity, and perhaps you buy few photos, and you perhaps buy maybe tour video of Kemer rafting tour too
Departure to Kemer region and leaving the guests to their hotels in Kemer region (18:00)
---
Price included
Pick up from hotels - drop off at hotels
River Rafting with a guide
Lunch by the river
Drinks and personal spendings
Photographs and video
Warm jacket rentals
Shoes rentals
Zip Line
---
Know before you go
Pick Up Place
To our full day fun filled and enthusiastic Kemer rafting tour we do pick up from all the hotels in Kemer region. We do pick up from all the hotels in Tekirova Kemer, all the hotels in Camyuva Kemer, All the hotels in Kiris Kemer, All the hotels in Kemer centrum, all the hotels in Goynuk Kemer, and all the Hotels in Beldibi Kemer. For Kemer rafting tour we do pick up from everywhere of Kemer region.
Pick up Point
For our full day rafting tour from Kemer the pick up points from hotels is the main entrance gate of the hotels from main road.
Important information
Antalya rafting experience at Köprülü canyon
If your hair is long, you should tie it tightly.
We recommend that you remove your gold and similar jewelry.

What should be brought?
Spare clothes, towels, sun protection cream and some cash for photos or videos and drinks as well.

It is not possible to use your mobile phone or camera during rafting.

Children under the age of 17 may participate under the supervision of their parents. Small children are placed in the middle of the raft. However, the rafting guide is very experienced in safety.

The transfer vehicle is safe: Before rafting you can leave your valuables in the transfer vehicle. The transfer vehicle is locked with everyone at the same time before rafting and after the tour it is opened with everyone at the same time.

)
Kemer - Most popular tours