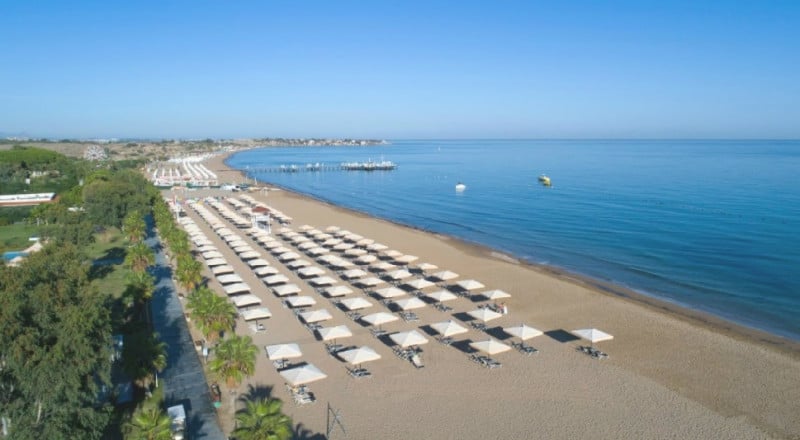 Useful information for Side
It is a somewhat long blog post. And we are constantly updating it, adding additional information. Our aim is to support especially foreign holidaymakers to have a pleasant (hassle-free) holiday experience in Turkey. Worth reading!
Is Side a nice and pleasant place for vacation?
Yes, Side is a beautiful holiday destination for everyone, and for families with children. However, Side is a holiday resort that offers great opportunities not only for families with children but also for all tourist profiles. With its West and East, and wonderful high quality hotels suitable for everyone, Side offers great holiday opportunities for everyone from 7 to 70.
Where is Side?
Side is located 45 km east of Antalya airport and a few km west of Manavgat town. It is 75 km away from the city of Antalya. Alanya is located 65 km east of Side. The world famous Manavgat waterfall, which is visited by approximately 2 million visitors every year, is 12 km away from Side.
How is the weather in Side?
Side summers are very hot and humid. In the summer, the air temperature reaches 45 degrees. High humidity in summer makes the temperature feel more. In winter, it does not have a very cold weather. Side has a typical Mediterranean atmosphere. Side has its coldest days in December and January, and a little in February. As long as the wind does not blow from the north, Side's winter weather is not harsh. Side's annual average temperature is 18.7 degrees Celsius.
Which airport should I fly to to go to Side?
The closest airport to Side is Antalya airport 55 km away from Side. In addition, Gazipaşa Airport, 100 km east of Side and 35 km from Alanya, is also suitable for Side. Antalya airport is used for arrival and departure with a rate of almost 100% for Side holidays.
What kind of place is Side?
The name Side comes from the ancient Side peninsula. Ancient Side peninsula is a settlement of Manavgat town. There are small hotels in the ancient peninsula of Side. It is not even 1% of Side's touristic capacity. Side's main touristic capacity is outside the ancient peninsula of Side, on the west and east sides. Side is a cute village with its ancient peninsula, small hotels, a small harbor, restaurants and bars, and many shops. With its small hotels and bungalows, this ancient peninsula is where the first tourism activities started in the 80s in the Side region.
There are long beaches to the east and west of Side. There are hundreds of large hotels along the long coastline on the east and west sides of Side.
How many regions is Side divided into?
On the west side of Side, along the coast, as Side's main tourism capacity, Kumköy (5 km to Side), Evrenseki (7 km to Side), Çolaklı (9 km to Side) and Gündoğdu (10 to Side) km) There are 4 tourist resorts. 5 km east of Side are Sorgun and Titreyengöl towns. Further east, on the road to Alanya, there are Kızılağaç and Kızılot towns on the coast. With all its towns, Side's touristic bed capacity is approximately 300 thousand people. In other words, the population of Side and its surroundings increases by approximately 300 thousand people in summer.
How is transportation between the towns in Side provided?
Transportation is provided by small local minibuses called "Dolmuş" in Side and its surroundings. Each region has its own minibus "Dolmuş" line. You can go to Side from every region by "Dolmuş". The name of the region it belongs to and the hotels are written on each "Dolmuş" windshield. "Dolmus" fee is approximately 1 Euro per person. Another transportation in Side is provided by taxis. Each region has its own taxi stands. You can pay your "dolmuş" fees and in many other places, small payments with euro coins.
During the summer season, the minibuses (Dolmuş) operate more frequently during the day. They operate much more frequently on Mondays, Thursdays and Saturdays (Days with Bazaar). After 10 o'clock at night, the number of minibus (Dolmuş) services becomes less frequent. In the winter season, the number of minibus (Dolmuş) services is much less, but on the days when there is a bazaar, the morning and evening minibuses operate a little more frequently in the winter season.
Distances in Side
Gündoğdu region from Side: 12 km (by Dolmus or taxi)
From Side to Manavgat (bazaar): 5 km (by dolmus or taxi)
Kumköy from Side: 4 km (by Dolmus or taxi or walk from the beach)
Evrenseki from Side: 7 km (by Dolmus or taxi or walk from the beach)
Colakli from Side: 11 km (by Dolmus or taxi)
From Side to Alanya: 70 km (by Dolmus + Bus or taxi or rent a car)
Antalya from Side: 75 km (by Dolmus + Bus or taxi or rent a car)
Belek from Side: 50 km (by Dolmus + Bus or taxi or rent a car)
Kemer from Side: 115 km (by Dolmus + Bus + Dolmus or taxi or rent a car)
Where is Manavgat?
The town of Manavgat is located 5 km north-east of Side. Manavgat river passes through the middle of the Manavgat cave, and Manavgat waterfall is located 7 km north of the town. Manavgat is the town to which Side is connected as an administrative structure. Side is connected to Manavgat, and Manavgat is connected to Antalya province. The population of the town of Manavgat is approximately 250 thousand. 25 years ago the population was 70 thousand.
In the town of Manavgat, a large public bazaar is organized to the east of the river on Mondays and to the west of the river on Thursdays.
How to go to Manavgat from Side?
One of Side's touristic resorts, Manavgat, can be reached by "Dolmuş" (local minibus). The fee is approximately 1 Euro per person. There are "Dolmuş" services every 10 minutes from every region.
Is it possible to drink tap water in hotels in Side?
The majority of the people living around Side drink tap water. Side's fountain water reaches Side by being drawn through filters 20 meters below the Manavgat river. Most tourists don't drink tap water. The majority of the people living in Manavgat also drink tap water.
What currency is used in Side?
Any currency can be used in Side. While many tourists come, they take Turkish Lira with them. All currencies are valid, except the Russian ruble. Every store, restaurant accepts foreign currency. Euro coins are also valid. It is possible to see the prices of TL, Euro and even Dollar everywhere. You will only see euro and dollar prices in many stores. In order to pay TL, calculations must be made at the daily rate.
Are there ATM cash machines in Side?
Yes, it is possible to find ATMs all over Side. ATMs are available in all towns and it is also possible to withdraw foreign currency from many ATMs.
Are ATM cash machines safe in Side?
Yes, it is safe, but never accept help from people who come to you at the ATM with the image of helping you, and get away from there immediately! Most ATMs are in crowded places, but still be careful when withdrawing money from the ATM.
Are the streets safe in Side?
Yes, the bazaars and streets are safe for walking in Side and all the surrounding tourist resorts. There are long bazaars around the hotels almost everywhere.
Are Manavgat town and bazaars safe?
Yes, it is very safe. There have been almost no security problems with tourists to date. The people of Manavgat and shopkeepers in the bazaars always help the tourists.
Is there a big public bazaar in Side?
Yes, every Saturday, 1 km north of the Side peninsula, a large bazaar is set up in front of the large Side mosque, and it attracts great attention from tourists.
How to get to Manavgat waterfall in Side?
There are 3 ways to go to Manavgat waterfall from Side, any touristic town:
1- You can go to Manavgat first with "Dolmuş". And you should get on the "Minibus" of Manavgat Waterfall from inside the town of Manavgat or from the big "minibus" station of Manavgat. In other words, you can go to Manavgat Waterfall by changing 2 "Dolmuş" from Side. You can find "Dolmus" every 15-20 minutes from anywhere. During low seasons, you can wait a little longer for "Dolmuş" at the stops.
2- You can go by taxi.
3- You can see the Manavgat waterfall by participating in the "Manavgat bazaar, boat tour on the Manavgat river and Manavgat waterfall" tour from Vigo Tours, which is held on Mondays and Thursdays. If you choose Vigo Tours, you will get 3 in 1.
Is it safe to shop in Side and Manavgat?
Yes, but everywhere you are advised to be a little careful about prices. Calculate prices and the total amount carefully, anytime, anywhere. Also, be careful about the change you get. It is recommended to shop from places that look good in terms of cleaning.
Are there dangerous sea creatures in Side's seas? Are there sharks in the seas of Side?
No, nothing like this has ever been seen before. Sometimes sharks are caught by fishermen in the open sea, far off the coast of Side, but they have never been seen on the shores of Side. There are no other harmful creatures that can harm people in the seas of Side.
Can we swim with dolphins in Side?
Yes, you can swim with dolphins in Side. Vigo Tours organizes a dolphins and sea lions show and swimming with dolphins 3 days a week. You can make your dream of swimming with dolphins come true by participating in this tour.
Are there dolphins in Side seas?
Yes, there are dolphins in Side seas. If you join the "dolphin island boat tour" with Vigo Tours, you can see dolphins wandering around your boat in the sea. You can also see caretta caretta sea turtles on the Side Dolphin Island boat tour.
How can we go from Side to Alanya?
There are 3 ways to do this:
1- Participating in Vigo Tours's Alanya city tour (Wednesday, Friday and Sunday)
2- You can go to Manavgat from your hotel by Local Dolmuş, and then take the bus to Alanya. It is possible to find a local bus to Alanya every 10 minutes.
3- By taxi (naturally priced)
Is paragliding done in Side?
No, there is no hill at a height to paraglide around Side. You need to go to Alanya for the closest paragliding. Vigo Tours organizes paragliding tours from Side to Alanya.
Are there fishing tours in Side?
Yes, Vigo Tours organizes boat fishing tours with all equipment, including pick-up and drop off from all hotels in Side and the surrounding area.
Is it possible to book tours on the beaches of Side?
There are unauthorized persons booking tours on the beaches, and it is illegal for these persons to accept reservations There is no insurance for tour bookings accepted by unauthorized persons on the beaches. Some of these people make your tour reservation on the beach, take your money and then disappear. Water sports on the beaches are also not authorized to accept tour reservations.
Make your tour reservations in Side and everywhere from legal and authorized tour offices.
We will go on holiday in Side, can we make a tour reservation when we arrive in Side?
We do not recommend this. The sooner you book your tour, the better. Some tours do not have a last minute opportunity. Secure your place by booking early. For cancellations up to 48 hours at Vigo Tours, you will receive a full refund of the deposit you have paid.
How can I go to Side from Antalya airport?
There are 3 ways to do this:
1- By taxi (a bit expensive)
2- With a private airport transfer service provided by Vigo Tours (prices are very affordable)
3- From Antalya Airport, you can take the bus numbered 600 to Antalya bus station, and then take the buses going to Side.
While walking on the road in Side, my health problem suddenly appeared, what should I do?
Tradesmen and employees around you will immediately support you in this regard. The network of private hospitals in Side is quite good, and all private hospitals have cooperation agreements with European insurance companies. If you have a valid insurance, you will receive a high level of health service in Side without making any payment.
Can I use my credit card in shops in Side?
Yes, It is very safe. You can pay with your credit card securely in stores. However, pay attention to the prices and the amount you will pay, and the amount you pay on the payment slip.
What foreign language is spoken in Side?
Everyone in Side and its surroundings speaks a little bit of German and English. However, this is quite weak. If it is necessary, someone with a good command of German or English will be available at your location and they will support you immediately. However, many people will try to help you through the mobile phone's translation service.
How are the Covid-19 measures in Side?
We cannot say very good, but we can say that it is enough. It is recommended that you always pay attention to cleanliness and hygiene everywhere. It would be great if you always wear a mask anywhere. And it is recommended to wash your hands frequently, and to use 80 degree cologne liquid for disinfection. It is mandatory to have a disinfectant liquid in every workplace.
What should I do if I have a problem in Side and Manavgat bazaars?
First of all, you will not have such a problem easily. All workplaces always help tourists. If you still have a problem, Manavgat municipality police will support you. Telephone number: 153
How far did the forest fires occur from Side hotels, did they damage the hotels, is it risky to have a holiday in Side?
Forest fires occurred in the mountainous areas of Side. It did not affect Side hotels in any way. The fire never approached Side hotels or holiday areas. Forest fires do not pose a risk for a holiday in Side. In addition, forest fires were extinguished. Currently, approximately 300 thousand people live in the Side and Manavgat region, including tourists from Germany, the Balkans and Russia.
Is natural gas used in Side?
No, Side is not yet included in the natural gas network. Large hotels have liquefied bulk gas tanks and use bulk gas. These tanks are located in hotels away from accommodation units. Hotels use liquefied bulk gas for cooking and heating purposes.
How much is a pint of beer in Turkey?
The price of bottled beer (50 cl) in restaurants and bars in Side is approximately 3 - 3.5 euros. The price of draft beer or bottled beer is the same for 50 cl beer. In some restaurants and bars, salty snacks are offered free of charge with the beer. Alcohol consumption is prohibited in parks and open spaces in Turkey, but this prohibition is hardly enforced. Legal action will be taken for those who disturb people by being drunk.
We recommend the 23-year-old Bistro 2000 Steak House in Kumköy for dinner, ice-cold drinks, seductive cocktails, Shisha, live sports events, and enjoyable times.
How far is Suluada from Side?
Known as Turkey's Maldives, Suluada is 169 km from Side. Unfortunately, there is no Suluada tour from Side. Suluada tour is made every day from Antalya Lara, Kundu, Kaleici, city center and Konyaalti hotels.
How far is Pamukkale and Cappadocia from Side?
Pamukkale is 310 km from Side and is within the borders of Denizli province. Cappadocia (Göreme) is 471 km from Side, and the Cappadocia region is located within the provincial borders of Nevşehir. With Vigo Tours, you can book a day tour to Pamukkale from Side. In addition, Vigo Tours organizes 2-day and 3-day tours to Cappadocia from Side.
Are there public bazaars in and near Side?
Side bazaar is held every Saturday opposite Side's largest mosque. The minarets of this great mosque of Side can be seen from everywhere in Side and its surroundings. It is possible to reach Side bazaar from all parts of Side by Dolmus. There is a "Side" sign on the windshield of the dolmuş. Example: Evrenseki - Side, Colakli - Side, Kumköy - Side. Besides the Side bazaar, there are also 2 big bazaars in Manavgat. Two big bazaars are held on the east side of the Manavgat river on Mondays and on the west side of the Manavgat river every Thursday. You can go to Manavgat bazaars by Dolmus from all parts of Side. There is a Manavgat sign on the windshield of the dolmuş. Example: Kumköy - Manavgat, Evrenseki - Manavgat, Side - Manavgat - Çolaklı - Manavgat. Always wear your masks and carry a small bottle of cologne (80% Vol. ) with you when you go to and from all bazaars by Dolmus, and use it abundantly to disinfect your hands. Pay attention to your wallets in the bazaars, and do not accept the help of those who want to help you when withdrawing money from ATMs. Check the change of banknotes you bought from the vendors thoroughly. Do not exchange your money anywhere other than official currency exchange places. There are 4 official exchange offices on Banka Street in Manavgat.
All bazaars open at 6 in the morning and close at 7 in the evening. All Dolmus lines start operating at 6 am and continue to operate until midnight. The number of minibuses operating at night decreases.
You can see the Turkish lira banknotes below. Do not accept banknotes with any other writing or figures on them. Banknotes with "ÖRNEKTİR" written on them are fake, do not accept them.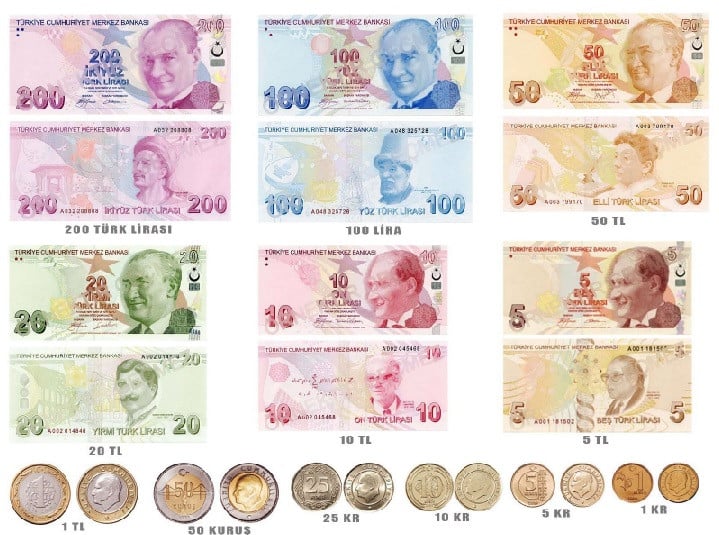 6 Important warnings that you should pay attention to on holiday!
We are not happy to write this on behalf of our country, but human life is above everything, it is more valuable than anything. 6 important issues that you should pay attention to while on holiday in Turkey:
1- Bad Traffic, bad drivers = be very careful everywhere! Even if you have a green light on the roads, do not cross without checking the road.
2- Theft with the help of ATM = Never accept help from anyone!
3- Fake money = Pay close attention to the banknotes given to you!
4- Withdrawing money with a credit card = if you absolutely need cash, only withdraw from ATMs, banks and official exchange offices. Except for the ancient Side peninsula entrance, unfortunately, there are no official exchange offices in the touristic areas of Side. ATMs and Banks are safe. If anyone comes to you and wants to help you while you are at the ATM, do not accept it.
5- Never book daily tours on the beaches. Tour vendors on the beaches are illegal. Make your tour reservation online from websites or from tour offices.
6- Carry a good quality face and nose mask and 80% volume cologne with you.
Which tours can be done in Side during the winter period?
The winter period starts from November in Side and continues until the end of March. During this period, the following tours can be made in Side:
Health and wellness massage in Turkish bath
Alanya city and panorama tour
Taurus mountains, village tour to the forest
Antalya city and panorama tour
Antalya Aquarium tour
Quad safari and Buggy safari tour
Daily Pamukkale tour
Demre Myra and Kekova tour
2-day and 3-day Cappadocia tour
Daily Istanbul tour
Are Turks problematic people, as it is written in some European media?
No way! None of what is written in the European media is true. Turks are hospitable and helpful people. Turks love, protect and help tourists from any country. For Turks, tourists are guests, and according to Turkish traditions, guests are very important to Turks. There are bad people in every country. It is also in Turkey, but Turks everywhere protect and help their guests. During your holiday in Turkey, go out of the hotels without fear and hesitation and get to know the Turkish people closely.
The information written here is advisory. You will have the final decision on the advice and information here.