Day trip from Istanbul to Bursa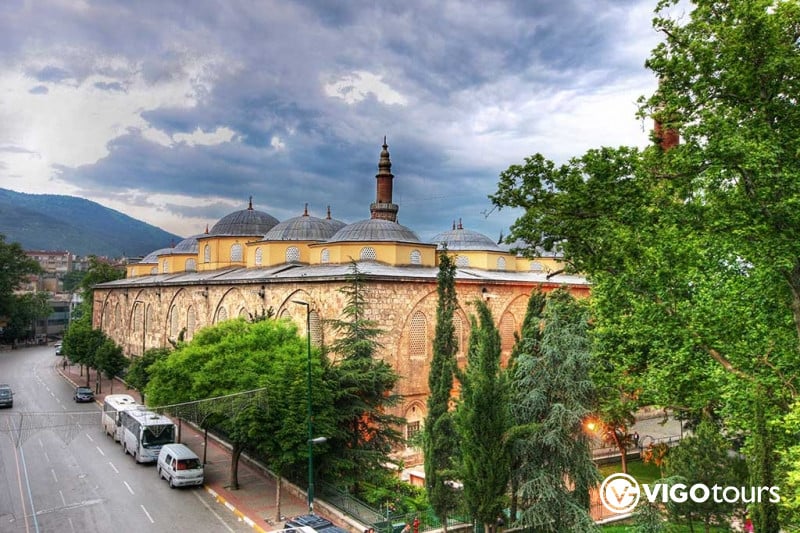 About this activity
Total Tour Duration (with transfers): 15 Hours

Booking confirmation:

Instant confirmation

Printed or mobile voucher:

Accepted

Wheelchair accessible:

Available

Cancellation policy:

Flexible

Easy Online Booking:

Fast, Easy & SSL Secure Booking

Vegetarian & Vegan meal:

Available

Things to do in Istanbul

Daily tours and Excursions in Istanbul

Skip the ticket line:

Yes

Tour Guiding:

English , Turkish
Make a request for the tour
Experience
Highlights
Bursa, the first Ottoman capital
Ottoman Green Mosque
Silk bazaar
Inkaya village 600 years old plane tree
Uludag Mountain
Cable car from Uludağ
---
Full Description
Full day tour to first Ottoman capital city: Bursa
Day trip from Istanbul to Green Bursa
Being the first capital of the Ottoman Empire, with the world-famous ski resort Uludağ, with its insatiable chestnut sugar and its magnificent history.
Bursa: Silk production started in the region around 555 AD and a small spa town was established due to the richness of natural hot water resources.
City of Bursa (Green Bursa)
The city of Bursa is located in the southern part of the Marmara Region. Bursa, which has a coast of approximately 20 km in the Marmara Sea, has a population of 2,901,396. The city has an area of ​​10,882 km2 and the population has increased considerably in recent years.
Green Bursa (1326), which was the first capital of the Ottoman Empire and has always been an important city center since then, dates back to ancient times.
Bursa is the 4th largest city after Istanbul, Ankara and Izmir.
Bursa means; the first capital of the Ottoman empire, Green mosque and Uludag, Turkey's most important ski resort. In addition, delicious peach, chestnut dessert, silk, automotive industry and heavy industry are other important features of Bursa.
Bursa has been named as 'Green Bursa' because of the abundance of greenery in the city. There are many things to see in this city. It is a center that attracts the attention of tourists with its historical places, camping areas, ski center, quaint towns and quiet villages.
In addition, one of the important beauties in Bursa is to take the 9 km long cable car and enjoy the nature view is a type of excursion that you will not see in many countries or cities.
Bursa cuisine has an important place in Turkish cuisine. İskender (Döner) Kebab, liver wrap, chestnut dessert, mangalic cheese, mihalic cheese, pide meatballs, Inegol meatballs, Kemalpasa dessert, walnut delight are important examples of Bursa cuisine.
İnkaya village and 600 years old İnkaya Plane Tree
Incaya village is one of the first villages of the Ottoman Empire.
600-year-old plane tree - İnkaya plane tree
Incaya plane tree has 13 main branches. The length of the İnkaya plane tree is 35 meters. The thickness of the branches to around 4 meters and is one of Turkey's oldest sycamore tree with 9.2 meter radius.
Uludag Mountain and Ski Resort
Uludağ Ski Center is located on 2 hills, Fatintepe and Kuşaklıkaya, in the southwest of Bursa. Uludağ ski resort has a national park of 11 338 hectares. It is half an hour away from Bursa city center.
Uludağ Ski Center, declared as a national park in 1961 and located 36 km from Bursa city center, is the center of the country's winter tourism with its modernity and quality. The ski center, which starts with an altitude of 1800 meters, has ski resorts up to 2200 meters altitude and has a peak at 2543 meters, and receives visitors from both our country and many countries of the world for 12 months.
.
Green Mosque
This mosque, located in Yeşil district, was built in 1419 by Çelebi Sultan Mehmed. "Inverted T" letter that the mosque was built with the architectural design Green Mosque, Bursa, Turkey, just as it is one of the most beautiful historical buildings. The architect of the mosque is Hacı İvaz Paşa. Some Byzantine building materials were also used in the building. The structure was covered with domes and the walls were built with cut stone. The last congregation site was considered but not made. There are also allegations that the building was built as a government agency.
Bursa Cable Car - The longest of the roped roads in the sky
With 140 cabins, each of which can accommodate up to 8 people, it can carry 1500 passengers per hour and is the longest ropeway in the world with 9 kilometers. Cabins come in every 20 seconds.
Tour program of Bursa and Mount Uludag, Full-Day Bursa city tour from Istanbul
The city has nickname Green Bursa (yeşil Bursa)
On this wonderful full-day tour, we cross the Sea of Marmara and go to Bursa, the first capital of the Ottoman Empire. See the traces of the Seljuks and the Ottomans in the city of Bursa and taste local foods. See typical local bazaars, wander the ancient historical silk bazaar, watch local handicraft makers. Admire the wonderful natural scenery as you climb to Mount Uludağ (2543 mt) with the Bursa cable car. Enjoy a great lunch in Uludağ.
Pick up from centrally located hotels in Istanbul with air-conditioned, non-smoking tour bus
Transfer to Bursa, the first Ottoman capital (1335-1363)
Bursa city: The city has nickname Green Bursa
Visit of Ottoman Green Mosque (1415-1419)
Visit of Inkaya village 600 years old plane tree
Uludag Mountain (The ancient Mysian Olympus and Bithynian Olympus)
REturn by Cable car from Uludağ to Bursa
End of the tour and back to hotels in Istanbul
---
Price included
Pick-up from centrally located istanbul hotels with air-conditionen and non-smoking tour bus
Bursa Cable car ticket
Lunch
Entrance fees & tickets
Professional licensed tour guide
Service fees and local taxes
---
Know before you go
Pick Up Place
For the full day tour to the old ottoman capital city Bursa city from Istanbul, Pick up is available from centrally located Istanbul hotels. Pick-up and drop-off from hotels far from the center and the airport is subject to an additional charge. Pick up from hotels in anatolian side of Istanbul is not available.
Pick up Point
Lobby in hotels
Event Days
01.01.2022 - 31.12.2022 Sunday Monday Tuesday Wednesday Thursday Friday Saturday
Important information
Bursa and the Mount Uludag
Full-Day tour from Istanbul to Bursa city, the old ottoman capital city
This tour includes a visit to the production center of sweet products unique to the city of Bursa. Shopping is possible.
Lunch:
Main course: Doner kebab with chicken or meat
and desserts such as baklava and other traditional Turkish dishes.
Image Gallery























)
Istanbul - Most popular tours