Blue cruise from Fethiye to Gocek 8 days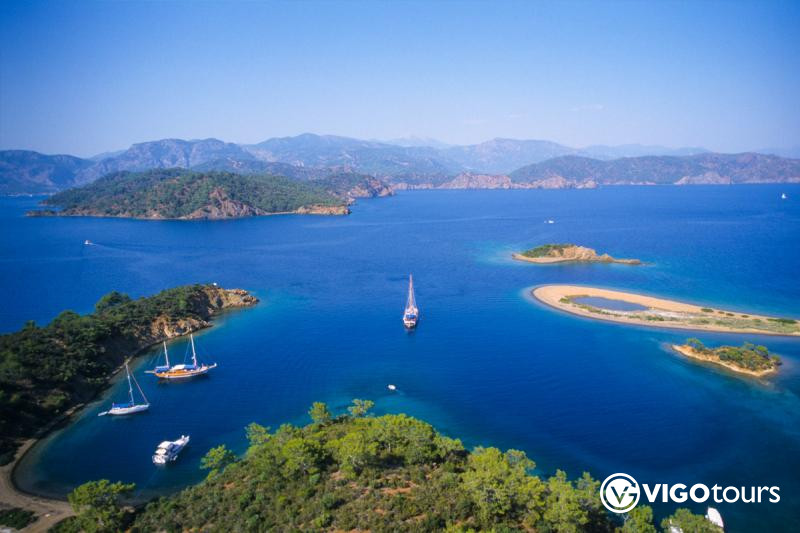 About this activity
Tour Duration (including the Journey): 8 Days

Booking confirmation:

Instant confirmation

Printed or mobile voucher:

Accepted

Easy Online Booking:

Fast, Easy & SSL Secure Booking

Vegetarian & Vegan meal:

Available

Skip the ticket line:

Yes

Cancellation policy:

Blue cruise cancellation policy applies

Tour Guiding:

English , Turkish
Make a request for the tour
Experience
Highlights
Wonderful bays
Crystal clear blue waters
Unique blue cruise experience
Turquoise waters that caress the soul of man
8-day blue cruise to Fethiye and Göcek bays
---
Full Description
Blue cruise from Fethiye to Gocek 7 nights 8 days
Before making online booking please ask for availability.
Please click here to read the cancellation conditions. When you make a blue cruise reservation, you will have accepted the cancellation conditions.
Turkey blue cruise offers you unforgettable memories with wonderful views in turquoise waters! Sailing in turquoise waters, lots of swimming, and relaxing and resting with wonderful views in the bays; It is the summary of Turkey blue cruise tours, but the blue cruise is not described, it must be experienced!
Blue cruise day - 1
On our first day: In case any of the passengers arrive late, we will then sleep at the Fethiye port on the first night, and if all passengers arrive early, we will depart to Fethiye's Scream bay.
Dinner and Fruit are served.
Blue cruise day - 2
After having a taste breakfast, we will start to cruise from Fethiye Harbor - Çığlık Bay to Göcek's Tersane Island to have a nice blue voyage day. Tea - Dinner - Fruit will be served, and overnight will be on Poncho Bay on the 2nd day,
Enjoy sleeping under the beautiful stars for a nice and relaxing sleep.
Blue cruise day - 3
After a wonderful sleep under the stars in Panco Bay, you will do your morning swim, and then have a nice breakfast there. After the breakfast we will go to Hammam Bay and anchor there. If you can, you can try to over to the sea as Tarzan on the ropes:) After having a delicous lunch on the boat, we will weigh anchor, and cruise from the Hamam bay to Binlik bay which is one of the most stunning bays
In the evening of the blue cruise day 3, we will get dinner, and get over night in Binlik bay. Enjoy fall into a comfortable, and peaceful sleep under the stars smiling on your face.
Blue cruise day - 4
We will have a delicous breakfast in the morning by the generous sunshine that warms you in Binlik Bay. After having the breakfast, we will move from Binlik bay to Sequence Bay. You can experience of swimming at the beach. You can taste some yummy ice cream by taking from the service boats, before or after lunch, after swimming at the beach. After the lunch on the boat, between 15: 00 and 16: 00 we will anchor the boat from the bay of Sıralın to the Stone collar bay, named after the famous Painter Bedri-womb. We will stay overnight in Bedri Rahmi Bay on the evening of the day 4. You can watch, and enjoy the soft face of the moon caressing the soul, and dive into beautiful blue dreams.
Blue cruise day - 5
After the breakfast in wondrous Bedri Rahmi bay, we will weigh anchor, and move to Göcek harbor. The needs of the boat for blue cruise are met from Göcek harbor. Tea of 5 o'clock - Dinner - Fruit willbe served by the island of Yassica, and the beautiful night of blue cruise day 5 will smile to us by the island of Yassica
Blue cruise day - 6
After breakfast of day 6 in Yassıca island, next one to explore is the Aquarium Bay. We will get a nice lunch in the aquarium bay by watching the unique beauty of the depths of the blue waters. Following swimming a little more after dinner, we will go to Boynuz bay between 15: 00 and 16: 00. And overnight here under the beautiful blanket of sky and stars. Blue dreams!
Blue cruise day - 7
After having the breakfast on the Boynuz bay, you can plan to go, and explore the red island. We will get lunch on the boat after swimming on the unique beach on the red island. Overnight will be off Red island. Blue dreams!
Blue cruise day - 8
All good things have an end. We are about to an end on a unique blue holiday. After the last nice breakfast, we will leave the boat after saying goodbye to the boat crew on Saturday morning. We are hopping to see you with us again at another blue cruise.
7 nights 8 days blue cruise along Fethiye and Göcek bays and Aegean blue waters
Blue cruises for 4 days can be short. The 8-day blue cruise allows you to fully enjoy the blue cruise. Experience this wonderful blue voyage starting from Fethiye and continuing in the magnificent beautiful bays around Göcek. You will not want to sleep at night because you will love to feel great feelings under the stars. However, with a sweet tiredness, you will take you to your bosom at night and you will experience great sleep during the blue cruise.
Blue cruise program from Fethiye to Göcek bays
7 days 7 nights
Blue cruise: Day 1 - Boarding the boat. Boarding the boat at 15:30 in the afternoon at Fethiye Marina, and a meeting cocktail. If all our guests come, we will sail to Turunç Pınarı Bay, and the dinner and swimming break will be at Turunc spring bay. However, if all guests do not come, we will stay at Fethiye marina and free time after dinner.
Blue cruise: Day 2 - We will depart after breakfast on our boat in the morning and anchor at the Ladder Bay after a wonderful cruise. You will watch fish accompany you while enjoying swimming in clear waters. After lunch and swimming break, we will sail to Cleopatra Hamam Bay. Swimming break, 5 o'clock tea and dinner at Kleopatra Hamam Bay. Our guests, if they wish, can go to the shore, visit ancient buildings or take a walk in the ancient city higher up. Overnight at Kleopatra Hamam Bay.
Blue cruise: Day 3 - After a wonderful breakfast, we move to Tersane Island's inner bay, and we leave ourselves to the turquoise waters in this wonderful bay! We will have lunch here. Our guests can take a walk on the shore if they wish. And from here we will go to Bedri Rahmi Bay, where we can see the traces of ancient Lycia, and where the rock painting of Bedri Rahmi Eyüboğlu (in 1974) is located on the shore. We will take a swimming break and 5 o'clock tea here. And from here we will sail to Yassicalar for accommodation and dinner.
Blue cruise: Day 4 - After breakfast early in the morning, we will sail towards Göcek Marina. Our boat will make preparations for the food supplement in Göcek marina. While our boat is making preparations, you can visit Göcek village and do shopping, or you can join the Dalyan tour. At 15:00, departure for Göcek Island and a swimming break. Dinner and overnight stay will be in Göcek Island Bay.
Blue cruise: Day 5 - After breakfast, we will sail to Tersane Island. We will have our lunch in Tersane island bay. And after swimming break, we will have 5 tea in Bedri Rahmi Bay. Dinner and overnight stay will be in Bedri Rahmi bay.
Blue cruise: Day 6 - We will depart very early in the morning and arrive at Ölüdeniz Butterfly Valley at breakfast time. You can go to the beach and see the waterfall at the end of the valley. After lunch, we will enjoy a swimming break in Ölüdeniz. It is not easy to leave Ölüdeniz but we have to sail to Gemiler Island. Do not forget to watch the sunset from the top of the island! And we leave ourselves to the wonderful beach on the traces of the sunken city on the shore of Gemiler Island ... Enjoy this beautiful seductive beach! Dinner and overnight stay in Gemiler Island.
Blue cruise: Day 7 - After breakfast, we will sail through the natural wonders with beautiful views and arrive at Büyük Samanlık Bay. We will have our lunch here. We will enjoy a tea and coffee break with hot rolled pastry at Boncuklu Bay. Dinner and overnight stay in Boncuklu Bay ...
Blue cruise: Day 8 - After breakfast, we will sail to Fethiye Marina, and we will bid farewell to our boat with deep blue memories.
---
Price included
Per person in double cabin
Transfer from your hotel in Fethiye to the yat
All meals (Breakfast / Lunch / Afternoon Tea, Coffee, Biscuits / Dinner), fuel, harbour fees, service
Standard yacht equipment, board games, snorkels & masks, fishing lines
Passengers may bring snacks, such as fruit, nuts, muesli, yoghurt, chocolate. (Not sold on board)
Price per person in a double cabin (Single supplement is 60%)
All drinks, also water are sold on board at reasonable prices
Please do not bring your own drinks on board
Please bring your own towels
Archaeological sites and national parks entrance fees
Crew tip of 5% is also not included in price
Air-condition
---
Know before you go
Pick Up Place
For hotels that are far from Fethiye harbor, the meeting point will be Fethiye harbor. There is no pick-up service for areas far from the center.
Pick up Point
There is pick up service from hotels located in the center of Fethiye, but not from hotels far from the center. The meeting will be in Fethiye harbor. All details will be given.
Important information
7 nights 7 days blue cruise from Fethiye to Göcek
Blue Cruise Turkey
For safety and security: In case of poor weather and / or sea conditions, the cruise program is subject to change without notice.
You do not need to bring drinks from outside, because the prices of drinks on the boat are quite affordable.
There is no single cabin for solo travelers. Single persons will share the cabin with another passenger or stay single in a double cabin for 60% additional fee, or it is possible to sleep on the deck.
Single supplement is 60%
)
Fethiye - Most popular tours