Bosphorus Dinner Cruise with Entertainment
Early booking is important and recommended!
Price from € 44 ( $ 44 / € 44 / ₺ 838 / £ 38)
Select Tour Date & Participants
Prices may vary periodically
Tour duration (approximately): 4 Hours

Tour Guiding:

English , Turkish , German , Russian

Booking confirmation:

Instant confirmation

Printed or mobile voucher:

Accepted

Wheelchair accessible:

Available

Easy Online Booking:

Fast, Easy & SSL Secure Booking

Vegetarian & Vegan meal:

Available

Cancellation policy:

Flexible

Shopping:

No Shopping tour

Skip the ticket line:

Yes

Istanbul Bosphorus cruise

Bosphorus cruise Dinner and entertainment
Price included:
Hotel Pick-up and drop-off and transfer to the pier
Cruise program as in the itinerary and 3,5 hours bosphorus cruise
Dinner with delicious Turkish starters
Turkish folk dance shows
Belly dancer show
Unlimited soft drinks
Imported drinks & cocktails
Personal expenses
Unlimited alcoholic drinks (can be booked extra)
Bosphorus Cruise Dinner Program
Turna tour bosphorus dinner cruise
Pick up from hotels and transfert to the quay 19:00 - 19:45
Welcome cocktail on the boat deck
Turkish starter platter with some special local meze items
Seasonal salad & side dishes
Main course choice of the grilled chicken or fish with potatoes
Along the tour a number of dance performances and music will accompany to your meal.
Dance of Tambourine (Gaval Regs-i)
Aşuk Maşuk
Naz Eyleme (A Traditional Turkish Melody Musical Performance)
Belly Dancer
Henna Ceremony
Folk Team dance performance (Mixed show of diffrent Turkish regional dance)
Live Dj Performance
Baklava (Winter Season) / Fruit (Summer Season)
Turkish coffee
Unlimited local soft drinks. Alcoholic beverages can be purchased as an extra. All drinks are local products.

What to do in Istanbul, or what activity should definitely be experienced in Istanbul?
The greatest thing to do in Istanbul is a boat tour, including dinner and oriental entertainment in the Bosphorus. Spend a few wonderful hours in the Bosphorus, one of the most beautiful corners of the world, and enjoy the magnificent Istanbul beauties. Experience a wonderful Istanbul night on the Bosphorus evening boat tour, dinner on the boat, unlimited local drinks, oriental dance shows, and belly dancer show. There is a pick-up and drop off service from central istanbul hotels for this extraordinary istanbul activity, and it is included in the price. Experience an unforgettable Istanbul night accompanied by the beauties of the Bosphorus with a dinner cruise on the Bosphorus. The Bosphorus dinner cruise takes about 3 hours. Don't leave Istanbul without joining the dinner cruise tour on the Bosphorus!
One of the best things to in Istanbul: Bosphorus dinner cruise in Istanbul
The Bosphorus cruise includes dinner, unlimited drinks and a wonderful Turkish night show by a professional dance team, including belly dancing and more.
All-inclusive Bosphorus dinner cruise
The Istanbul Bosphorus dinner cruise is very popular, where you can spend an unforgettable night of food, wine and entertainment. Enjoy a 3.5-hour dinner cruise on the Bosphorus Strait and spend a fulfilling night in Istanbul.
Admire the magnificent views of Istanbul's brightly lit palaces, mosques and Bosphorus Bridge, and enjoy a selection of drinks and a delicious three-course dinner. Including belly dancers, whirling dervishes and other entertainers' sparkling entertainment, as well as hotel pickup and drop-off.
The boat has covid-19 certification.
Bosphorus cruise dinner and turkish night show
Beware of cheap Bosphorus boats that provide bad service that will ruin your Bosphorus experience!
With unlimited soft drinks included. Alcoholic drinks can be booked extra. There is an option for "extras" during the booking stages.
Join us and be part of an enjoyable Bosphorus cruise dinner in Istanbul! A pleasant dinner, unlimited drinks and entertainment on the Bosphorus Boat in Istanbul; Enjoy Istanbul!
Be sure to join this best-selling classical Istanbul activity to have a wonderful dinner with unlimited drinks, watch Turkish folk dances and the mysterious belly dance show, while enjoying the magnificent views of the world's wonder Bosphorus on the boat where New Year's eve celebration party tours are held!
Every night all year round (except new year's eve and Valentine's day special program)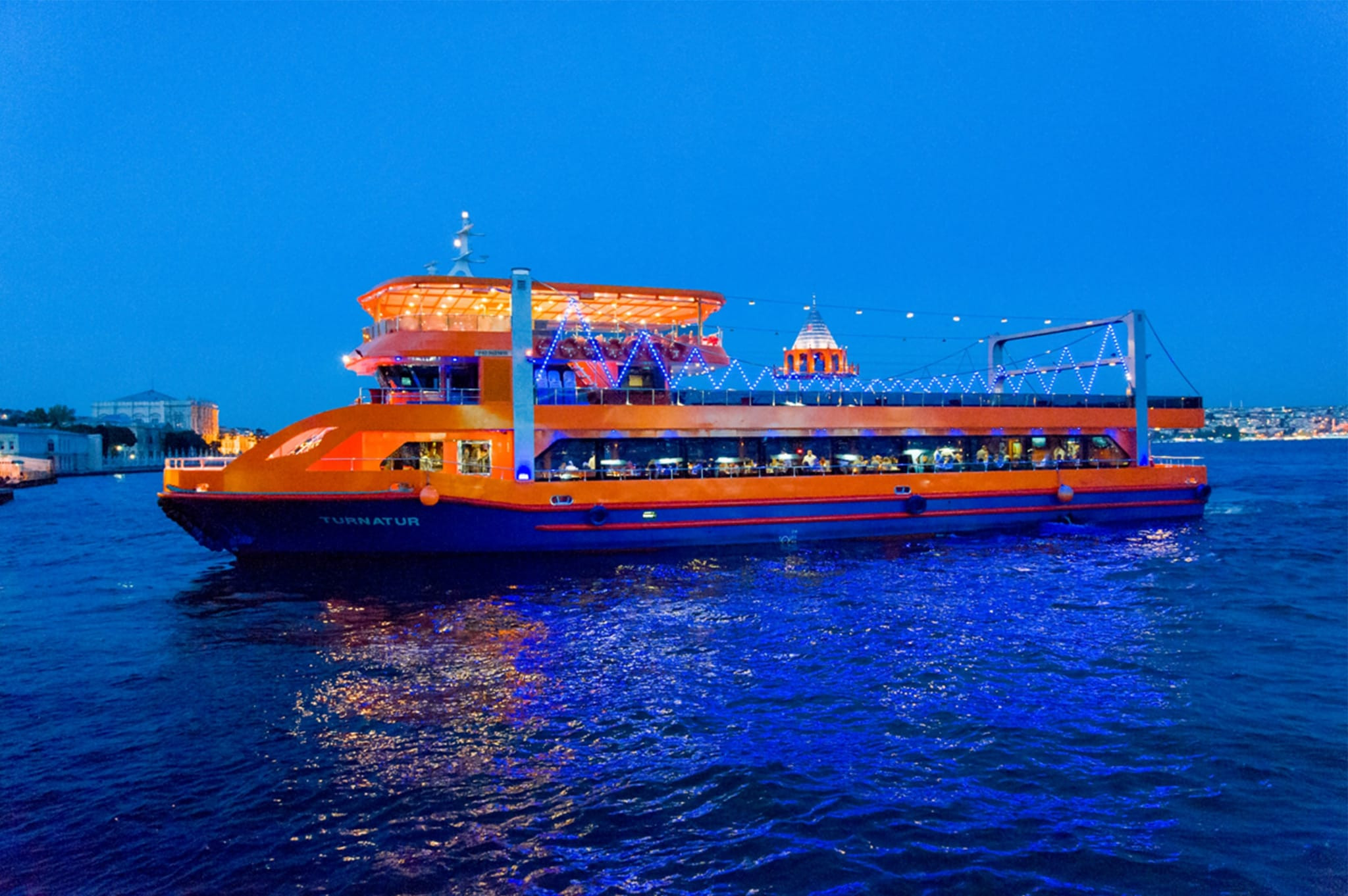 The departure time of the boat from the pier at 20:30
Return time of the boat to the pier 23:30 / 23:45
What to Expect with Boshorus cruise?
Typical day time sightseeing cruises along the Bosphorus Istanbul are quite popular and unique experience of Istanbul but the ones with dinner and entertainment (Turkish night show) during night along the Bosphorus can be the best option to do something unique and special upon your visit of Istanbul.
At the memorable Bosphorus dinner cruise you will enjoy a dinner and Turkish Night show program along the Istanbul strait with amazing views of Bosphorus by night. With a delicious dinner, limitless drinks choices, Turkish night show, sultan shows, henna ceremony and belly dancing show.

And What to see during the dinner cruise Bosphorus istanbul?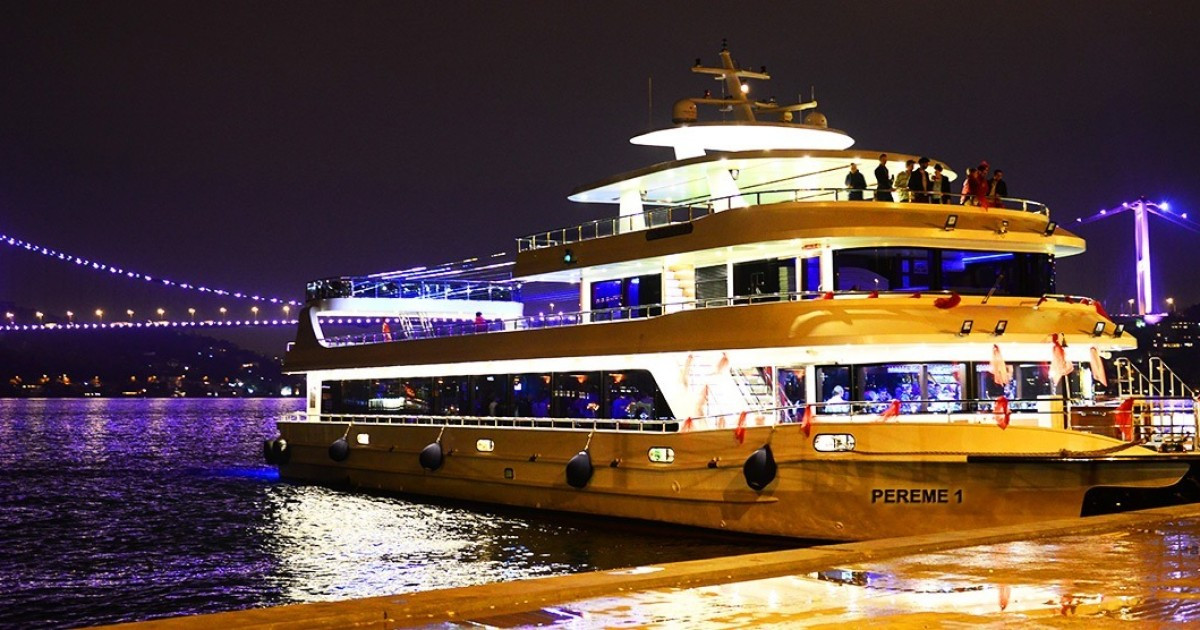 Istanbul is the only metropolis the place you can see the each European and Asian sides together. Along the Bosphorus tour by night there are marvelous historical and impressive places are bein seen like Dolmabahce Palace, Ciragan Palace and the Bosphorus bridges. Bosphorus lunch cruise, Bosphorus dinner cruise with entertainment are the most effective-promoting excursions of Istanbul. Istanbul Bosphorus night cruise with Dinner and unlimited drinks, Turkish Folk dance show and Belly Dancing Show: This is one of the best things to do in Istanbul!
Read More About Dinner Cruise Bosphorus by night
By the unique Bosphorus cruise, An unforgettable evening awaits you with dinner, unlimited drinks, belly dancing and traditional Turkish folk dance performances. This exceptional Istanbul night activity starts from 19:00 to 19:45 by picking you up from your hotel and transferring to the departure pier. With a terrace, the air-conditioned cruise boat is large enough for food and entertainment. Heating is available in the winter season.
When Bosphorus dinner cruise with entertainment starts, and from where?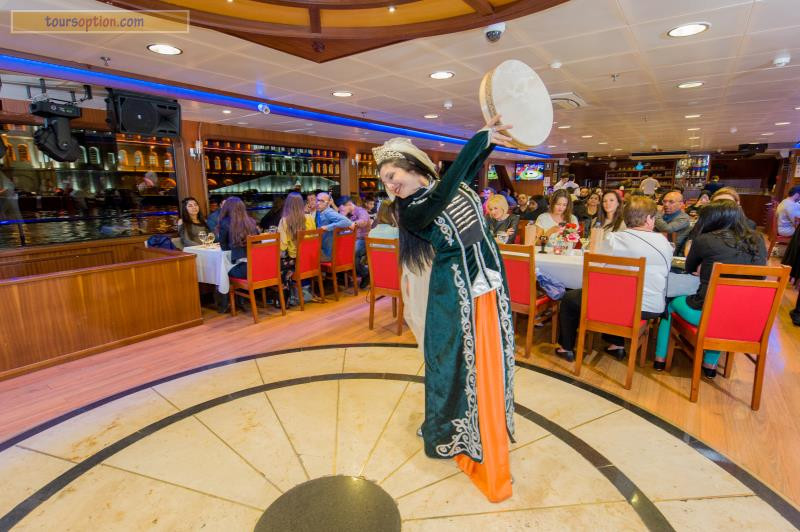 Our trip starts at approximately 20:45 and departs from the Kabatas or Kurucesme pier and passes through the important points of the Bosphorus. In the meantime, you will be able to watch the most important historical places of Istanbul along the Bosphorus while you eat your delicious meal with a light music on-board. Local drinks are unlimited during our Istanbul Bosphorus dinner cruise. Amazing views will give you extra pleasure while sipping your drink on the terrace of the boat.
What shows on Bosphorus cruise istanbul you will see?
On the Bosphorus dinner tour, you can watch the magnificent dance shows where rich Anatolian folk dance samples are presented by a wide dance team. You can watch the belly dance which is the most interesting show of the night while sipping your drink with the unique view along the Bosphorus.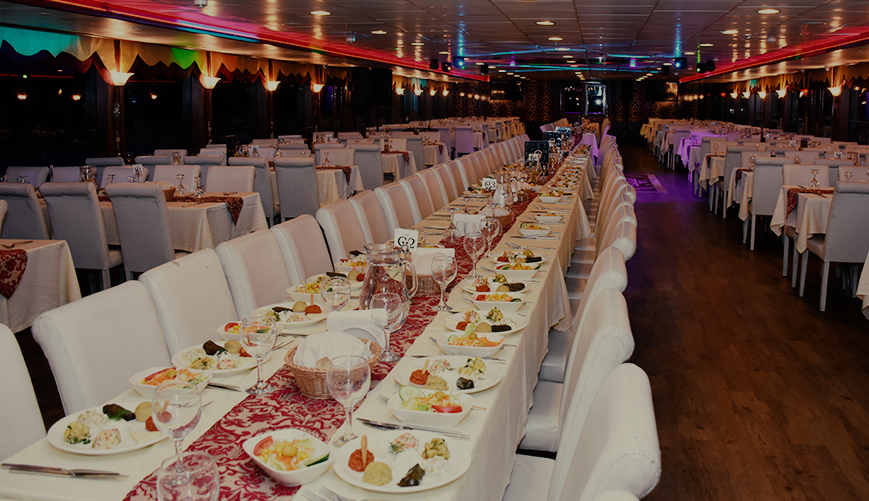 Join Bosphorus dinner & show cruise, do not miss it!
Don't miss such a wonderful Bosphorus cruise by night! If you have come to Istanbul for a few days holiday, this tour is for you. Bosphorus boat cruise, Dinner, traditional dance shows, belly dance show and unlimited drinks: you will have a great evening in Istanbul!
Highlights
Enjoy Bosphorus cruise by night
Delicious 3-course dinner with unlimited local drinks
Turkish traditional dance show
Live on-board entertainment with belly dancing
Bosphorus night cruise under magnificent views of Istanbul's illuminated landmarks from the water
Bosphorus cruise dinner Istanbul with Entertainment
---
Start: 15/07/2022 Finish: 30/12/2022
| Location | Adult 12 > | Adult 12 > | Child 00 > 03 | Child 00 > 02 | Child 03 > 07 | Child 04 > 07 | Child 08 > 11 |
| --- | --- | --- | --- | --- | --- | --- | --- |
| Istanbul | € 44.00 | - | - | € 0 | € 20.00 | - | € 39.00 |
---
| Add-ons / Extras | Price |
| --- | --- |
| Alcoholic beverages | € 15.00 |
Pick Up Place
Hotel pick-up and drop-off services are available only from the centrum hotels at european side of Istanbul. There might be an added charge for transportations from various other areas or airports.
Pick up Point
Lobby, near the reception. For some hotels we may kindly ask you to have a walk about 3-5 minutes to the bus at the corner near your hotel.
Event Days
15.07.2022 - 30.12.2022 Sunday Monday Tuesday Wednesday Thursday Friday Saturday
Important information
Bosphorus dinner cruise with Turkish night show and belly dance show
Local soft drinks (unlimited) are included in the price. Alcoholic drinks (unlimited) can be selected as an extra. All drinks are local products.

Menu
All the food is freshly prepared by professional chefs in modern and hygienic on-board kitchen.

Traditional Turkish cold appetizers
Fresh seasonal salad
Grilled chicken breast or Grilled fish or Grilled meat ball
Baklava (winter season) / Fruit (summer season)
Turkish coffee or black tea or apple tea
Unlimited Non-alcoholic drinks are included in the price. Alcoholic beverages can be purchased as an extra. All drinks are local products.

Departing from Kabatas or Kurucesme Pier, our night tour starts at 20:30. Our ship sailed along the coast on the European side, will be passing Dolmabahçe palace, Çırağan palace, Ortaköy mosque and Rumeli fortress. And the cruise will continue through the Asian side passing under the Fatih Sultan Mehmet Bridge, passing the Anatolian Fortress, Historical Kuleli Military High School, Beylerbeyi palace and Maiden Tower. The event will end at 00:00 am and then return to Kabatas pier.

Couples, or solo ladies are welcome. single gentlemen unfortunately is not accepted.

No alcohol is served to below 18.

Bookings are accepted only from hotels centrally located at european side of Istanbul. Booking is also possible from the Anatolian side of Istanbul and other far hotels, however please note that this is not included pick up and transfer from your hotel.

February 14, Valentine's Day: Activity program and price are different.

)
Istanbul - Most popular tours