Bosphorus Dinner Cruise with Entertainment
Price: € 30 ( $ 32 / € 30 / ₺ 894 / £ 26)
Select Tour Date & Participants
Prices may vary periodically
About this activity
Event days:

Sunday

Monday

Tuesday

Wednesday

Thursday

Friday

Saturday

Tour duration (Approx - including transfers): 4 Hours

Guiding & Support:

English , Turkish , German , Russian

Booking confirmation:

Instant confirmation

Printed or mobile voucher:

Both is accepted.

Wheelchair accessible:

Available

Easy Online Booking:

Fast, Easy & SSL Secure Booking

Vegetarian & Vegan meal:

Available

Cancellation policy:

Flexible

Skip the ticket line:

Available
Highlights | Overview
Bosphorus dinner cruise experience
Journey between Europe and Asia
Sunset over the Bosphorus
Beauty of Istanbul's iconic landmarks at night
Illuminated splendor of famous structures
Traditional Turkish cuisine feast
Extensive selection of local beverages
Dynamic entertainment onboard: belly dancing and dervish folklore performances
Full Description
Sailing through the Magic: Unforgettable Moments on a Bosphorus Dinner Cruise
Experience the Unforgettable Beauty of Istanbul's Waters: Embark on an Enchanting Cruise Along the Breathtaking Bosphorus.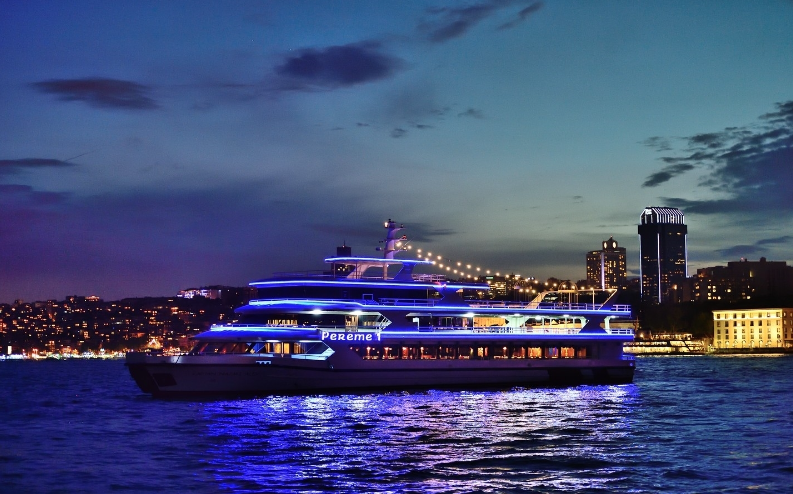 Ship departure time from pier is 8:30 p.m
Ship return time to the pier is 23:30 / 23:45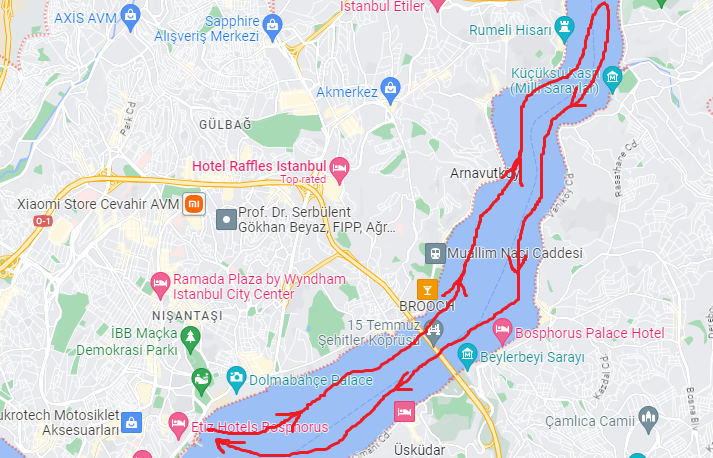 Our Bosphorus Cruise guarantees an unforgettable evening, ideal for both tourists and locals. Experience a Dinner Cruise like no other as you sail through the enchanting waters of the Bosphorus, capturing the breathtaking views of this magnificent city.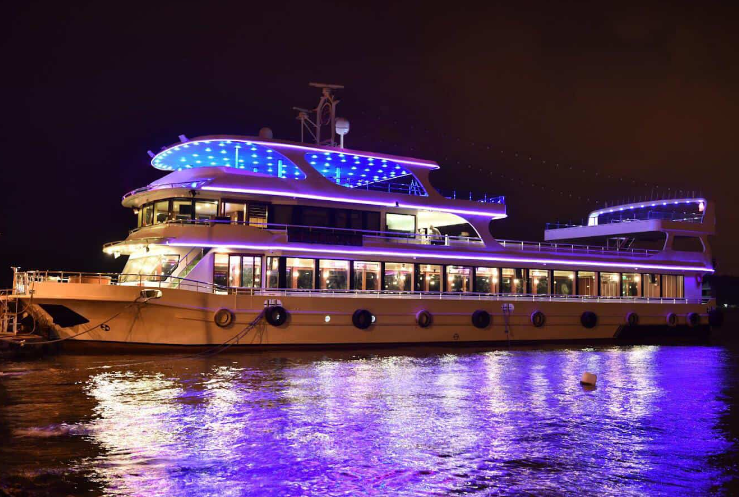 Delicious Turkish fare, dynamic entertainment, and breathtaking views make our Bosphorus Evening Cruise the ultimate Night Cruise adventure for any Istanbul visitor.
Experience the iconic Bosphorus Strait, which connects two continents, and enjoy an exceptional cruising experience. Take in the stunning panoramic sea views, marvel at Istanbul's impressive buildings as the sun sets, and be enchanted by the dynamic city lights at night - all while relishing the invigorating sea breezes from the Sea of Marmara. Join us for a truly remarkable journey unlike any other.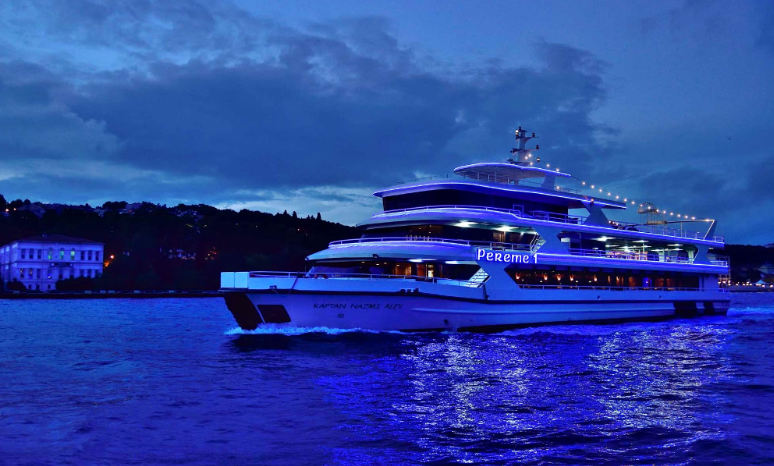 Experience the captivating Bosphorus Sunset Cruise alongside your loved ones and immerse yourself in the awe-inspiring vistas of Istanbul, a city spanning two continents unlike any other. Behold the distinctive allure of a metropolis split by the renowned strait, ensuring an indelible encounter that will create lifelong memories.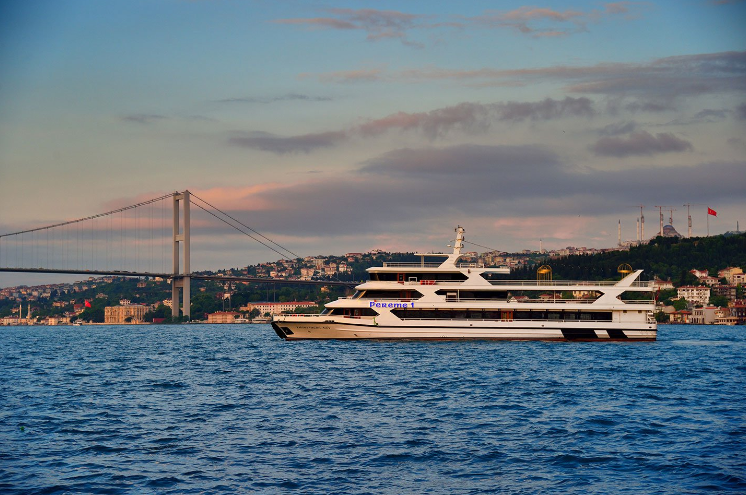 Join us for an incredible evening on an Istanbul Bosphorus cruise boat
Get ready to create cherished memories during a charming Bosphorus experience! Step aboard our cruise boat and embark on an enchanting journey. Indulge in a sumptuous dinner that will tantalize your taste buds, accompanied by delightful melodies and rhythmic dance performances. And don't miss out on the mesmerizing belly dancing that will captivate you with its grace and artistry. This extraordinary evening on the Bosphorus promises to be truly unforgettable. So, come along and join us for a relaxed and enjoyable time on the Istanbul waters!
Price included
Hotel Pick-up and drop-off and transfer to the pier
Cruise program as in the itinerary and 3 hours bosphorus cruise
Dinner with delicious Turkish starters
Turkish folk dance shows
Belly dancer show
Unlimited soft drinks
Imported drinks & cocktails
Personal expenses
Unlimited alcoholic drinks (add-on extra)
Pick Up Place
For those staying at centrally located hotels on the European side of Istanbul, pick-up and drop-off services are provided. If your hotel is farther from the center, don't worry as there is still an option for you. You can be picked up and dropped off at a central point such as Sirkeci train station.
Pick up Point
Pick-up location from your hotel will be at the lobby. It would be ideal if you could find a spot close to the reception area for a convenient pickup. Please note that due to certain hotel restrictions, our tour buses might not be able to access the front of some hotels. In such cases, you may be kindly requested to take a short 3-5 minute walk.
Details to know
Enjoying a delightful dinner cruise on the enchanting Istanbul Bosphorus, accompanied by a captivating Turkish Night Show, guarantees an unforgettable and magical evening.
On the boat, presenting a passport is mandatory for credit card payments, and a 10% surcharge is charged for credit card payments.
Local soft drinks (unlimited) are included in the price. Alcoholic drinks (unlimited) can be selected as an extra. All drinks are local products.
Menu
All the food is freshly prepared by professional chefs in modern and hygienic on-board kitchen.
Traditional Turkish cold appetizers
Fresh seasonal salad
Grilled chicken breast or Grilled fish or Grilled meat ball
Baklava (winter season) / Fruit (summer season)
Turkish coffee or black tea or apple tea
Starting from Kabatas or Kurucesme Pier, our night tour begins at 20:30. Our ship sails along the European coast, passing Dolmabahçe palace, Çırağan palace, Ortaköy mosque, and Rumeli fortress. The cruise continues through the Asian side, passing under the Fatih Sultan Mehmet Bridge, Anatolian Fortress, Kuleli Military High School, Beylerbeyi palace, and Maiden Tower. The event ends at 00:00 am, returning to Kabatas pier.
February 14, Valentine's Day: Activity program and price are different.
Additional information
Istanbul Dinner Cruise - Program
Unforgettable Evening: Bosphorus Dinner Cruise in Istanbul
Pick up from hotels and transfert to the quay 19:00 - 19:45
Welcome cocktail on the boat deck
Turkish starter platter with some special local meze items
Seasonal salad & side dishes
Main course choice of the grilled chicken or fish with potatoes
Along the tour a number of dance performances and music will accompany to your meal.
Dance of Tambourine (Gaval Regs-i)
Aşuk Maşuk
Naz Eyleme (A Traditional Turkish Melody Musical Performance)
Belly Dancer
Henna Ceremony
Folk Team dance performance (Mixed show of diffrent Turkish regional dance)
Live Dj Performance
Baklava (Winter Season) / Fruit (Summer Season)
Turkish coffee
Unlimited local soft drinks. Alcoholic beverages can be purchased as an extra. All drinks are local products.
Period & Price
21 April 2023 / 30 December 2023 - Price
| Location | Adult 12 > | Child 08 > 11 | Child 03 > 07 |
| --- | --- | --- | --- |
| Istanbul | € 30.0 | € 25.0 | € 20.0 |
02 January 2024 / 13 February 2024 - Price
| Location | Adult 12 > | Child 08 > 11 | Child 03 > 07 |
| --- | --- | --- | --- |
| Istanbul | € 30.0 | € 25.0 | € 20.0 |
14 February 2024 / 14 February 2024 - Price
| Location | Adult 12 > |
| --- | --- |
| Istanbul | € 79.0 |
15 February 2024 / 30 December 2024 - Price
| Location | Adult 12 > |
| --- | --- |
| Istanbul | € 30.0 |
---
| Add-ons / Extras | Price |
| --- | --- |
| Silver Package | € 25.0 |
| Gold Package 1 | € 25.0 |
| Gold Package 2 | € 60.0 |
Book Now
Have a question?
)
Istanbul - Most popular tours