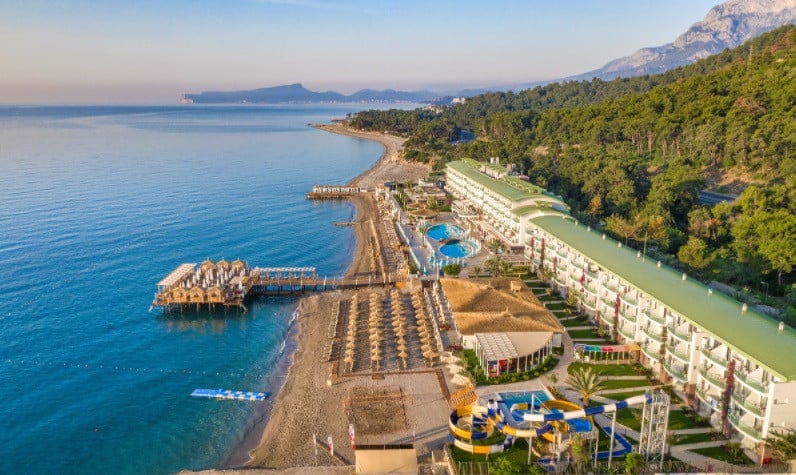 Holiday in Kemer and excursions and daily tours in Kemer
Activities to be done in Kemer, Kemer excursions and daily tours
In Kemer town and around Kemer, the amazing color contrast created by the mountains and pine forests and the sea creates wonderful views. On the way from Antalya to Kemer, the coastal road running parallel to the sea creates wonderful views. And before arriving in Kemer, you pass by Beldibi regions where many 5-star hotels are located. After the Beldibi region, you come to Göynük. There are also 5-star hotels in Göynük. After leaving the city of Antalya behind you, hundreds of, mostly 5-star, wonderful hotels in Beldibi, Göynük, Kemer, Kiriş, Çamyuva and Tekirova holiday resorts with their westward locations offer holiday opportunities that give the holidaymakers great holiday pleasure.
Hotels in Kemer region make a sweet holiday habit for Kemer holidaymakers with their location and high quality services. Those who have a "once" holiday in Kemer always continue to come to Kemer for their holidays. Everyone loves Kemer. With the apart hotels that started towards the end of the 80s and continued in the 90s, Scandinavian tourists started to flow to Kemer. At that time, the number of 5-star hotels in Kemer did not exceed the fingers of one hand. Apart hotels and small hotels were dominant in the region. Since the end of the 90's, intensive 5-star hotel constructions have been started in Kemer and holiday resorts around Kemer. Today, there are hundreds of 5-star hotels along the coast in the Kemer region. It should be stated here that hundreds of 5-star hotels were built without damaging the natural structure of Kemer and its surroundings. Hundreds of 5-star hotels do not spoil the beauty of Kemer and its surroundings.
Things to do in Kemer
Kemer region offers Kemer holidaymakers the same daily tours and activities as other Antalya holiday resorts. Similar tours and excursions are offered in different programs in Kemer. Tours and excursions in Kemer and its surrounding resorts will add value to your holiday.
Interesting activities in Kemer
There are approximately 22 tours and excursions organized in the Kemer region. The most interesting of these is the daily boat tours from Kemer marina. You will have the opportunity to swim in the crystal clear waters of wonderful bays accompanied by beautiful views on these daily boat tours from Kemer to the west side of the coast. Daily boat trips take approximately 5 hours, hotel pick-up and lunch are included in the price. Enjoy a boat tour in the turquoise waters of Kemer!
Rafting tour from Kemer
Rafting tour is possible from Kemer. Rafting tour is done in Köprüçay river passing in Köprülü Canyon national park of Antalya. Pick up time from Kemer hotels will be a little early, but don't miss out on the rafting tour in Köprülü canyon from Kemer! You will love the enthusiastic and fun-filled Kemer rafting tour.
Daily Pamukkale tour in Kemer
Daily Pamukkale tour is possible from Kemer. Pamukkale is about 300 km from Kemer. Pick-up and drop off service is provided from all hotels in and around Kemer. Join Pamukkale tours from Kemer to experience this magnificent natural wonder! You can see the white travertines and the magnificent Hierapolis ancient city on a daily Pamukkale tour from Kemer, and swim in the famous Cleopatra thermal pool of Pamukkale. Kemer to Pamukkale.
2-day Cappadocia tour from Kemer
You can book 2-day Cappadocia tours from Kemer with Vigo Tours. Pickup from hotels is done quite early, and at the end of the 2nd day you will return to your hotel late at night. Instead of a 2-day Cappadocia tour, a 3-day Cappadocia tour from Kemer offers a more comfortable departure and return opportunity. Unfortunately, 3-day Cappadocia tours could not be made due to the pandemic in the 2020 season. In normal tourism seasons, the 3-day Cappadocia tour continues all year round. On the Cappadocia tour from Kemer, the next morning, a balloon tour is made at sunrise and reservation should be made daily with the tour guide.
Beauty, wellness and scrub massage in Kemer Turkish bath
In Kemer Turkish bath, beauty and wellness massage service is available for women and attracts a lot of attention. The wellness massage is also interesting for men. In addition, you can get a better tanning by cleansing your skin with a scrub massage in Kemer Turkish bath. In addition, very different and wide variety of beauty massages are also possible in Kemer Turkish bath. Advance reservation is recommended.
Kemer ATV Quad tours
Experience the ATV tour in Kemer! Kemer ATV Quad tours, which are organized 3 times a day, take half a day to leave and return from the hotel, and hotel pick-up and drop off are included in the price. You can join Kemer ATV quad tours as 2 people or as a single person. No experience is required to drive ATV engines. Before the Kemer ATV quad tour in rural areas, mountains and slopes, a trial and test drive is made. The tour takes approximately 1.5 hours.
Journey to Olympos Tahtalı mountain by cable car from Kemer
If you look towards the mountains of your hotel in Kemer, you will see a high mountain with a building on its snowy summit. It is the peak of Tahtalı Mountain with an altitude of 2365. You can join the cable car ride from Kemer to this summit at 2365 altitude. The cable car ride starts from 800 meters altitude and the cable car ride to the top takes 11-12 minutes. You will be very surprised by the wonderful views you will see at an altitude of 2365 meters, 365 degrees. From November to the end of April, the peak is covered with snow. How about playing snowballs on your Kemer vacation? Sea to Sky!
Kekova sunken city, Myra ancient city and Santa Claus church tour from Kemer
You will experience the wonderful corners of the western Mediterranean with this daily tour from Kemer. On this tour, you will take a wonderful boat tour along the sunken city of Kekova, visit the ancient city ruins of Myra and visit the church of Santa Claus. You can see hundreds of different Christian icons and buy a few icons in the icon stores located next to the church of St. Nicholas. You will be amazed by the very interesting Christian icons and you will surely want to buy a few.
Jeep safari tours in Kemer
Jeep safari tours are organized every day in Kemer. Kemer jeep tour is done in the high mountains surrounding Kemer. It is quite interesting. During the Kemer jeep tour, you will visit the villages and plateaus located at the top of the mountains. And you will see very old trees. Pick-up and drop off from hotels and lunch on the mountain for Kemer jeep safari are included in the price.
Kemer Yanartaş (Chimaera) tour
Near Kemer, in Olympos Çıralı region, the endless fire Chimaera (Yanartaş) tour. This tour with jeep vehicles from Kemer starts at 16:00 in the afternoon. First, the ancient city of Olympos is visited, and then a swimming break is given at the Olympos beach. Then we go to the eternal fire Chimaera, which is a few kilometers away from the Olympos beach. Chimaera, the region of eternal fire, will be visited when it gets a little dark in the evening. In this way, Yanartaş Chimaera flames will be experienced better. It will take about 20 minutes to walk up from the entrance. Tour is not suitable for those who have knee problems. You will be amazed by the eternal fire Chimaera, which has not died out for centuries. We will have dinner at Olympos Çıralı beach or Ulupınar after visiting Chimaera and it is included in the price. Return to the hotels will be at 21:30. We have a driver for the Jeep.
"The land of Legends" themed park tour from Kemer
You should definitely experience this extraordinary themed water park called Turkish disnayland! Amazing water slides, Tsunami pool, and many more water slide activities with "The Land of Legends" tour from Kemer offer a very enjoyable and enthusiastic day for children and adults. You can also watch the dolphin and sea lions show for free on this tour.
Scuba diving experience in Kemer
Scuba diving in Kemer is very enjoyable for beginners or experienced divers because of the rich aquatic fauna of Kemer. Kemer scuba diving tours are made from a fully equipped diving boat in the quiet bays on the west side of Kemer, or around 3 islands. Basic diving is also provided for beginners, and 2 dives are made at different times during the day. Lunch is served on board and is included in the price. On the Kemer scuba diving tour, you can sunbathe on the boat or swim ashore between two dives. You can be sure that you will enjoy the Kemer scuba diving tour.
Antalya city tour from Kemer
You can't miss the city of Antalya while on vacation in Kemer! You can see the lower Düden waterfall with the Antalya city tour, which is organized 3 days a week from Kemer and 4 days a week in the summer season, you can take a panorama from Tünektepe hill with the cable car, and you can shop after lunch at the big Özdilek shopping center. You will also experience the old Antalya city and the ancient marina.
Paragliding in Kemer
Paragliding in Kemer is done from the summit of Olympos Tahtali mountain at 2365 altitude, and the flight ends at the beach of Tekirova. The paragliding flight takes about 40 minutes. Olympos Tahtali Mountain ranks first among paragliding organizations in the world in terms of its height, flight time and flight quality. Worth to try!
Other daily tours you can attend from Kemer:
Fire of Anatolia dance show at Aspendos arena
Antalya Aquarium
Vigo Tours will be happy to support you, upon your request, to make your Kemer holiday more perfect with daily tours and excursions from Kemer. In addition to Kemer daily trips and tours, it is possible to get private transfer service at Antalya airport from Vigo Tours.
Yours Sincerely,
Vigo Tours