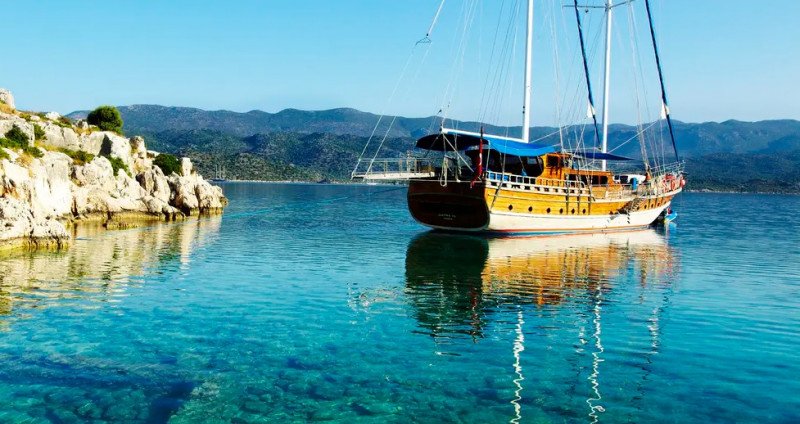 A Unique Destination: Antalya
Antalya is a city that always delights vacationers!

Thanks to its natural beauties, unique beaches and ancient cities, Antalya is becoming a more popular tourist destination as the day goes on. There are many coves and beaches in Antalya, so it is mostly preferred for summer tourism. The best time to go to Antalya is between May and October when you can benefit from the sea and all the region's facilities. July and August are the most crowded times of the city.


Best Things to Do in Antalya

Besides having unique beauty, Antalya is a touristic destination where many activities can be done. Antalya is popular with summer tourism. Swimming in magnificent beaches, doing extreme sports, visiting the fantastic waterfalls, and joining the boat trips are some of the most common activities you can do in Antalya by joining Vigo Tours.

Antalya Beaches

Exploring the beaches during your vacation in Antalya is one of the best things to do in the Antalya. The most famous beaches of Antalya are Konyaaltı Beach and Lara Beach. Konyaaltı Beach is famous for being one of the longest beaches in the world. This 7 km long beach is located to the west of the city center. It consists of pebble beach and has a blue flag award. On the other hand, Lara Beach is located east of the city center, and it has many beach clubs where you can swim and have fun. Lara has golden sandy beaches, and most of the 5 stars' hotels are located in this region.

Antalya Waterfalls

In addition to sea tourism, Antalya has a vibrant tourism potential with its waterfalls. Düden, Kurşunlu and Manavgat waterfalls are the most famous waterfalls in Antalya. The famous upper Düden waterfall is located about 10 km from Antalya city center. The name of the waterfall comes from Düden Stream. Since the waterfall is located in the picnic area, you can spend the whole day in this green place. Kurşunlu waterfall is located 2 km from Antalya International Airport. This waterfall has wonderful views. Lastly, Manavgat Waterfall is located 70 kilometers from the center of Antalya. Manavgat waterfall attracts attention with its green area surrounded by trees. Each year lots of visitors come to see these magnificent waterfalls.

Places to See in Antalya

Kaleiçi (Old Town): Are you ready to get lost in historical houses and narrow streets? Kaleiçi (Old Town) should be at the top of the must-see place list in Antalya. It is in the center of Antalya. While walking, you can shop at the antique shops around, or go down to the ancient marina and join the best boat tours in the world!

Tünektepe Mountain: Tünektepe mountain, is a sightseeing point where you can have a bird's eye view of Antalya with its magnificent view and take a cable car ride on the Kemer road. You can get here with a pleasant cable car ride that takes about 10 minutes.

Ancient Towns: There are many ancient towns in Antalya such as Side, Olympos and Phaselis Ancient city. Side is 70 km from the city center, and you can see Apollo Temple by visiting Side. Olympos is 80 km from the city center, and you can see caretta caretta turtles and enjoy the Olympos nature where the blue Mediterranean combined with green nature. Phaselis is 50 km from the city center, and it has the biggest ancient harbor of the Mediterranean.

Apart from these places, you can discover more beauties that we cannot count in Antalya under Vigo Tours' guidance. We also have daily tours to Pamukkale, Kapadokya and İstanbul.

Activities in Antalya

Antalya is suitable for different types of activities and extreme sports. If you are an adrenaline seeker, you should join and try some of the Vigo Tour's event. Scuba diving, Rafting, Jet-skiing, boat trip are the most popular water sports that can be done in Antalya. You can attend exciting dives in underwater caves, go rafting against rivers, surf over the sea waves, ride the jet-skiing, etc. More than 100 activities wait for you in Antalya.

Besides water sports, Antalya also offers every tourist the chance to experience breathtaking extreme sports. You can get lost in the fields on an ATV safari. You can go hiking in the mysterious mountain forests. You can visit the surrounding villages by participating in Jeep Safari tours. If you want to experience more excitement and have a brave heart, you can paraglide by watching the fantastic view of Antalya from the sky. Antalya is one of the most prestigious points in the world for paragliding and with the best flight quality.

Night Life in Antalya

As Antalya is a fun holiday destination, the nightlife is as active as the daytime. There are many bars and clubs where you can have fun and celebrate your special days in Kaleiçi (Old Town). These bars and clubs are open and crowded till midnight. Music, dance, laser shows, and foam parties are indispensable for Antalya nightlife.

Why Should You Visit Antalya?

Hospitality

Turkey is a hospitable country, you may have never been to Turkey before, but you've heard the Turkish people's hospitality. While planning a trip, it is important to get information about your destination's people and culture. Turkish people are famous for their friendly nature. They warmly welcome every tourist. You can be sure that you will have new friends in Turkey.

Cheap Vacation

The other reason is the economy. If you are looking for a cheap and high-class holiday destination, you are in the right place. Every year millions of visitors prefer to go to Antalya due to the affordable price.

Turkish Food

Lastly, Turkish foods! Turkish cuisine consists of a vibrant food culture. You will enjoy the taste of traditional dishes. Don't miss the opportunity to taste Turkish desserts, kebabs, and delicious seafood. There are many restaurants around Antalya offering great flavors.

Hope to see you in Antalya..