Wellness Massage at Turkish bath in Marmaris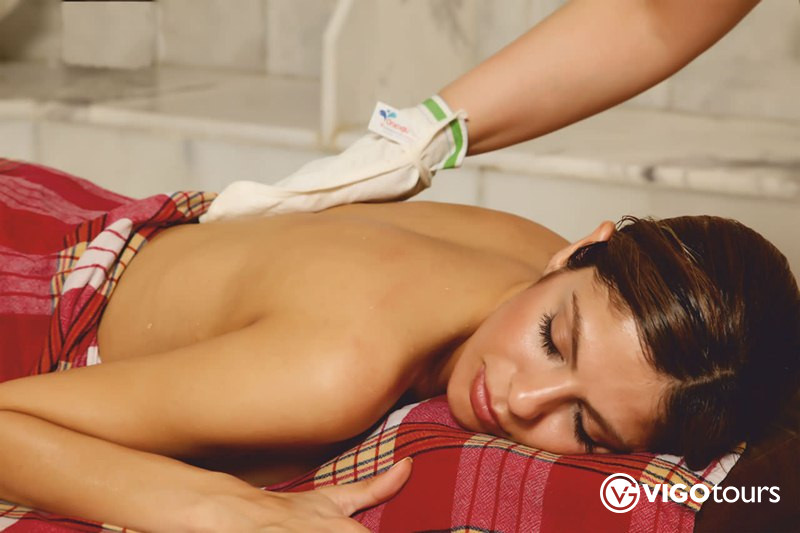 Price € 23
$ 27 / € 23 / ₺ 239 / £ 20
Book Now
About this activity
Tour Duration (including the Journey): 3 Hours

Booking confirmation:

Instant confirmation

Printed or mobile voucher:

Accepted

Cancellation policy:

Flexible

Easy Online Booking:

Fast, Easy & SSL Secure Booking

Experience:

No experience required

Shopping:

No Shopping tour

Skip the ticket line:

Yes

Tour Guiding:

English , Turkish , German , Russian
Prices
Select participants and the tour date:
Prices may differ seasonally. To see prices enter participants and date.
Experience
Highlights
Turkish bath in Marmaris
Massage in Turkish bath in Marmaris
Relaxation massage at Turkish bath - Marmaris
Massage at Turkish bath with foam massage and peeling
Wellness massage in Marmaris
Wellness Turkish bath in Marmaris
---
Full Description
Full body wellness massage in Turkish bath
Turkish bath
You should experience natural relaxation with traditional massage and bath in Turkish bath which is a very old tradition.
Turks are a nation that attaches great importance to cleanliness with its historical nobility. Since the conquest of Istanbul, thousands of beautiful baths have been built in this city and all over the country as a result of their acceptance of Islam and their careful application of the provisions of Islam. As a requirement of the orders of Islam, there is a Turkish bath in each house. In the seventeenth century, there were 168 large bazaar baths in Istanbul.
How was the Turkish Bath Born?
The bath tradition is an ancient tradition dating back to the Romans. Coming from Central Asia to Anatolia, the Turks combined the bath tradition of Central Asia with Roman and Byzantine bath traditions.
When the rules of hygiene and hygiene ordered by Islam were added to it, a new concept emerged about the use of water and body cleansing: the Turkish traditional bath. The Turkish traditional bath, which initially appeared as a different type of bath, has established its own tradition by gaining institutionalism over time with the culture of Islam and the silk path.
This old tradition, known as Turkish style bathing and general body cleansing, has been called as the traditional Turkish Bath as a result of its interaction and merger with the Silk Road trade and the Hammam culture coming from the Arab Islamic culture.
The first public bath in the public sphere was the Çemberlitaş bath in Istanbul in 1584 with the support of the mother of the Ottoman Sultan Murat III, Nurbanu Sultan. It was built by Sinan the Architect. And after a while, the number of baths in a short time increased significantly. At the end of the 16th century, the total number of Turkish baths in Istanbul was approaching five thousand, of which 300 were general and 4536 were private. Some of them were large bazaar baths. The bazaar baths were open to women on certain days of the week and to men on other days. The "double baths lar were two adjacent baths, one for women and one for men. These baths were open every day. This old Turkish bath tradition that continued in Anatolia until the end of the 70s began to disappear with the development of modern life today.
Turkish baths are mainly divided into 4 parts:
1) Dressing places
2) Bathing places
3) Massage and pouch sections
3) Heating place: Külhan
For the Turks, baths were not only a place of cleaning, but a place of purification, renewal and pleasure. Even the wealthiest Ottoman women used to go to public baths once a week, even if they had private baths in their homes. Because for women living behind closed doors, socializing, being aware of each other, was a place of fun baths. So there was plenty of reason to go to the baths.
Activity program for Wellness massage in Turkish bath in Marmaris
Get a complete cleansing and relax with a wellness massage at Marmaris Turkish bath with general cleaning, scrub cleansing, foam massage and full body aromatic oil massage!
Pick-up from hotels in Marmaris (daily - pick up an every hour from 09:00)
Marmaris Turkish bath, massage, scrub and full body massage
Resting and Relaxing in the hammam lobby
End of activity and Back to hotels
All takes about 3 hours (depending the hotel locations in Marmaris)
---
Price included
Pick up from hotels - back to hotels
Bathing and cleaning
Peeling massage
Foam massage
Full body aromatic oil massage
---
Know before you go
Pick Up Place
We do pick up and drop back from all hotels in Marmaris for Wellness massage in Marmaris Turkish bath. However, there may be an extra transfer fee for hotels that are too far from Marmaris Turkish bath.
Pick up Point
The pick up place from the hotels for the wellness massage and scrub massage in the Marmaris Turkish bath is the main entrance of the hotels.
Important information
Wellness massage in Turkish bath in Marmaris
Marmaris turkish bath wellness massage lasts approximately 3 hours in total. This period includes pick-up from your hotel, transfer, services in hamam, and return.

Marmaris turkish bath wellness massage: Daily transfers from 10:00 to 16:00 are available every hour. For extra massages, you can check the catalog in the hammam and purchase extra massages.

Children are not offered massages.
Female massage attendant is available.

The inside of the bath is hot and humid. You need to make sure that this does not pose a risk to your health.

What to bring: Swimsuits, Hair Shampoo, Cameras
Restrictions : Not recommended for asthma patients
Children are not given massage service.

)
Marmaris - Most popular tours