Buggy safari tour fun and adventure in Alanya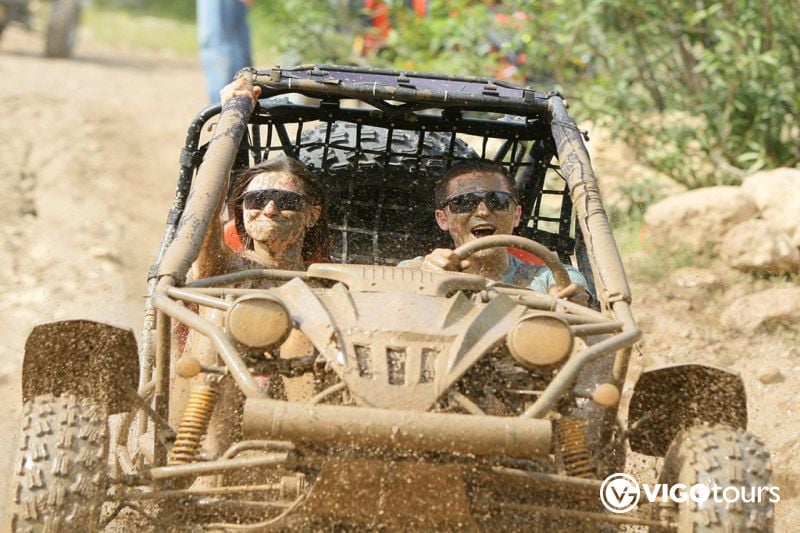 Price € 35
$ 41 / € 35 / ₺ 363 / £ 30
Book Now
About this activity
Tour Duration (including the Journey): 5 Hours

Booking confirmation:

Instant confirmation

Printed or mobile voucher:

Accepted

Easy Online Booking:

Fast, Easy & SSL Secure Booking

Cancellation policy:

Flexible

Experience:

No experience required

Shopping:

No Shopping tour

Skip the ticket line:

Yes

Tour Guiding:

English , Turkish , German , Russian
Prices
Select participants and the tour date:
Prices may differ seasonally. To see prices enter participants and date.
Experience
Highlights
Alanya Buggy tour adventure by Vigo Tours in Alanya
Alanya Buggy Safari tour, with special price by Alanya Vigo tours
Buggy fun tour in Alanya - Vigo Tours in Alanya
Alanya, Turkey, Buggy adventure & fun, by Vigo Tours in Alanya region
Alanya Buggy safari experience - Vigo Tours, Alanya, Turkey
For buggy safari tour in ALANYA pick up and transfer is included from all the hotels in ALANYA, and all the hotels around ALANYA region
---
Full Description
Buggy Safari tour in Antalya
Let's Buggy adventure! Join us for fun and adventure!
Experience great excitement and enthusiasm with your buggy car, away from the city, in nature and on off-road roads! Experience an extraordinary off-road activity on this adventure and fun tour! Experience an awesome buggy safari feast on rural roads!
You can be a part of buggy safari tour every single day at 10 am or 2 pm. You exciting day will start with a pick up at the hotel and transfer to the buggy tour start point. After a short briefing you'll be given the helmet then after which your unforgettable journey in Taurus Mountains will start. You will journey buggy in rural paths environment passing muddy streams that will undoubtedly make you dusty and soiled. Get ready for great enthusiasm!
Your buggy adventure is guided by knowledgeable instructor who drives his personal buggy during the entire period of the tour. Although the buggies are light, they are relatively fast. While driving the buggy freely on rural roads, your excitement will peak and you'll get pleasure from this high uncommon adventure. Let's Buggy!
You do not require a driver license to drive the buggy cars. No prior experience is needed either. With 3-5 minutes of training you will end up being a master buggy driver.
dusty roads,
from streams
from the hills
via the forests and river
Lets's go now!
Come as well as join us for a wonderful experience with the porsche of rural side of Antalya!
This beautiful tour is an absolutely remarkable activity to discover the stunning landscape of the Taurus Hills in a Buggy car and with adventure! You will have a lot of fun on this stunning adventure safari tour with your partner or child or lover on the dusty mountain roads and river valleys.
You should definitely try this extraordinary adventure and fun tour. While driving the buggy freely on rural roads, your excitement will peak and you will enjoy this high unusual adventure.
The Buggy adventure tour will take approximately 1.5 hours. It will take about 4 hours to leave your hotel and return to your hotel.
Photographs and panorama breaks will be given during the tour. Our tour is done with expert guides who know the roads and the countryside well. It is mandatory to follow the tour rules. Those who do not comply with the tour rules will be banned from the tour. Let's Buggy and Fun!
At the end of the tour you will be able to see your photos and videos and buy them if you wish.
The Buggy terminal is about 1 hr far from your Resort (Depending on hotel location this may be shorter)
Passenger can be an adult or a kid.
Tour program of Buggy Safari Adventure and fun tour
Pick up and departure places: All the Hotels in Side, Alanya, Antalya and Belek
Pick up from hotels (3 different time a day - depends on the season)
Transfer to the Buggy station (about 40 minutes - depends on the hotel location)
Preparations and brief information for safety drive
And some short trials (test drive) before the tour
Buggy tour starts (about 1,5 hour)
Returning to the station and see the photos & video
End of the activity & Returning to the hotels

It is mandatory to comply with the tour rules, individuality is not allowed.
---
Price included
Pick-up and drop-off from / to hotels
Buggy safari tour about 1,5 hours
Drinks and personal expenses
Photos and Video
Sunglasses and dust mask
---
Know before you go
Pick Up Place
For buggy safari tour in ALANYA pick up is available from all the hotels in ALANYA and around ALANYA and this is included in the price. Hotels in Alanya Kestel, Hotels in Alanya Mahmutlar, Hotels in Alanya Oba, Hotels in Alanya centrum, Hotels in Alanya Konakli, Hotels in ALANYA Payallar, Hotels in ALANYA Turkler, Hotels in ALANYA Fugla, Hotels in ALANYA Avsallar, Hotels in ALANYA Incekum and Hotels in ALANYA Okurcalar.
Pick up Point
For buggy safari tour in ALANYA the pick up point for hotels is the main entrance gate (security check point) of the hotels.
Important information
Buggy safari adventure and fun tour in Antalya region
Buggy Safari tour is an Adventure and Fun tour. Buggy tour is not a tour of speed and racing. It is done in a group (convoy) and is not Dangerous. The tour is accompanied by and under the control of experienced guides. Madness and individual behavior are not allowed. Buggy safari tour is suitable for families with children. Those under 16 cannot be a driver, but can join the Buggy tour as a passenger. Each buggy car is for 2 people. One person can join the tour. Buggy driving is very easy, but those who are not successful in the trial drive join the tour as a passenger in the guide's car. There is no food service on the buggy tour. Soft Drinks are available as an extra at the starting station. On the buggy tour, tour photographers take photos and videos of the tour. It is not possible for the driver guests to take photos and videos with their phones during the tour. However, those who join the tour as passengers can take photos or videos with their phones.

Buggy drivers must be at least 16 years old. Persons under the age of 16 may participate as passengers, not drivers. Children under the age of 16 may be the passengers of our buggy team.

The sessions last for roughly about 1,5 hours *.
* 1,5 hours time is consisted of breaks for swimming and also digital photography.

Buggy Engine cc: 200 cc.

Mask for mouth as well as face is available at an extra fee.

Passenger can be a grown-up or a kid.

Buggy Station is 1 hour away from your hotel.

)
Alanya - Most popular tours