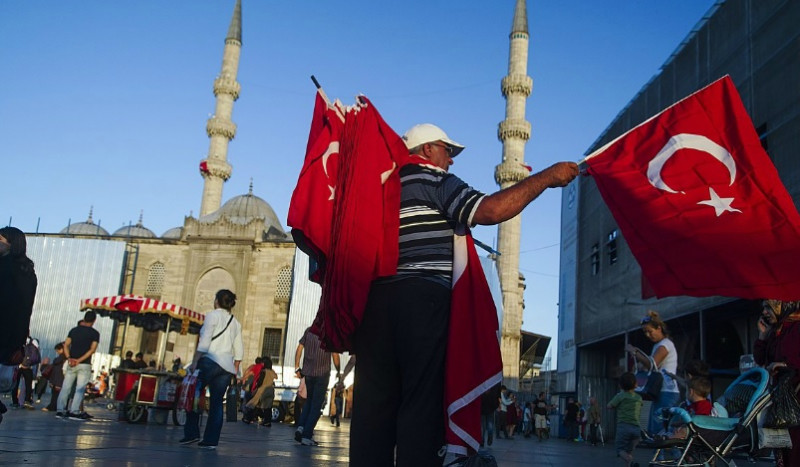 Vacation in Turkey
9 very good reasons to make Turkey the next holiday destination
97% of the surface area of Turkey in Asia, 3% is the European continent.
There are many reasons to visit Turkey-stunning scenery, fascinating history, intricate architecture, lovely people and the best shopping places in Europe, to name a few! It is impossible to list all the things that made people falls in love with Turkey, so these are just a few reasons why you must think to make Turkey your next holiday destination. You will never regret it!
Enjoy it!
Travel to Turkey
Most people will fly to (new) Istanbul Airport (IST). This is a large international airport with flights from all over the world.
Another interesting option is to take the train from Greece or Bulgaria to Istanbul. If you plan the entire itinerary, you can actually travel by rail from Paris or even London to Istanbul.
How long to stay in Turkey
Even if you only have 1 week in Turkey, you can cover the highlights of Istanbul and Cappadocia. However, we recommend that you spend at least a few weeks in the country so that you can explore the beaches of the southern Turkish Riviera near Antalya and Kas.
9 best things to experience in Turkey
1. Scenic hot air balloon flight in Cappadocia
Whether you are watching from the ground or standing in a basket on the ground, the hot air balloon in Cappadocia is different from anywhere else in the world. Hundreds of colorful balloons lifted off before sunrise, sailing over honeycomb cave houses, and immersed deeply into deep valleys of Cappadocia.
The hot air balloon tour will pick you up from your hotel around 4:00 in the morning and provide you with light meals, tea and coffee, and then head to the launch area on the outskirts of Goreme. You will see the balloons filled with air and then take off one by one before the sun starts to rise.
In the next hour and a half or so, you will travel 1,200 feet into the air, passing fairy chimneys that are sometimes close enough to be inaccessible, and then go deep into the valley to observe the walls directly built in the valley. Always surrounded by hundreds of other balloons, and when the sun rises in the sky and changes its hue from pink to yellow to blue. This is a once-in-a-lifetime experience, not to be missed!
Contact Vigo Tours for balloon trip to get an impeccable safety record and a friendly and knowledgeable pilot.
2. Gorgeous Cave Hotels of Cappadocia
In Cappadocia, a hot air balloon ride is a must, but it is not the only thing not to be missed of Cappadocia. The exquisite hotel built in the ancient cave residence retains most of the cave's structure while adding a sense of modern luxury.
The stone cave wall gives you a glimpse of the life feeling of the people who lived in it many years ago, while the exquisite antique furniture, gorgeous handmade carpets and heavenly bedding will make it hard to leave. Most cave hotels also provide beautiful gardens or roof terraces, which are ideal places to watch the sunrise balloons.
Contact Vigo tours for a cave hotel to choose with spacious rooms, spectacular gardens, delicious breakfasts, and friendly and helpful staff.
3. Delicious breakfast
The traditional Turkish breakfast, known as the "Country Breakfast", is an elaborate recipe that will satisfy even the most discerning diners. Offering everything from freshly baked bread and pastries, homemade jelly, thick honey, fresh cucumbers and tomatoes, traditionally made eggs and various other delicacies, it gives you the opportunity to taste a variety of local delicacies. Most hotels offer their own specialties, so make sure you don't fall asleep!
4. Spectacular shopping
Whether you get lost in the endless alleys of the Istanbul Grand Bazaar, or stop by the numerous street market stalls found in each town during your journey, shopping in Turkey may be the best in the world for many souvenirs from nearby countries They are actually made in Turkey, so if you travel in Europe and want the best deal, you must stop here.
Turkish delight is one of the oldest desserts.
From hand-made Turkish carpets to colorful mosaic glass lamps to exquisite painted pottery, Turkey truly has it all. You are about to bring an extra duffel bag to store all the new Turkish treasures!
Keep in mind that you will be offered the tour price initially, so some negotiations may be required. Be kind, reasonable, and willing to walk away. You should be able to reduce the price by 30-50%. Also keep in mind that the actual amount you bargain may be only a few dollars, and they may be more than you need, so please make sure that both parties are satisfied after the transaction is completed.
Most people in Turkey are very easy going-you won't encounter a lot of aggressive flattery. However, this is not the case in the Grand Bazaar. If you do not hear the "Hello Madam!" voice, you will not be able to walk more than 10 feet. "Where are you from?" "Please come and look at my shop! Just looking at it," "May I have your money?". Advice? Walk around, compare prices, take photos of your favorite ones, take the cards of your favorite stores, and feel no pressure to buy until you are ready.
There are 4000 shops, 25 thousand workers and 64 streets in the Grand Bazaar, one of the most popular areas of Istanbul.
5. The pristine beaches
Turkey has 7,200 kilometers of coastline, offering pristine sandy beaches, peaceful bays, ideal for boat trips, and stunning sea views. In coastal towns such as Antalya, Kemer and Kas, you can find quaint main squares and historic old towns, which are only a short drive (or walk) from beautiful, crystal clear beaches.
Many popular beaches such as Lara Beach, Patara Beach and Kaputaş Beach provide facilities such as deck chairs, umbrellas and restaurants. However, if you want a low-key experience, you can usually get out of the crowd and find a piece of sand yourself.
6. Hot spring invitation
After being filled with the beautiful Turkish coastline, head inland to experience another Turkish treasure-amazing hot springs. The most notorious hot spring in Turkey is the Cleopatra Pool in the quaint Pamukkale.
Many tourists head to Pamukkale to look for the stunning travertine terraces, but in the end they wander in the hot springs, where the ancient Roman remains are submerged below. The water is neither too hot nor too cold. After exploring the ruins and terraces of Pamukkale, this is definitely the perfect place to relax.
7. Luxurious Hamams (Turkish bath)
If you don't scrub in the historical Turkish bath, Turkish holidays are incomplete. You can find hamams in various prices and service ranges throughout Turkey. Çemberlitaş Hamam is located in the heart of Istanbul. It was built in 1584 and offers beautiful architecture and hamam services with reasonable prices. In spring, enjoy the "luxury style" package, which includes a visit to the Turkish bath, soap scrub and 30-minute essential oil massage for a complete bathhouse experience.
Upon arrival, women will be provided with a small bag containing disposable underwear and a scrubber, while men will only receive a scrubber. After entering your separate area, you will be taken to the dressing room and a towel will be provided. Be sure to put some coins in your pouch, as it is expected that a 10-20% tip will be distributed between the two waiters (they will say goodbye after completion).
In the dressing room, you will be taken to the hamam, where you will sit on the hot marble rotunda for 10-15 minutes to open the pores, and then someone will come to scrub your body. After the rinse, you will be taken to another room for an oil bath massage, and then you will have to take a shower at the end.
It is awkward, relaxing and a bit confusing all at once and will inevitably be one of your favorite adventures while on vacation in Turkey!
8. Very interesting history
The Turkish people and regions have a history of more than 4,000 years-they first lived in Central Asia, around 2000 BC, and then spread to Asia and Europe, establishing various states and empires. Empires are created and destroyed, cities rise and fall, and wars are launched. Turkey's complex history proves to be all over the country, but there are also some particularly famous landmarks worth visiting.
One of the highlights is Ephesus, which is located in western Turkey, only 3 kilometers from the town of Selçuk in the Izmir region. The ruins have a long history. It became a Roman city in 133 BC, and then became the capital of Asia Minor in 27 BC, when it was a busy port city with a population of 250,000. In the heyday of the first and second centuries AD, an estimated 400,000 people called it "home".
The famous Celsus Library (pictured) is the third largest library in the ancient world. It was built in 123 AD in Ephesus. After careful preservation and reconstruction, it has become the highlight of today's ruins.
The area opens for visitors at 8:00am and tour buses take advantage of arriving the area before of the heat of the day. If you want to avoid the crowds, consider waiting to do your visit until the later of afternoon when all of the tour buses have headed home for the day.
Temple of Artemis, one of the world's 7 wonders are located in Turkey.
First Christian Church is located in the city of Antakya in Turkey.
If we count the whole of Europe, there are 12 thousand plant species. In Turkey, 9 thousand.
9. Lovely people
Literally, Turkey is the center of the world. It is the intersection of Asia and Europe, offering many different races and religions, as well as conservative and progressive views. In this country that is extremely dependent on tourism, it is surprising that people are so friendly, honest and excited when they meet foreigners. You will meet friendly people who are genuinely interested in getting to know you, and you are unlikely to feel insecure anywhere in Turkey.
Hospitality is important to the Turkish people, so please always accept the tea they offer (even if you really don't want it), and take time to listen to their stories and understand them-family life, political views, the decline of tourism-no subject is out of scope.
The Turkish nation has always been a tolerant nation in every period it lived. In addition, famous Turkish thinkers such as Mevlana Celaleddin-i Rumi, Hacı Bektaş Veli, Hoca Ahmet Yesevi are tolerant exemplary people who have their works in the fields of thought and art raised by Turkish culture.
During your holiday in Turkey, you will absolutely fall in love with the Turks!
Are you convinced? What are you waiting for? Make Turkey your next holiday destination!
Some more interesting information about Turkey:
There is no desert or camel in Turkey. Camels seen in touristic resorts in Turkey are used by some people to earn money. Turkey is not a camel country.
Contrary to what some people believe, nobody in Turkey wears a fez.
Turkey's full name is the Republic of Turkey, and the capital is Ankara, not Istanbul.
Historical names such as Homer, Aesop and Saint Paul were born in Anatolia (Turkey).
Turkey is a country surrounded by sea on three sides. Black Sea, Marmara Sea, Aegean Sea and Mediterranean coasts of Turkey has a total of more than 7,000 kilometers from the coastal strip. On the other hand, continental climate is observed in the inner and eastern regions. In other words, while you are enjoying the sun in Antalya in April, a friend of yours in Kayseri may be skiing at the world-class Erciyes Ski Center.
There are 17 historical buildings and ruins from Turkey on the UNESCO World Heritage list. The ancient city of Ephesus, Mount Nemrut, Cappadocia who are as fascinated as well as the natural and historic structures have not yet been included in the list of world heritage attracts many visitors from different regions of Turkey. Anatolia, which has hosted many civilizations since prehistoric times, can be said to be a country that can offer its visitors a full experience in every sense.
Turkish cuisine is rich in meat, vegetables and pastries. Turkey, the heir of the Ottoman Empire, which dominated different regions such as the Balkans, the Caucasus, the Middle East and Central Asia, offers a beautiful blend of dishes in these regions. When you come to Turkey, we can say in advance that Turkish food will leave the most space in your mind.
Blue cruise Turkey
Blue cruise and gulet holidays are very special style of holiday in Turkey. Cruising experience with Turkish gulet boat is very special. With Blue cruise Turkey you will get a real and an original turkish experience along the turkish coast on turkish gulet. Blue cruise Turkey with gulet charter along the blue waters are amazing. Blue cruise cabin charters from Bodrum to Fethiye and Marmaris, and from Fethiye to Kekova programs are giving holidaty makers great experiences of sailing at blue water of Turkey. Blue cruise Turkey was became known of famous fisherman of halicarnassus lived in Bodrum. Along the turquoise coast and turkish riviera with group of friends on gulet cruises are wonderful holidays. The 7 day blue cruise program from Rhodes, the greek island to Turkish islands (the blue voyage from Greece to Turkey) is providing to gulet lovers naturally beautiful experiences of blue cruises
Welcome!