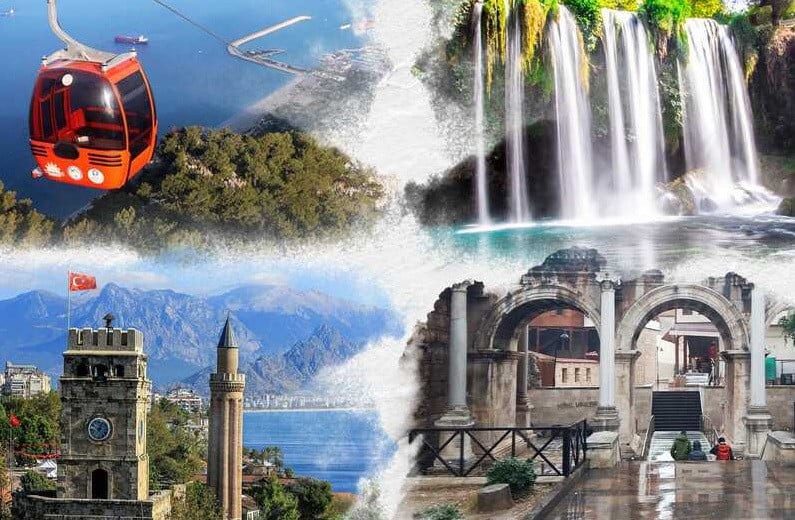 Holiday in Antalya and Antalya tours
Enjoyable trips and tours of Antalya
As Vigo Tours, we have served different guests from many different countries for 20 years. We provided services in Antalya region, Aegean region, Cappadocia, and Istanbul for many tours and excursions ranging from highly demanded tours to special activities and events. In 2020, we did not perform our operations except for a few months due to covid-19, but our services continue, and we are very happy.
In 2020, we were able to operate from July to the end of November. Compared to 2019, the big difference was not an enjoyable situation, but we still continued our operations. The thing that makes us the most happy is that we have not experienced a covid-19 problem in any of our operations. Some of our guests did not pay much attention to the mask issue, but our guests were generally very careful. We have constantly disinfected our tour vehicles. Our drivers were constantly under test. It is our great happiness that we have not had any problems. And we think that this result has given us and our guests confidence about our country for the 2021 summer season for covid-19.
Which tours should be experienced in 2021 in Antalya?
First of all, it should be noted that your choice of holiday in Antalya, one of the most valuable holiday resorts in the world, is a great decision! You will be able to see this better during and after your vacation. Vacation in Antalya means water in the desert.
Many tours are held from anywhere but with different programs. Regardless of the location of your hotel in Antalya, every tour is possible in every region of Antalya. For example, the only difference between the jeep safari tour from the Side region and the jeep safari tour from the Antalya region is the track. The same is true in other regions. While the boat trips from Antalya and Belek regions are made with the same program, both the route and the program differ in the Side region. For example, in the Turkish bath, wellness massage is done with the same program everywhere. The rafting tour schedule is the same for the whole Antalya region, and this wonderful tour takes place on the same river.
It would not be an exaggeration to say that rafting should be the first tour you should join in your Antalya holiday. Why is that? Because rafting is a great fun in Antalya. Family rafting in a very low danger river would be great!
Another fun activity is the Atv quad safari tour. Do not forget to join the ATV quad safari tour in Antalya! With 20 years of experience, Vigo Tours recommends you to take a quad tour in Antalya.
And Pamukkale tour from Antalya
Wherever you are on holiday in Antalya, contact Vigo Tours for Pamukkale tour. And do not pay more for the same Pamukkale tour program in Hotels, pay less at Vigo Tours. A daily trip from Antalya to Pamukkale is made almost every day. Tours departing early in the morning return around 21:00 at night.
And Cappadocia tour from Antalya
Before the Covid-19 Pandemic, reservations for the 3-day Cappadocia tours were more than the 2-day Cappadocia tour. In 2020, we encountered more reservation requests for 2-day Cappadocia tours. Although the 2-day Cappadocia tour starts very early, it attracts more attention. In Cappadocia tours, you can also take a balloon tour, which attracts more and more attention.
Antalya city tour
You should definitely experience the touristic beauties of Antalya with Antalya city tour. With the Antalya city tour organized from Belek, Kemer, Antalya and Side, we recommend you to see the city of Antalya, every point worth seeing.
Antalya diving tours
Scuba diving tours in Antalya offer great opportunities for those who want to meet the underwater world of the Mediterranean. Antalya offers unforgettable opportunities for beginners to scuba diving. It is possible to join a tour from all regions of Antalya for diving from a diving boat.
Private airport transfers from Antalya airport
Private airport transfers from Antalya airport have value and meaning. In terms of time and comfort, consider private airport transfers from Antalya airport to every point at very affordable prices.
Keep the legendary Fire of Anatolia dance show in the back of your mind. At Aspendos Arena, we provide pick-up service from anywhere in Antalya for the Fire of Anatolia dance show. You can make an online reservation on Vigo Tours web page. Side to Aspendos Arena by Vigo Tours for Fire of Anatolia dance show.
And Antalya's Land of Legends theme park
We cannot say that those who call it Turkish Disneyland are exaggerating. There is an extraordinary water park in Antalya, and everything from a to z is very well thought out, designed and built for people to enjoy there. Give your kids a great reward! You and your children will have an unforgettable day. The Land of Legends tour is possible from anywhere in Antalya.
Write the Green Canyon tour in Oymapinar dam lake near Side and Manavgat on your "must see" list! Take a wonderful boat tour in the midst of nature with stunning beauty! It is possible to join the green canyon tour from Antalya, Belek, Side and Alanya.
Wellness massage in Turkish bath
Experience the wellness massage in Side. In the Turkish bath, you can relax not only with a wellness massage but also with a scrub massage. Enjoy massage and scrub in Antalya Turkish bath. Get a beauty and wellness massage in Alanya Turkish bath. Enjoy a great massage in Kemer Turkish bath. Get complete relaxation with an aromatic full body massage at the Belek Turkish bath.
Alanya boat tours
Experience the daily boat tour in Alanya. Vigo Tours provides pick-up service from all over Alanya, and this service is included in the price. See the Alanya sea caves with the Alanya boat tour and dive into the blue waters of Alanya from the boat. Alanya boat tours last 5 hours from 10 to 15 o'clock, and lunch is included.
Spend a wonderful day in the mountains surrounding Alanya with jeep safari tours in Alanya and have a delicious lunch in Dimçay. Spend a full day in nature with excitement and enthusiasm on the Alanya jeep safari tour.
Explore the western side of Antalya on a Demre, Myra and Sunken City Kekova tour from Alanya. This tour includes a visit to the ancient Santa Claus church. And you can also buy intriguing holy Christian icons at icon stores next to the Santa Claus church. You will be amazed by the magnificent beauty with a wonderful boat tour along the sunken city. Boat tour, entrance to Santa Claus Church and Myra ruins are included in the tour price.
Join the dolphins and sea lions show from Side, and swim with the dolphin. Book with Vigo Tours for dolphin swimming in Antalya. Swimming with dolphins in Belek region is possible with Vigo Tours.
Explore the magnificent underwater blue waters of the Mediterranean with a scuba diving tour from Belek region, and feed the fish. Basic training is given to those who will be diving for the first time for scuba diving, and this is included in the price of the tour. Belek scuba diving tours from the boat include 2 dives and lunch, the tour lasts a full day. For the tour, not only those who will dive but also those who will snorkel can join the tour. Have a great day diving, snorkeling and boat tour all day on our Belek diving tour organized by a large diving boat.
With our Olympos cable car tour, take the cable car from Belek, Antalya and Kemer regions to the summit of Tahtalı mountain and admire the wonderful views from an altitude of 2365 meters. The cable car that leaves the lower station at an altitude of 800 meters near Kemer reaches an altitude of 2365 meters in 11 minutes. Enjoy coffee at an altitude of 2365 meters with extraordinary views!
Paragliding in Antalya
There are paragliding opportunities in 3 locations in Antalya. These are built from an altitude of 2365 in Antalya Olympos Tahtalı mountain, 600 meters in Kaş and 700 meters in Alanya. Paragliding from Tahtalı Mountain at an altitude of 2365 meters is only possible with private tours from Antalya, Belek, Side and Alanya, because group tours are not formed. Paragliding from Kemer to Antalya Tahtalı Mountain at an altitude of 2365 meters is possible every day, and the hotel pick-up and drop service and one-way cable car fee are included in the price. For Kaş paragliding, it is possible to participate only from Kaş and its surroundings. It is possible to participate in Alanya paragliding from Side, Belek and Antalya with a private tour organization, there are no group tours. For a private tour, ask for a quote from Vigo Tours. If you are in Alanya, we have a pick-up service from your hotel for Alanya paragliding.
Participating in tours from Antalya Kaleiçi (Antalya old city)
You can join all Antalya tours from Antalya Kaleiçi hotels. You just have to know one point, that is; For Antalya tours from Kaleçi, the pickup location is not your hotel but will be in front of McDonald's. McDonald's is next to the ancient Hadrian's gate and no more than 15 minutes from Kaleiçi hotels. The reason for McDonald's: The streets of Kaleiçi are very narrow and the entrance and exit cause a very long time. When the tour is booked, the pickup location details are provided with google location.
Jeep safari tour in Kemer
Kemer region is surrounded by high Taurus mountains. We have 2 different jeep tours in Kemer; 1) Jeep tour from Kemer on Toros mountains and high mountain roads 2) Jeep tour from Kemer to Olympos beach and Yanartaş (Chimaera, eternal fire). Both tours from Kemer are unforgettable holiday experiences.
Side fishing tours
We organize fishing trips by boat every day from Side. At around 7:30 in the morning, we pick you up from your hotel (included in the price), and we take you to our boat in Side harbor. Experience a great family fishing tour on the Side fishing tour that lasts about 4 hours! All equipment and fishing bait are provided on the Side fishing tour. All you have to do is to attach the bait to the fishing line, immerse it in the water and catch the fish. Early booking is recommended for Side fishing tour because there is great demand for Side fishing tour and every day the boat leaves full. Make an early reservation for the date and day that suits you, and reserve your place early.
Bird watching tour on holiday or holiday with bird watching tour
You can take a full day bird watching tour while on holiday in Side. The tour is generally not in the form of a group tour, but in a private tour format every day on request. You can take a bird watching tour with at least 2 people or a single person who pays for 2 people. Vigo Tours's experienced birdwatching guide will support you with bird species that are likely to be seen throughout the day.
Mountain hiking in Antalya
Do you know that you can do great mountain hiking in Antalya? Mountain hike through the magnificent cedar forests from the peak of Tahtali mountain at an altitude of 2365 meters to an altitude of 800 meters will be a wonderful experience! Mountain hiking starts at 11 o'clock and ends at approximately 16 o'clock. Be sure to experience this amazing mountain hike! Hiking in Antalya.
Sea kayak along the sunken city of Kekova
Experience the great sea kayaking activity along the sunken city of Kekova! Sea kayak tour is accompanied by an experienced guide. All equipment, guidance and Lunch are included for the sea kayak tour in Kekova. For sea kayaking in the sunken city of Kekova, you need to be in Kaş, or near Kaş, or if you are far from Kaş, you can come to the meeting point with your own vehicle, but you must first make an online reservation on the Vigo Tours website and tell us your body size.
What to do in Kaş?
If you want to experience a mountain bike tour on the mountain roads of Kaş, Vigo Tours will be happy to support you in this regard. Experience a mountain bike tour from the villages of Kaş to Kaş with easy tracks or difficult tracks if you are an experienced cyclist! On the day of the tour, we meet at our Kaş office in the morning and go to the point where the mountain bike tour will start by minibus transfer, and we return to Kaş with our bicycles. For Kaş mountain bike tour, mountain bikes, all equipment and guidance are included. A picnic meal is served for lunch.
Hoping to see you on our tours. Stay healthy!