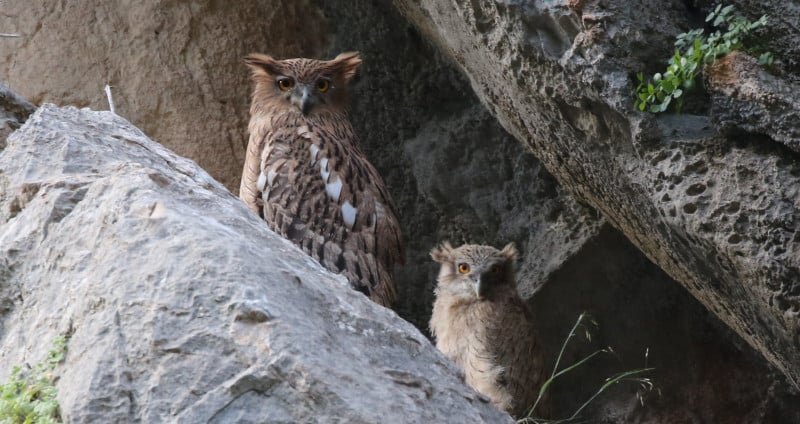 Brown fish owls at Oymapinar lake in Manavgat
Fish Owls Oymapınar lake Manavgat
From the fish-owl-watching guide Özcan Kılıç
I was born in Antakya. I am originally from Malatya, but I grew up in Hatay with the Hatay culture because of my father's teaching job.
The coot and ducks that were shot in Lake Amik of Hatay in the 70's were sold on piles of mobile looms and even trucks in cities. At that time, the topic of bird hunting always aroused me as well as everyone else. I have also made many hunting trials, but I was a very unsuccessful hunter. Today I am very happy to be a bad hunter. I love birds so much!
I graduated from Anadolu University, Faculty of Economics and Administrative Sciences, Department of Economics in 1986. I started my tourism profession in 1991 in Side. In 2000 I established my own travel agency Vigo Tours. I organize daily touristic tours in the region mainly for foreign tourists. In addition, starting from April every year, we go to the fields, gardens and mountains for bird watching with our foreign birdwatching friends.
Thanks to a Dutchman, I started birdwatching with fish owls, and thanks to fish owls, I met many bird species since 2012. I observe 239 species total species count from the total of 480 species in Turkey. I have observed all of this number in Antalya region and most of it in Manavgat.
My acquaintance with the Fish Owl, which is threatened with its Generation Critical code, was thanks to a Dutch birdwatcher in 2011. One day I received an e-mail and support was requested for the fish owl. I researched and got into the subject of fish owls. Later, the Dutch bird watcher came to Side to see the fish owl, but the road was completely closed due to a large landslide on the Oymapınar dam lake road, we could not reach the fish owls.
The Dutch bird watcher came back in 2012 and we met the fish owls by renting a boat in the lake. Both couples currently on the lake are the couples we met in 2012. Both pairs have had 2 juveniles each year to date. Juveniles are scattered in suitable habitats in the region and are occasionally seen by chance. They live the life of owls that live at night, sleep during the day and are invisible, so I think they are not easily monitored by us.
The 2 couples in the lake have changed their lifestyle a bit due to the boat tour and human traffic here. It is relatively easy to see what is in the lake, although sometimes difficult. 2 couples in the lake are not scared by people due to the boat tours that have not harmed them for years, but the new generation genetically keeps away from humans. This is the reason why juveniles scattered around the area for 8 years are hardly visible.
Thanks to the Dutch birdwatcher, whom I met with fish owls in 2012, since 2012, I have been called by European birdwatchers almost every day from the first week of March until July and asked for support regarding fish owl observation.
Fish owls are sometimes difficult to see. Sometimes I searched for 2 hours without stopping and I always found them in a corner. The number of times I failed was quite a few, and we went out for observation because the birdwatchers insisted eventhough I warned them, "It is very difficult, we cannot see them", and no, we could not see them:)
As I found them most of the times, my reputation for finding the fish owl started to spread everywhere in Europa and even Israel.
Brown fish owls
Fish owls appear calm enough to resemble a wise philosopher. They act very gently and slowly while crossing from branch to branch or even while flying. However, when hungry and when the chicks are out of the nest, they are a bit anxious and quick, causing a little difficulty in finding them. They diverge a little from the nest. It is also difficult for them to be found in the cold north winds called northeastern. In such weather, they prefer nooks. When they see a predator in the air during the hatching period, they also get nervous.
We mostly see the male individual, the female individual who is slightly larger than the male individual is hardly visible. The male individual hangs in the mood of a leader and it seems as if there is a male-dominated lifestyle in fish owls, the female is much calmer. I know that the male individual helps his wife in the incubation by carrying food to the nest with feeding.
The offspring hatching from the eggs in mid-April are seen around the nest towards the end of May and stay at the same points with their parents for a while. Juveniles always stay sideways. When young individuals start hunting for food, they are placed in very interesting places for prey and it becomes a little difficult to see.
As of June, they gradually move away from the nest environment and in July, wave after wave, they leave the area with a circle that expands and moves away from their home and their parents. I guess their parents kick them out of the area when they grow up.
Brown Fish owls have very strict control of their area. There is no chance of calling the fish owls by playing a sound recording like another chirp or call and thus seeing them because they know that there are no other fish owls in their area.
I think there are about 20 pairs of fish owls both in fish farms and in the same similar habitats in the region. This may not change the "Critical level" code on the subject of their Generation, but I can say that the number of fish owls has increased and continues to increase.
Watching Fish owls
We make our observations very early in the morning. There are two reasons for this: firstly, the chance of seeing fish owls in the morning is higher, and the other is that these boats should be ready for the daily boat tour for tourists at 09:30 at the latest. So we have to finish the watching tour at 9:30 at the latest and hand over the boat. These birds in the lake have almost no chance of being seen from land due to their nest location. Only sometimes they wait on a stone by the lake to hunt, or they can be seen, for example, by the roadside or while driving by the lake.
Özcan KILIÇ
Birdwatching guide for fish owls