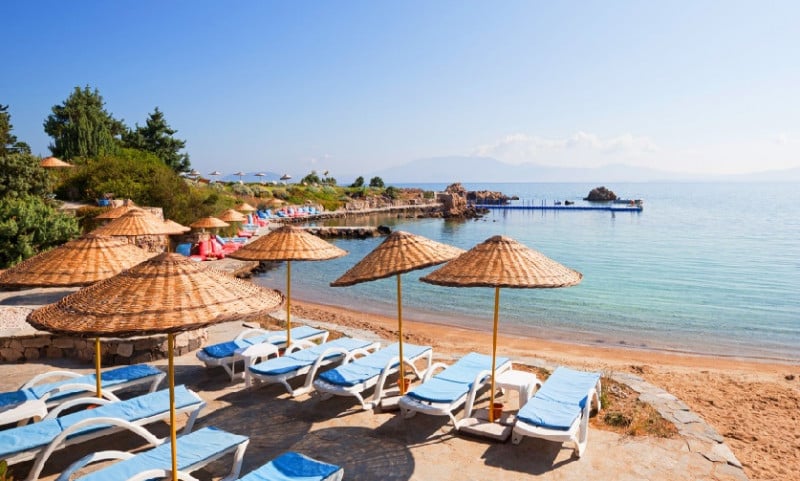 Activity and Tour Guide in Antalya: Relieves Stress!
Refresh, renew, relieve stress and live happy!

We would not be wrong if we say "stay fresh, live happy" for the motto of Antalya daily activities and tours. It is possible to relieve the stress and negative energy of the whole year thanks to the activities that bring the fun to the top, bring the excitement with all its reality, and bring people together with the nature they belong to. It is also an opportunity to be willing to new experiences and to achieve mental and spiritual calmness. We have compiled the most exclusive Antalya activities for both traveling and living healthy. Three, two, one… Evreka!

1. The Rough State of Water: Rafting

The clear and clean rivers of Antalya are very important for tourism. Rafting activities, which are among the famous water sports, are organized in many rivers and streams. Rafting in Köprülü Canyon is the most famous and the most ideal in terms of location. Rafting offers unforgettable moments for those who want to experience excitement, adrenaline and a new experience in a way to be filled with foam. The activity starts with breakfast in the morning and ends with a meal in the evening. Thanks to good friendships, social relations and rafting, it is possible to have fun all day long. There is also a short training and informative session before rafting with a team of 10 people accompanied by a guide.

2. New Trend of Discovering Nature: Antalya Jeep Safari

Safari tours are among the most comfortable and fun options to discover the green of Antalya, which has endless natural beauties. It is possible to get to know the local characteristics of canyons, forests and Antalya closely with jeep safari activities that provide more fun moments than safari in the brown desert. What makes the safari tour interesting and special is the changing flora in every district of Antalya. The safari tour, which starts in the morning, continues throughout the day with accommodation at some points. Be sure to add the safari tour to your Antalya plan, where you will be caught in the fascinating climate of Antalya's endemic flora.

3. Indispensable for Antalya: Boat Tours

The clear blue, golden beach, hidden canyons and untouched nature that come to mind when Antalya is mentioned are among the things that should be discovered. For this, there are blue tours or boat tours organized from various points in Antalya. While saluting with blue, starting from the precious port of Kemer, the popular pier of Alanya or Kaleiçi Yacht Harbor in Muratpaşa, the pleasure of a legendary journey through the fascinating canyons of Antalya can be enjoyed to the full. Antalya boat tours have different contents. According to the concept, prices can vary between 50-200 lira.

Pamper yourself a little and enjoy the blue cruise.

4. Underwater Discovery Journey: Diving Tours

The most interesting and perhaps mysterious of all water sports is scuba diving. Antalya is a frequent destination for divers or those who want to try diving. It is possible to have fun, relieve stress and stay healthy while exploring the life under blue waters with many diving routes. Popular diving routes include the beaches of Kemer, Side, Alanya, Kaş and Kumluca. Let's also note that diving can be done in almost every part of Antalya. In addition, there are many points that make diving tours in Antalya mysterious: tunnels, caves, stingrays and octopuses, routes with lion fish. All of them are some of the details that make Antalya diving tour fun and unforgettable.

5. Leave Yourself to the Magic of the Summit: Olympos Cable Car

Olympos Hill has become one of the most visited routes in Antalya. The region, which is the subject of many Greek legends, has been an important place since ancient times. It is possible to see the natural scenery of Antalya as a film strip during the journey with the cable car to climb the hill on Tahtalı Mountain. The businesses on Olympos Tahtalı Hill, at an altitude of 2365 meters, also help their guests to enjoy the day with their services that will enable them to experience a privileged day. Spending a unique breakfast with the sunrise and the sunset here allows you to create an unforgettable day in Antalya.

6. Adrenaline-Filled Tour of Driving Sport: Antalya ATV Quad Tours

Four-wheeled ATVs are the motor vehicles preferred for experiencing an unforgettable safari excitement in nature. There is no engine license or driver license requirement to use the vehicle. After only a few minutes of training and test drives, the journey towards nature starts with a guide after learning the command of the vehicle. While you feel the excitement of passing through muddy and sometimes watery roads to your bones, you discover the harsh conditions of nature and let the fresh air meet your lungs. Antalya ATV quad safari, which is among the driving sports, is one of the alternative activities that can be done by adrenaline enthusiasts in the wonderful nature of Antalya.

7. A Slow Climb to Nature: Mountain Bike Tours

The best alternative mountain bike tours for those who find the ATV tour very fast and full of adrenaline. While exploring the nature of Antalya with professional mountain bikes, you will fully experience every detail and view. While gliding through different vegetation and nature, you need to ensure that you continue on the difficult tracks without giving up. This is the most enjoyable and exciting part of the job. An unforgettable safari experience is experienced on fun mountain bike tours, where the struggle against nature and a reflection of the desire to survive.

8. Neighborhood to Nature: Camping

Of course, camping is among the most striking events in Antalya. Unique routes are hidden in the bays of Antalya for the camp activity, where all campers gather, celebrate like a festival, socialize and present themselves to nature. Especially Incekum Nature Park and Korsan Bay are among the most preferred camping routes. You can have a wonderful day with nature in areas where there are businesses where campers can meet their basic needs.

9. Those Who Want To Increase Adrenaline: Paragliding

Antalya is the most organized route for paragliding activities in our country. Especially the paragliding experience from Olympos Tahtalı Hill towards the shores of Antalya can be ideal for those who want to miss a little dose of adrenaline. Antalya Paragliding, which offers a different experience, requires courage, brings excitement to the top, is a reliable event organized with professional athletes. While gliding from the slope, you discover all the beauties of Antalya in miniature.

10. Antalya City Tour
It is possible for everyone to have a dream vacation in Antalya. Those who want to be in touch with nature can spend time in camps, those who dream of being face to face with the sea, the beach, and those who want to be interested in history and art can spare time for ancient cities and museums. Outdoor sports, walks, safaris, different tastes and the best routes are the hidden treasures of Antalya. Antalya city and sightseeing tours are important for those who want to discover the city from all sides, in terms of enabling this treasure to be discovered. The narrow streets of Kaleiçi, trekking on the Lycian Way, Aspendos Ancient City, where many activities have been carried out since ancient times, and more are among the places to be explored with tours.

There are holidays for everyone, events for everyone in Antalya. Turn your route to Antalya to experience unforgettable moments with your family and loved ones. Never forget to include some of the events that offer great experiences to your plan. Break the ordinary, be happy.

See you in Antalya!