Express Pamukkale excursion from Alanya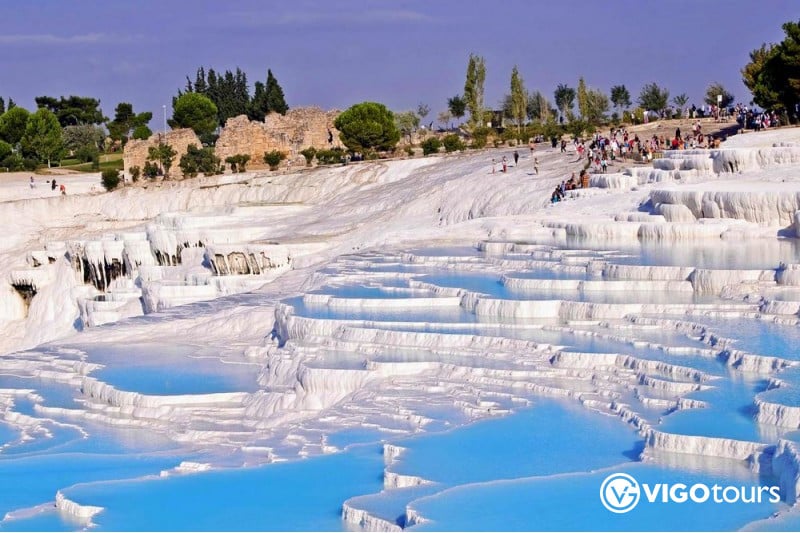 Price € 40
$ 47 / € 40 / ₺ 415 / £ 34
Book Now
About this activity
Tour Duration (including the Journey): 12 Hours

Booking confirmation:

Instant confirmation

Printed or mobile voucher:

Accepted

Wheelchair accessible:

Available

Cancellation policy:

Flexible

Easy Online Booking:

Fast, Easy & SSL Secure Booking

Shopping:

No Shopping tour

Tour Guiding:

English , Turkish , Russian , Polish
Prices
Select participants and the tour date:
Prices may differ seasonally. To see prices enter participants and date.
Experience
Highlights
From Alanya: Express trip to Pamukkale - Vigo Tours
From Alanya: Daily Pamukkale express tour - Vigo Tours
From Alanya: Alanya to Pamukkale, express tour
From Alanya to Pamukkale, express tour - Vigo Tours
With Vigo Tours from Alanya: Express trip to Pamukkale, with pick up from hotels included in the price
---
Full Description
Daily Express Trip to Pamukkale
Pamukkale day trip with Salda lake (Turkish Maldives), and daily tour without shopping breaks
Important information
We cooperate with 2 companies that organize Pamukkale tours from Antalya. Unfortunately, there is no third company that organizes Pamukkale tours in Antalya. All agencies in Antalya cooperate with these 2 companies for Pamukkale tours. These two companies organize Pamukkale tours from Antalya with a single tour bus and as mixed nations. This is due to high tour costs. The majority of these mixed passengers are also Russian tourists. When you book a Pamukkale tour with us or another agency, you should know that the tour bus consists of mixed nationalities and mainly Russian tourists. Unfortunately, making your Pamukkale tour reservation with another agency will not change this situation. In addition, due to mixed nationalities and mainly Russian tourists, the English and German guide service in Antalya to Pamukkale tours is unfortunately not at a satisfactory level. This issue will improve when the number of British and German tourists increases.

The white travertine waterfalls resembling icy falls and also terraces of superficial pools were developed by the waters of thermal springs reacting with the air.
Travertines are all-natural structures with high degrees of calcium and also carbonate. These compounds collapse with time because of temperature level and elevation. Calcium as well as carbonate, with time goes, stalactites that collapse towards the base of the structure. When these stalactites come together, travertines are formed. This natural sensation, which occurred in the area over the centuries, supplies a perfect sight.
Its attraction initially noticed by the Romans. The splendid Hierapolis old city was established near the travertine by the Romans.
Pamukkale would bewitch visitors at the first step. Under the spell of travertines Pergamon Kingdom developed the Hierapolis city neighboring 2.000 years ago. At that period Hierapolis worked as a thermal health center, as well as site visitors from various components of Anatolia flocked to the city to get spa treatments to find health and wellness or charm.
In our age, those who looks for spa or health and wellness they still dip in the thermal swimming pools in Pamukkale. You might also enjoy swimming the classic swimming pools as our forefathers did, and also take pleasure in the stunning view of the travertines.
The only reason you ought to go to Pamukkale might be not travertines! Although travertines are an area that every visitor intends to see, there are also some areas of human background to be seen in Pamukkale. As an example, the ancient cities in the area may be your various other reasons.
Tour program of Pamukkale express tour from Alanya hotels
On Express excursion from Alanya to Pamukkale
No shopping (leather, jewelery, wine and textile, etc.) visits are made during this tour.
Pick up from Hotels in Alanya 04:00
Breakfast (included)
Drive through Taurus Mountains and Korkuteli town
Break in Salda lake (1,5 hour)
Travel to Pamukkale from Salda (takes 2 hours)
Lunch (included)
Arrive in Pamukkale and entrance to white travertines (3 hours) (Entrance fee to Pamukkale is included in the price)
Swimming at the roman bath (extra)
Visit of Red water area (Karahayıt) 1,5 hour (extra) * At the request of the majority of the group and if time permits
Dinner (included) * In case of we are late for dinner at your hotel in Alanya.
End of the tour and return to the hotels in Alanya
---
Price included
Pick up from hotels with air-conditioned non-smoking tour bus
Tour guiding
Entrance fee to Pamukkale
Lunch (and dinner if return is late)
Breakfast - Drinks
Personal expenses
Swimming at the Roman bath (Cleopatra pool)
Swimming at Red Water pool
---
Know before you go
Pick Up Place
All the Hotels in Alanya region. All the hotels in Mahmutlar, Kestel, Oba, Alanya city, Konaklı, Payallar, Türkler, Fuğla, Avsallar, Incekum, Okurcalar and Alara. Hotels between Alanya and Side.
Pick up Point
Main entrance gate of the hotels (not from lobby & reception).
Important information
Express trip to Pamukkale from Alanya hotels
(All the hotels in Alanya and around Alanya)
No Shopping breaks is organised on the way. We drive Directly to Pamukkale.
Dinner: If we are late for the dinner at your hotel we will give you dinner free on the way.
In order to offer a good price we organise Pamukkale tour with other agencies together.

We do pick up from several hotels. In order to do the tour with good timing with no late we kindly inform that we can't wait for you more than 5 minutes at the hotels entrance upon pick up.

The itinerary is subject to time availability.

)
Alanya - Most popular tours